Description
Hair Café & Vernon Martins Salon Presents The 8th Annual "24 Hours for a Cause" Hair-a-thon Washington, DC – On Friday, December 15th 6am until Saturday, December 16th 6am, this event will be hosted at Vernon Martin Salon 617 Rhode Island Ave, NE Washington, DC 20002. Current clients, new clients, and guest of the Hair Café and Vernon Martins brands are able to book an appointment during the 24 Hour time block to engage in a fabulous experience. Beauty technicians will be available for hairstyling, consultations, makeup service, manicures & pedicures, etc.
This event will feature Classic Catering, A Classic Cocktail Lounge, swag bags, music, beauty talk and tips. Guests will also enjoy holiday shopping with local vendors offering beauty products, jewelry, fashion accessories, shoes and more. 10% of the proceeds will be benefiting My Sisters Place (MSP), a Washington, D.C. based organization that offers a full continuum of care from immediate crisis hotline through transitional-to-permanent housing.nent housing. Their experienced team of professional social workers provides clinical counseling, case management, and comprehensive services empower survivors to recover and thrive. MSP also provides training, case consultation, and advocacy to engage communities to prevent violence and abuse. For more information please log on to https://mysistersplacedc.org/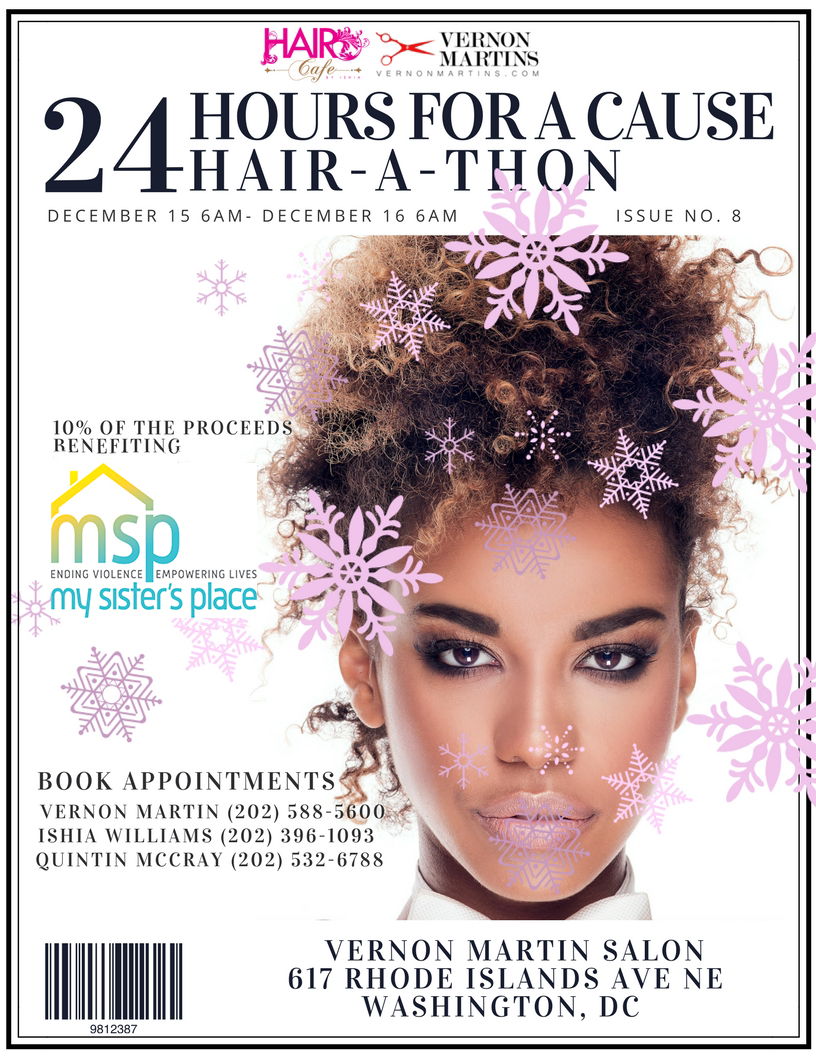 Stay Social
@thevernonmartin
@quintenmccray_forhair
@ishia_blondebombshell
#24Hours4Cause
@mysistersplacdc
ABOUT HAIRCAFE BY ISHIA From the latest trends in hair coloring to cutting-edge styling in hair extensions, we offer everything you need for the ultimate salon and spa experience. At Hair Cafe, creative excellence and unparalleled hospitality are the driving forces behind that experience. Our team is extremely talented and passionate. We utilized the best products on the market for hair care. ABOUT VERNON MARTIN SALON A boutique salon of industry leaders with an esteemed client roster, our talent is among the most respected, cultivated, and innovative architects of beauty in the field. We bring our decades of skill, experience, and creative vision to pour a personal foundation of a lifelong partnership with each individual client, cemented right from your initial consultation. Reflective of the unparalleled zeal and passion Vernon Martin has for his craft and the professional standards he holds for himself and his team, The Vernon Martins Salon is a space of love, respect, family, and the most signature of care. With an open seat reclining just for you, isn't it time you leaned into the next chapter of your life? Step into Vernon Martins', step into your release.