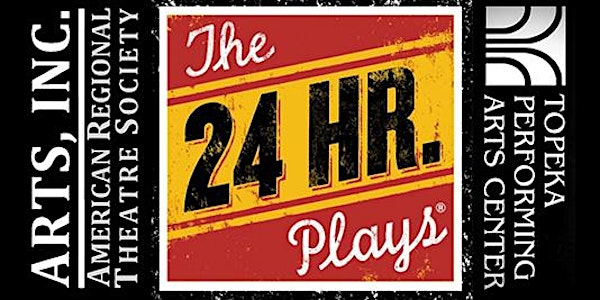 24 Hour Plays: ARTS, Inc.
24 Hour Plays: ARTS, Inc. presents 6 ten-minute original plays written, rehearsed, and performed in only 24 hours! It's wild fun!
By American Regional Theatre Society, Inc.
Date and time
Starts on Saturday, March 25 · 7pm CDT
Location
Topeka Performing Arts Center 214 Southeast 8th Avenue Topeka, KS 66603 United States
About this event
What can go wrong? Better yet, what can go right when 6 playwrights, 6 directors, 6 stage managers, and 24 actors spend 24 hours creating and rehearsing 10-minute original shows to perform for you? They began writing, staging, directing, producing, rehearsing on Friday night, ready to perform for you in one show only on Saturday, March 25 at 7:00 p.m.
A whirlwind of art, education, and community comes to Topeka, giving writers, actors, directors, and stage managers a chance to create from scratch six new short plays and perform them for an audience – all within 24 hours. The 24 Hour Plays phenomenon has swept the nation and the world, now being produced even on Broadway. A radically-present approach to theatre, these artists make work that responds immediately to the world us, builds communities, and generates new artistic partnerships. Performing live for YOU completes the adventure.
"24 Hour Plays: ARTS, Inc." revives the well-loved 24-Hour Play Festival previously produced by Topeka's Ad Astra Theatre which closed in recent years. It is a co-prduction of American Regional Theatre Society, Inc. (ARTS, Inc.) and Topeka Performing Arts Center (TPAC), both charitable nonprofit organizations. It
All ticket sales are final with no refunds. The Hussey Black Box Theatre on the TPAC lower level may not be fully ADA accessible pending completion of elevator repairs.