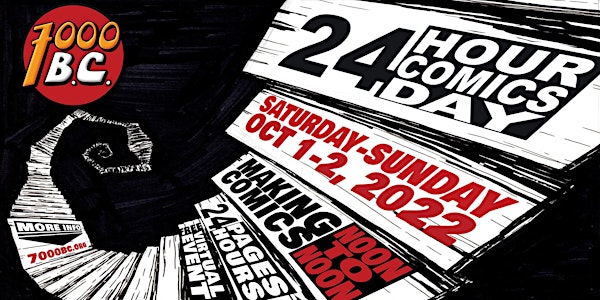 24 Hour Comics Day 2022!
Join comics creators from around the globe in the challenge to create a complete 24 page comic in 24 straight hours! Free, all-ages event!
About this event
It's time for 24 Hour Comics Day 2022!
24 Hours. 1440 Minutes. 86,400 Seconds. 24 Hour Comics Day is an annual international celebration of creativity! The challenge is for participants to create a complete 24 page comic book in 24 consecutive hours. It's a creative exercise that will test your stamina while you explore what you're capable of!
7000 BC takes the 19th annual 24 Hour Comics Day virtual on Saturday and Sunday, October 1-2, 2022. Get in the mood by joining us for one of our Between the Panels comics workshops, any Saturday at 11:00 AM. On October 1st, Bram Meehan will lead Picturing Words in Drawings (Text and Image Interacting), covering essential skills to take your 24 Hour Comic to the next level!
At noon, the main event will begin! We'll review the Official Rules and then we're off. Throughout the event, we'll provide entertainment and inspiration, videos, music, free raffles every two hours, and a rotating cycle of in-progress images sent in by you, the participants. There will be a community meal for anyone who wants to take a break in the evening and chat a bit, and for those still hanging on in the morning there will be a BYO Breakfast Burrito.
Participants must register through Eventbrite which will allow you to join us on Zoom. You do not need to stay the entire time. Visitors are welcome. We will need a parent or guardian's consent for minors. Meet fellow creators, be inspired, have conversations when you want, work when you want, and challenge yourself to make a 24-page comic in 24 hours!
Questions? Please contact jeff@7000bc.org.
24 Hour Comics Day 2022
Saturday, October 1-2
Noon-Noon MST
Stay safe, be well, and make comics! We'll see you there!
WHAT IS 24 HOUR COMICS DAY?
Be a part of 24 Hour Comics Day 2022 - Accept the challenge to create 24 comic book pages in 24 consecutive hours.
Join 7000 BC as the sun sets and rises. Once again thousands of artists of all skill levels from around the globe gather for this annual celebration of comics creation. It's a creative exercise that will test your stamina while you explore what you're capable of. Albuquerque has frequently been among the largest gatherings for this international event. Bring your papers and pens and join us for 24 Hour Comics Day 2022!
THE OFFICIAL RULES!
Officially, the challenge states that 1 person must complete a full 24 page story in 24 hours. No pre-planning, no conceptualizing. You make it all up on the spot. There is also a digital version of 24 Hour Comics Day if you want to do it as an online comic. The rule for this is that you must complete 100 panels and post them within the 24 hours. Any size, format, and subject is acceptable.
The official rules also state that you do not need to follow the official rules. There is even something called the Noble Failure Variant.
For more information and the history of 24 Hour Comics Day, visit the official 24 HCD HOME.
Unofficially, we encourage you to take on the challenge however you see fit. Collaborate with your friends, get going on that comic you've started but never returned to, plan to do only part of the full 24 hours -- as long as it's in keeping with the spirit of the event, there's no wrong way to participate.
IMPORTANT SURVIVAL TIPS!!!
What to Prepare
Comfort and Health - Since we're virtual, you can always run to the store - but why waste valuable time? And should you really be cruising the streets at 4 AM in pursuit of the wily coffee bean? Build your nest, hunker down and stay comfortable -- pillows, blankets, snacks, drinks, computer, iPod, all the comforts at home while you're at home... but not too comfortable. You'll want a reason to get up and move around once in a while. Build an obstacle course between you and the fridge to keep your brain and body active! If you do need to sleep, no one will be judging you. In fact, we're with you. Be prepared! Stay healthy!
Food and drinks - Pizza, ice cream, and coffee may be the staples, but remember to throw a little nutrition in there to balance it out. It won't just keep you healthier, it'll keep your creative brain on its toes.
Materials - Gather up whatever materials you may need. Paper, pencils, pens, brushes, ink, crayons, rulers, scissors, glue. It's a shame to have to break your stride because you ran out of purple crayons.
Entertainment and Inspiration - We'll have plenty to entertain and motivate you. But if you've got that special music or the one episode of your favorite show that always gets you going, sure, go for it. We'll still be there for you when you're done.
In-Progress Images
In between other things, we'll be running a loop of images sent in by you, the participants, of the work you're doing. Send in anything you'd like to share, and we'll add it to the loop throughout the evening and morning. Always a treat!
Free Prizes!
Although 24 Hour Comics Day isn't a contest, you deserve to be rewarded for your efforts. Every two hours, on the hour, everyone logged in to the 24HCD Zoom will be in the drawing for free raffle prizes! You must be on Zoom to be entered, but you don't need to be awake. We'll hold it for you until you wake up.
When You Finish...
Don't go away without telling us! Show us what you've done! And after you've slept, show the world by sending it to the official archives of the 24 Hour Comics Day Collection at The Ohio State University Cartoon Research Library. Submission is not mandatory and will not affect copyright ownership, which belongs to you, the creator. They are at:
The Ohio State University Cartoon Research Library 27 West 17th Ave. Mall, Columbus, OH 43210-1393
Questions??!!
If you have any questions or concerns, please email Jeff at jeff@7000bc.org or Bram at info@7000bc.org .
24 Hour Comics Day is brought to you by international organizers ComicsPRO, and local organizers 7000 BC.