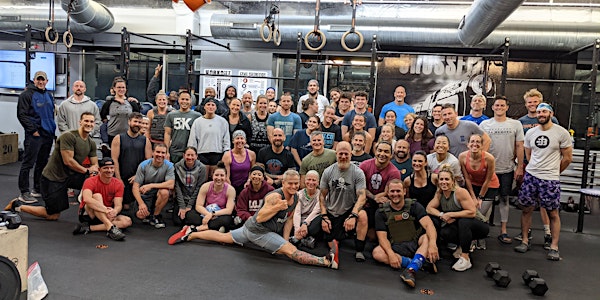 24 Heroes in 24 Hours - 10 Year Anniversary Event!
24 Hero WODs in 24 Hours - an amazing endurance and team building event that will support the charitable organization "23rd Veteran"
When and where
Location
CrossFit Main Line - Ardmore 10 East Athens Avenue Ardmore, PA 19003
Refund Policy
Contact the organizer to request a refund.
Eventbrite's fee is nonrefundable.
About this event
YES, we said that right: This is TEN YEARS of the 24 Heroes in 24 Hours Event!!!Wow!!!!
Starting at 09:30 on Friday, May 27th, athletes will perform a "Hero WOD" every hour for 24 straight hours.
This 24 hour event serves as a fundraiser for 23rd Veteran ( https://23rdveteran.org/ ) .
The mission of 23rd Veteran is to provide a happier, healthier life for veterans living with trauma. They achieve their mission through a groundbreaking 14-week program (23V Recon) they developed that is based in camaraderie, physical fitness and positive psychology. Check out this video to get a glimpse of this awesome program. All ticket sale proceeds will be donated to 23rd Veteran.
About the 24 Heroes in 24 Hours:
The Hero WODs from CrossFit are named after Heroes who have given their lives in the line of duty - military or civilian. Each workout is hard, heavy, and long. This IS NOT an easy event. The list of workouts will be published approximately 2 weeks before the event, so keep an eye on our website here, our Facebook event page, as well as our EventBrite ticket website for more details.
***We will finish the 24 hour event with "MURPH" at 0830, Saturday morning. This final workout is completed AS A GROUP - not an individual event. Nobody REALLY wants to do "MURPH" after working out for 23 straight hours, do they? :-)
There is NO expectation that all athletes perform ALL WODs. This is a fundraising event FIRST, Endurance event second. We want lots of participants to sign up so that we can increase the overall donation amount to the 23rd Veteran. Of course, we would love to see you knock out as many WODs as you want to safely perform. But we're here for what the event MEANS more than the physical challenge of 24 separate HERO WODs.
All Athletes should come prepared to tackle any workout and familiarize themselves with the basic components found in the Hero WODs: Bring your running shoes (there will be several miles of running - sometimes 400 meters at a time), weightlifting belts, weight VESTS (if you have one), wrist wraps, change of clothes and socks, calf sleeves (yup, there are rope climbs) and anything else that helps to get you through two dozen high intensity workouts. After last year, we recommend RAIN JACKETS and towels! Lots of running in the midnight rains!
As with the last SEVEN years of this event, we will have a "team" format available: this allows for teams of up to four athletes to share the workouts and distribute the movements among their teammates to complete the WOD. The first six WODs will be individually performed, the next six as a team, the third set of six again as individuals, and the final six will be team efforts. MURPH, the final WOD, will be completed as a team with all remaining athletes grinding out the last 2 miles of running, 100 pull-ups, 200 push-ups, and 300 squats.
All athletes and participants will be required to sign a liability waiver from our home box - The Main Line CrossFit - prior to engaging in any of the workouts. No exceptions. This event is NO JOKE.
​THE WOD LIST WILL BE COMING SOON!