Description
Social Media 'Induction' training

Tuesday 21st November



24-7 Peterborough are running a half-day Social Media 'Induction' training course, 09:30 until 13:00 on Tuesday 21st November. During this morning we will work on the foundation stone of your Social Media Strategy, crucial if you are ever to apply your Social Media correctly.
Join us for four hours of very strategic, practical training in understanding how Social Media can help you achieve your Business Goals and Objectives.
Who is this training for? Anyone using, or considering, using Social Media to grow their business. Your Social Media Strategy has to have focus, to be both effective (Achieve your goals) and efficient (Save you time). This highly Strategic, and practical course explains WHY - Social Media is so important these days and HOW to design a Social Media Strategy that helps you achieve your Business Goals.
Why is this training important? Done Correctly Social Media makes you MORE Money - This course, with its practical exercises, sets your Social Media in the right direction. If you are new to Social Media or your Social Media is not working - this training is for you.
This training is NOT technical, assumes no prior knowledge and focuses on aligning your Business Goals with your Social Media Strategy - ensuring there is a clear and obvious link between everything you do 'online' and achieving your business goals.

This course is suitable for both beginners and intermediate Social Media users.

The training covers the following subjects
- What is Social Media, why it matters to YOUR business
- In Bound Marketing
- Developing your Social Media Strategy
- Aligning your strategy with your Business Goals and Objectives
- Analysis of an example Social Media Strategy
- Introduction to the various platforms (Twitter, LinkedIn, Facebook)
- Choosing which Platforms you should consider
- Prospecting for leads using Social Media
BONUS OFFER - If you are coming to the training, join us beforehand for our 24-7 Peterborough Social Media Networking Breakfast for FREE (Saving £10).
---
What do people say about Mick's training?
"Attended the 24-7 Induction and training course this morning. Thoughtful and extremely useful, it made us think about our business goals and objectives in some detail. We came away enthused by the process and motivated to deliver some real actions around our social media strategy. Great stuff!"

"Mick provides invaluable expertise on integrating social media platforms into your marketing strategy and maximising their efficiency. Irrelevant of your current level of knowledge, he presents information in an accessible way personalising so to both your specific business and industry needs."

"Mick is one of those rare beasts - a personable and friendly trainer/consultant who's been there and done it himself and knows business inside out. Mick's 24/7 social media training and networking courses are fantastic for taking business people from introductory learning through to more specific, higher level techniques. If you want to learn about social media from a business perspective, Mick's your man."

"I have been using Linked-in for many years, probably since it first started, but having sat through a tutorial session with Mick, I now know how to use it properly!. Mick has extensive knowledge of this platform and is able to give help and advice in a very easy to understand manor. Evolution rather than revolution, little tips that make a lot of sense and will raise your profile as well as your company's. Expert advice very well delivers."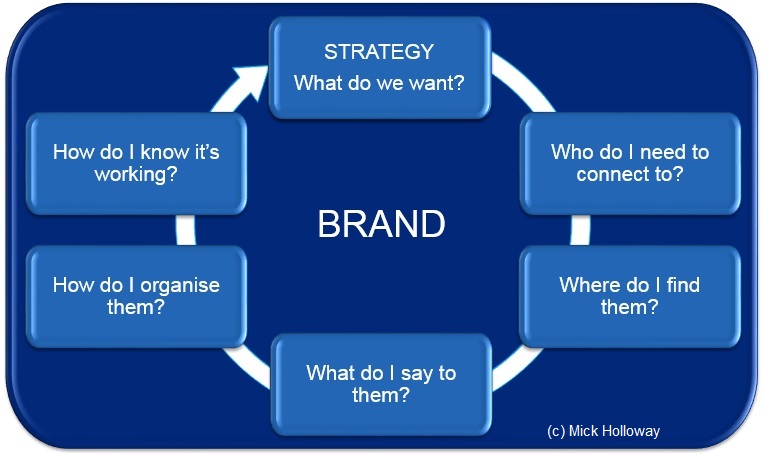 24-7 Social Media 'Success Circle' Our philosophy on getting Social Media RIGHT