Location
Opening Sessions are at Glessner House
1800 S. Prairie Avenue
Chicago, IL 60616
Refund policy
Contact the organizer to request a refund.
Eventbrite's fee is nonrefundable.
23rd Annual Conference on the Arts & Crafts Movement Chicago and Environs Thursday, September 23 - Sunday, September 26
About this event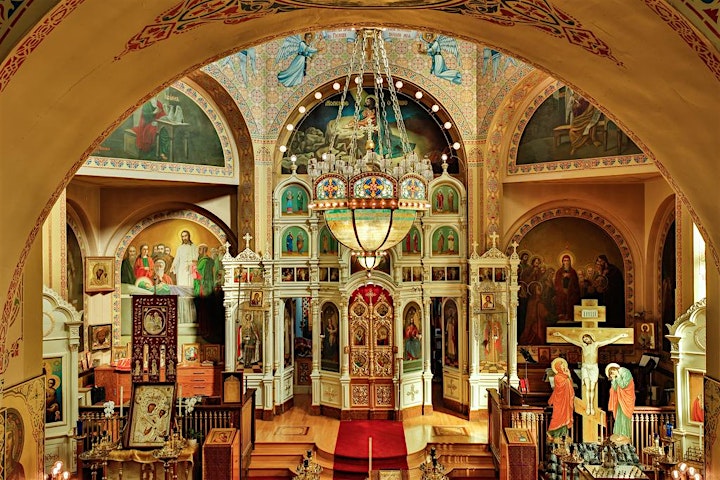 23rd Annual Conference on the Arts & Crafts Movement Chicago & Environs
For more information, call: +1 646-485-1952 or email: info@artinitiatives.com
Through talks, site visits, and collections tours we will consider how Chicago's architects, artists, and artisans developed a design vocabulary specific to the region, creating work completely new while at the same time thoroughly rooted in tradition.
Conference Agenda (as of 9/16/2021):
Wednesday, September 22
• A Welcome Reception hosted by the Hofmann/Simms from 6-8 PM on Wednesday, September 22nd. A chance to meet, greet and get to know your fellow participants in an Arts and Crafts style 1909 condo on the north side of Chicago. Mark your calendars - further info will be forthcoming.
Thursday, September 23
• Opening formal sessions to take place at The Glessner House (H. H. Richardson, 1887), September 23rd.
8:30 – 9:10 a.m. Registration and continental breakfast.
9:10 – 9:15 a.m. Welcome. Tori Simms, Board President, Glessner House.
9:15 – 9:30 a.m. Introduction. Lisa Koenigsberg, President, Initiatives in Art and Culture.
9:30 – 10:30 a.m. Creating the City and the Rise of a New Urban Architecture after the 1871 Fire. Richard Guy Wilson, Commonwealth Professor of Architectural History, University of Virginia.
10:35 – 11:20 a.m. English Arts & Crafts at Glessner House. William Tyre, Executive Director and Curator, Glessner House.
11:25a.m. – 12:30 p.m. Ellen Gates Starr, John Ruskin, William Morris, and the Influence of the Arts and Crafts Movement at Hull-House Settlement. Annie Storr, Resident Scholar, Women's Studies Research Center, Brandeis University.
12:30 – 2:15 p.m. Optional Lunch at Glessner House (advance purchase required; attendees will be sent information after registration).
2:15 – 2:30 p.m. Introductory Remarks on How Women Redefined Arts and Crafts: Gender and the Decorative Arts in Chicago. Rima Lunin Schultz, historian; co-editor, Women Building Chicago, 1790-1990: A Biographical Dictionary.
2:35 – 2:55 p.m. Hull-House: Introducing New Initiatives supporting the confluence of politics, history, and visual culture. Ross Stanton Jordan, Curatorial Manager, Interim Director, Jane Addams Hull-House Museum, where he supports the production of exhibitions and programs that connect the social justice issues of the past to the present.
3:00 – 3:35 p.m. Hive and Hub: The Fine Arts Building, 1898-1918. Anne Stewart O'Donnell, independent historian, writer, and editor, and author of CFA Voysey: Architect, Designer, Individualist.
3:40 – 4:30 p.m. Frank Lloyd Wright and the Architects of Steinway Hall: A Study of Collaboration. Stuart Cohen. FAIA, Author of Inventing the New American House: Howard Van Doren Shaw Architect (2019) and Frank L. Wright and the Architects of Steinway Hall: A Study of Collaboration (2021).
4:45 – 5:30 p.m. Transportation from Glessner House to The Emil Bach House.
5:30 – 8:00 p.m. Private Tour and Exclusive Reception, The Emil Bach House, 7415 N. Sheridan Road, Chicago, IL. Built in 1915 and widely regarded as one of Frank Lloyd Wright's last Prairie style houses, the house is a variation on the "Fireproof House for $ 5000" presented in an article by Wright in the 1907 Ladies Home Journal. Listed on the National Register of Historic Places in 1979 and named a City of Chicago Landmark in 1977, the house was built for the brick maker, Emil Bach, with a compact plan of under 2000 square feet.
5:30 – 6:30 p.m. Discussion and Presentation, Carmen Korleski. Director of Hospitality Operations, Tawani; T. Gunny Harboe, FAIA Architect and Historic Preservation Expert, and Robert Hartnett, author, Frank Lloyd Wright's $10,000 House about which Gunny Harboe noted: "The whole story is now being told!"
6:30 – 8:00 pm Tours and Reception.
8:00 – 8:30 p.m. Transportation returns to Staypineapple hotel.
Friday, September 24
8:45 – 11:15 a.m. Optional walking tour beginning at The Staypineapple Hotel, led by Ward Miller, Executive director, Preservation Chicago and co-author, The Complete Architecture of Adler & Sullivan. From the Alise, the tour proceeds down State Street and Michigan Avenue, passing commercial structures by Holabird & Root, Holabird & Roche, Adler & Sullivan, and Louis Sullivan. Among the structures to be viewed are the Boston Store, the Chicago Building, the Wieboldt Store (formerly, Mandel Bros.), Carson Pirie & Scott (now, Sullivan Center), the Palmer House and its Empire Room, and the C. D. Peacock with Tiffany fixtures.
In the Fine Arts Building (also known as the Studebaker Building, Solon Spencer Beman, 1884 – 1885) view the World Playhouse and the Studebaker Theater. The upper floors boast murals by artists such as Frederic Clay Bartlett, Frank Xavier Leyendecker, and Bertha Sophia Menzler.
Continue through the Historic Michigan Boulevard District and passing such highlights as Sullivan's Gage Building (1898 – 1900) and the Chicago Athletic Association Hotel (formerly, Chicago Athletic Association; Henry Ives Cobb, 1893 with an addition by Schmidt, Garden & Martin, 1906).
11:15 a.m. – 12:15 p.m. Visit the Chicago Cultural Center (Shepley, Rutan & Coolidge, 1892 – 1897), 78 E. Washington St., Chicago. The Chicago Cultural Center was designed to house the City's central library and Grand Army of the Republic (G.A.R.) meeting hall and memorial. While the building's south side features the world's largest stained glass Tiffany dome (restored, 2008), the north side features a dome with some 50,000 pieces of glass in an intricate Renaissance pattern, designed by Healy & Millet.`Presentation of and visit to the G.A.R. portion of the Chicago Cultural Center with discussion of the restoration project by T. Gunny Harboe.
12:15 – 12:30 p.m. Walk to The Cliff Dwellers, 200 S. Michigan Avenue, 22nd Floor, Chicago. In 1907, Chicago author Hamlin Garland and friends founded the Attic Club. Re-named The Cliff Dwellers two years later (and formerly located above Orchestra Hall / Symphony Center), the private club serves members who are professionally engaged in the fine, performing, and allied arts, and who support them.
12:45 – 1:00 p.m. Welcoming remarks. Lisa Koenigsberg.
1:00 – 2:00 p.m. Lunch at The Cliff Dwellers (advance purchase required and necessary for attending the talk; attendees will be sent information after registration).
2:00 – 3:00 p.m. Louis Sullivan's Garrick Theater in the Schiller Building. John Vinci, architect, exhibition designer, preservationist, and author; recipient, Chicago Chapter of the American Institute of Architects Chicago Lifetime Achievement Award.
3:00 p.m. Depart The Cliff Dwellers for Jane Addams Hull-House Museum.
3:30 – 5:30 p.m. Visit Jane Addams Hull-House Museum (JAHHM), 800 S. Halsted St., Chicago. The Museum is in two of the original buildings: the Hull Home (originally Charles Hull Mansion, 1856) and the Residents Dining Hall (Pond & Pond, 1905).
3:45 – 5:15 p.m. Welcoming remarks. Ross Stanton Jordan, Curatorial Manager/Interim Director, JAHHM.
View "Casa Museo: A Living Museum and Archive," an exhibition devised in collaboration with internationally renowned artist and MacArthur Fellow Guillermo Gómez-Peña and JAHHM's contribution to "Toward Common Cause: Art, Social Change, and the MacArthur Fellows Program at 40," a multi-venue series featuring 28 MacArthur Fellows. The exhibition presents Gómez-Peña's incisive criticism of museum institutions and explores Hull-House social reformers' efforts, with their immigrant neighbors, to create a museum providing access to the arts for all and reflectingthe immigrant community's diverse cultural heritage. Enjoy refreshments in the Pond & Pond-designed Residents' Dining Hall.
5:30 – 5:45 p.m. Travel to Holy Trinity Orthodox Cathedral.
5:45 – 6:30 p.m. Holy Trinity Orthodox Cathedral, 1121 N. Leavitt St (Louis Sullivan, 1903) features an elaborate chandelier and stained glass by Healy & Millet. Visit hosted by Grace Faoro.
6:30 p.m. Depart for the Staypineapple Hotel. 
Saturday, September 25
8:45 – 10:00 a.m. Depart The Staypineapple Hotel Chicago for Oak Park.
10:00 – 11:00 a.m. Unveiling Ceremony for UNESCO Plaque, Unity Temple (Frank Lloyd Wright, 1909), 875 Lake St., Oak Park.
10:05 a.m. Welcome. Heidi Ruehle, Executive Director, Unity Temple Restoration Foundation.
10:10 – 10:20 a.m. Remarks. Barbara Gordon, Executive Director, Frank Lloyd Wright Building Conservancy.
Tour Unity Temple (without interpretation). The building will close promptly at 11:00 a.m.
11:00 – 11:15 a.m. Walk from Unity Temple to the Nineteenth Century Club led by Frank Lipo, Executive Director, Oak Park River Forest Museum.
11:15 a.m. – 12:45 p.m. Visit the Nineteenth Century Club (James L. Fyfe, 1928), 178 Forest Ave, Oak Park. Originally founded in 1891 as a private club for forward-thinking women, the Nineteenth Century Club continues its tradition of providing opportunities for women and in developing support systems for families within the community.
11: 30 a.m. – 12:30 p.m. The Noble Room: Frank Lloyd Wright's Unity Temple. David Sokol, Professor Emeritus of the History of Art, University of Illinois, Chicago and author of books and articles on Oak Park and Unity Temple.
1:00 – 3:00 p.m. Luncheon and tours led by Frank Lipo. Exclusive opportunity to visit Frank Lloyd Wright's Arthur Heurtley House, 1902. (Advance purchase required and necessary for touring the House; attendees will be sent information upon registration). Commissioned by banker Arthur Heurtley, the Heurtley house is located a short distance from Wright's own Home and Studio. While the building's rectangular form and monumental massing evoke Wright's earlier 1893 Winslow House, the design reflects the remarkable evolution of Wright's work and the emergence of his mature Prairie style design vocabulary.
3:00 – 3:30 p.m. Depart Huertley House for the John Farson House, often referred to as Pleasant Home (George W. Maher, 1897). Frank Lipo will discuss Oak Park's evolving architectural, social, and cultural context.
3 30 p.m. – 4:30 p.m. Tour Pleasant Home, 217 South Home Ave., Oak Park, led by Frank Lipo. The Farson House is among the earliest of the Prairie style buildings. Built and designed in 1897 by prominent Prairie School architect George W. Maher for John Farson, the house is considered the finest surviving example of Maher's work.
4:30 p.m. Depart from Oak Park and return to The Staypineapple Hotel.
Sunday, September 26
8:00 a.m. Depart The Staypineapple and walk to the Randolph Street (Millennium) Metra Station.
8:10 a.m. Take Metra to Pullman, the first industrial planned community in the U.S., built in the 1880s by George Pullman as housing for employees of the Pullman Palace Car Company. Pullman's architect, Solon Spencer Beman, was said to be proud that he had met all the workers' needs within the neighborhood he designed. Pullman is a center of labor rights history and social activism. It is also the location of the A. Philip Randolph Pullman Porter's Museum. Randolph worked with Dr. Martin Luther King, Jr. to organize the 1963 March on Washington.
8:42 a.m. Disembark train and walk to Pullman National Monument Visitor Center. 11001 S. Cottage Grove Ave.
9:00 – 10:00 a.m. Tour the Pullman National Monument Visitor Center. The Administration Clock Tower Building (NPS) and the town were designated as the Pullman National Monument on February 19, 2015 by President Barack Obama. Built in 1880 as the administrative center for Pullman's shops, the structure housed the design and organization of the production of rail cars. The North Wing and Rear Erecting Shop structures represent the only remaining components of the "PalaceCar" assembly process.
9:00 – 9:50 a.m. View exhibits within the Visitor Center.
9:50 – 10:00 a.m. Walk to the Historic Pullman Foundation Exhibit Hall.
10:05 – 10:15 a.m. Remarks by Dr. Lyn Hughes, Founder, A. Philip Randolph Pullman Porter Museum.
10:15 – 11:00 a.m. Pullman, National Monument: Architecture, Labor History, and Civil Rights. Ward Miller.
11:00 – 11:15 a.m. Depart Historic Pullman Foundation Exhibit Hall and walk to The Pullman House Project Welcome Center, 605 E. 111th St. On foot, we will pass the Hotel Florence, 11114 S. Forrestville Ave, Chicago, which operated continuously from 1881 –1975. The Livery Stables, 11201 Cottage Grove Ave. also housed the Pullman Fire Department's telephone, telegraph, and fire alarm systems. Designed by landscape architect Nathan F. Barrett in 1880, Arcade Park, 111th Place and Forrestville. Ave., was Pullman's formal garden. Greenstone Church, 11201 South St. Lawrence Ave., intended as non-denominational and constructed to inspire religious practice, is a visual landmark within Pullman's urban design. Designed by Beman in the Romanesque style and built in 1892, Market Hall Square, 112th St. and S. Champlain Ave., replaced the original 1881 Market House which was destroyed by a fire.
11:15 a.m. – 12:15 p.m. Visit The Pullman House Project. Divided into groups, we will visit The Pullman House Project which employs select and characteristic residential properties to portray life in the original Town of Pullman. The Thomas Dunbar Executive House illustrates life for families in the upper echelon of the Pullman workforce. Dunbar, who immigrated to Pullman in 1885 from Scotland, was first employed as a carpenter, subsequently rising through the corporate ranks to become the Superintendent of the Works. He retired from the Company in 1915. The Worker's Flat Unit is typical of housing for Pullman's factory workers; given the small size of these units, the block on which they are located is often referred to as Honeymoon Row. These buildings, completed about 1890, were among the last housing blocks to be built by the Pullman Palace Car Company. The bay front buildings have four apartments, each roughly 400 square feet, consisting of three light filled rooms, two bedrooms and a living room. Each unit had a large basement room, running water, gas lighting and a private indoor toilet, as well as a pantry closet for food and utensil storage. Each bedroom had a clothes cabinet where clothing was kept on hooks. The rent for each apartment was about $12 per month, water and gas charges were separate. Originally, the workers who lived in this block were laborers from Sweden, Norway, Germany, Austria, England, and the US skilled in blacksmithing , carpentry and other mechanical skills.
12:30 a.m. – 1:30 p.m. Closing gathering and box lunch (advance purchase required and recommended since there are no other lunch options available; attendees will be sent information upon registration).
1:30 p.m. Walk to Metra Station.
2:13 p.m. Depart via Metra for The Staypineapple.
IAC is committed to the health and safety of event participants, staff, and others with whom we will come in contact. This conference will follow current legal mandates, guidance and safety protocols for preventing the spread of COVID-19 at large gatherings issued by the Centers for Disease Control and Prevention (CDC) and relevant state and local authorities. We reserve the right to determine and enforce additional reasonable health and safety requirements at our discretion, and we will abide by the requirements of all private and public venues visited during the event.
Upon arrival at the conference, IAC will require proof of full vaccination or a negative COVID-19 test no more than 72 hours prior to the start of the conference. Masks are required to be worn, covering the mouth and nose, at all times except for when eating or drinking.
Confirmation of purchase will be sent through Eventbrite. Please check your junk/spam folders if you do not receive your confirmation email.
Please note that you will receive a dear attendee letter one week prior to the conference. This letter will contain paperwork related to transportation information, event participation, lunch options and instructions on how to order.
Hotel Accommodations
Initiatives in Art and Culture has a room block at Staypineapple, located at 1W Washington St., Chicago, IL 60602. If you plan on arriving before Tuesday, September 21 or leave after September 28th or if you want a double or king size room, kindly call the reservations team directly at 866-866-7977. PLEASE CALL SOON- ROOMS ARE RUNNING OUT.
https://be.synxis.com/?adult=1&arrive=2021-09-21&chain=26225&child=0&configcode=rate¤cy=USD&depart=2021-09-28&group=200909INIA&hotel=75615&level=hotel&locale=en-US&rooms=1&utm_campaign=group-sales-spc&utm_medium=referral&utm_source=initiatives-art-culture
If you have any questions please contact Erin at erin.welsh@artinitiatives.com. 
We hope you can join us for another GREAT conference with amazing sites, insightful information and great people.  
Notice of withdrawal must be made in writing to Initiatives in Art and Culture at 
333 East 57th Street, Suite 13B New York, New York 10022
or via email info@artinitiatives.com prior to August 26, 2021
Program subject to change
Captions from top: Frank Lloyd Wright,Emil Bach House, 1915; Holy Trinity Cathedral, 1903.