About this Event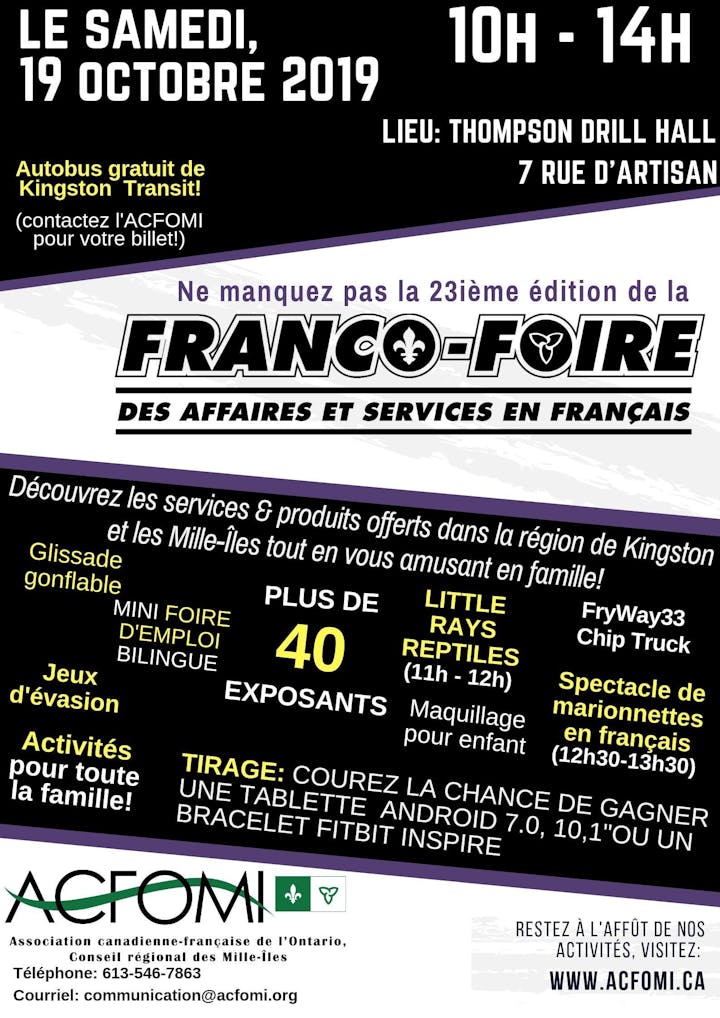 Offrez-vous offrez un service ou un produit en français que vous aimeriez partager avec la communauté francophone de la région de Kingston et des Mille-Îles? Réservez un kiosque lors de la 23e édition de la FRANCO-FOIRE pour promouvoir vos services en français. La 23e édition de la FRANCO-FOIRE se tiendra le samedi, 19 octobre 2019 de 10 h à 14 h au Thompson Drill Hall (BFC Kingston)
Un événement festif et décontracté, la FRANCO-FOIRE a pour but de faire découvrir les produits et services offerts en français disponibles dans la région de Kingston et des Mille-Îles. L'événement est gratuit pour les visiteurs et exposants. Joignez-vous à nous et découvrez la culture francophone !
Restez à l'affût des dernières nouvelles de la Franco-Foire sur notre site web www.acfomi.ca ou sur l'événement Facebook : https://www.facebook.com/events/2308816706113933/. N'hésitez pas à sélectionner « Intéressé » ou « J'y vais » et de partager l'invitation Facebook dans votre réseau.
Veuillez compléter et retourner le formulaire ci-joint pour réserver votre kiosque avant le 13 septembre 2019 à communication@acfomi.org
Do you offer a French service or product that you'd like to share with the Francophone community of Kingston and the Thousand Islands region? Reserve your space as an exhibitor at the 23rd edition of the FRANCO-FOIRE (French Services Fair) on Saturday, October 19, 2019, from 10 a.m. to 2 p.m at Thomspon Drill Hall (CFB Kingston)
A fun and festive event, the FRANCO-FOIRE aims to showcase services and products offered in French that are available in Kingston and the Thousand Islands region. It is free for both exhibitors and visitors. Join us to promote and celebrate what you bring to the Francophone community!
We will be posting event updates on our website at www.acfomi.ca and on the Facebook event page at: https://www.facebook.com/events/2308816706113933/. Make sure to click "Interested" or "Going" and to share the Facebook event in your network! Please complete and return the attached document to reserve your kiosk before September 13, 2019 to communication@acfomi.org