CAREER BOWL 2022 - FORT MYERS/SWFL JOB FAIR - JAN 11! REGISTER NOW!
GET HIRED! COME INTERVIEW WITH TOP COMPANIES ON THE SPOT! Hundreds of positions to be filled on January 11th!
About this event
Looking for a GREAT NEW JOB? Don't miss JOB LINK 2022 - CAREER BOWL, the area's best and most successful Job Fair!
If you're a Jobseeker, get ready to GET HIRED! Employers and Candidates Connect Face to Face at this one day Career Fair!
If you're an Employer, Click Here to Register to Recruit!
Hiring will occur on the spot! Hundreds of Jobs are up for grabs at this Job Fair!
The following are companies that participate with us. These and MORE will be LOOKING TO MEET YOU:
Mister Sparky 
Sarasota Memorial Hospital
City Of Bradenton
Amazon 
Sailormen/Popeyes
FHIA Remodeling
Cowan Logistics
HH Staffing   
Allied Universal Security / G4S 
Bankers Life       
Chris Craft
Paradies
Chic Fila A
Precision Garage Door
UF Resources
Gulf Coast Charter Schools
Specialized Pipe Technologies
Piedmont Airlines
Westin Sarasota     
Massey Services 
The Job Fair happens from 10 until 1 at The Drury Inn Conference Center, 9950 University Plaza Drove. Fort Myers.
This is your opportunity to meet one-on-one with recruiters and hiring managers from Florida's top hiring companies
Featured career fields include technical, labor, logistics, warehouse, production, installation, security, law enforcement, medical, sales, professional, service technician, customer service and MORE!
See you there!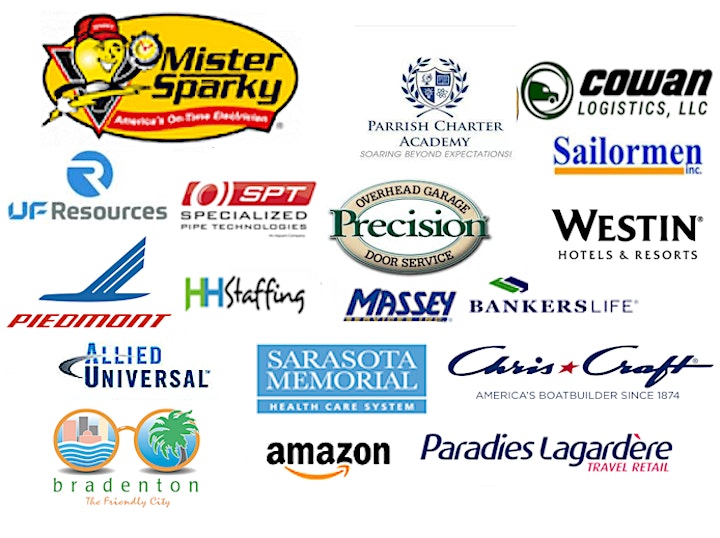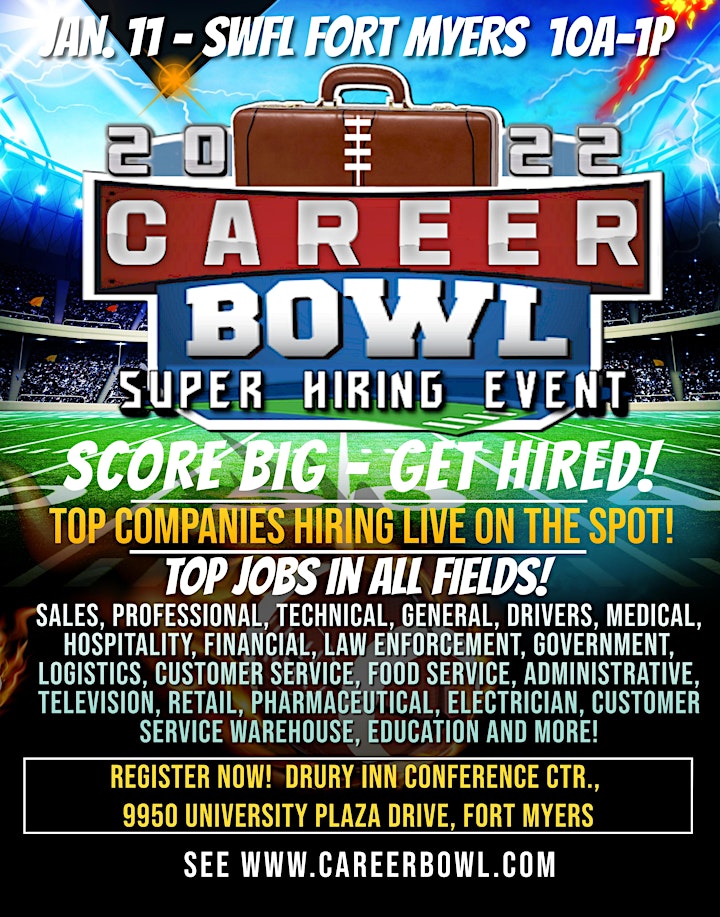 Organizer of CAREER BOWL 2022 - FORT MYERS/SWFL JOB FAIR - JAN 11! REGISTER NOW!
Click here to subscribe to our text messages.
Putting Communities Back To Work!
Florida JobLink has been producing career fairs and recruitment events for over 20 years. With a strong focus on diversity and inclusion of all types of career candidates, the company boasts a management staff with over 35 years of combined experience in recruiting.
Florida JobLink knows Florida and its communities! We focus on attracting top talent to our events - and the best employers within any market we serve. The company is excited for the future. 'Come out to the event - They're interviewing and hiring on the spot!'
Our mission is to help companies with growth, and assist job seekers in their journey to a successful and meaningful career. In doing so, we set out to find the best, most talented career seekers and connect them with the best employers in the country.
Employers:
Are you hiring? Do you have positions that need to be filled? Attending one of our career fairs allows you to interview and source hundreds of candidates in a single event. By doing so, you are cutting down the cost per hire and saving precious time, all while meeting the top quality candidates you NEED. Let's face it, nobody wants to post a job and get very few responses. Don't be forced to hire based on limited candidates. Our career fairs deliver!
*Promotional discounts may apply. Call us!
Job Seekers:
Are you looking for a new opportunity or to advance your existing career? Our Career Fairs put job seekers in front of the country's top hiring companies looking to hire candidates just like you to fill their immediate job openings. What are you waiting for? Select one of our events and register today so you can begin your journey for a better future!

---
Employers: Register Your Company Today!
Call (813) 892-5502
or visit www.FloridaJobLink.com.
EOE / VETERAN / AFFIRMATIVE ACTION EVENTS