Enfield mother of 4 shares her personal story to raise awareness of the hidden dangers of common household items that use button batteries.
About this event
A coin sized lithium battery can get stuck in a child's throat and burn through the tissue in just two hours, causing severe injury or death. Button batteries are everywhere these days and many are not in child-proof products such as key fobs, remote controls, scales, calculators, stuffed & musical toys, greeting cards and thermometers. Ellen bravely shares her gut-wrenching story of how they discovered their 10-month old had somehow swallowed a button battery and how doctors quickly operated to save his life. Learn the warning signs from Pediatric Surgeon, James M. Healy, Assistant Professor of Surgery, University of Connecticut School of Medicine, Assistant Profession in the Department of Pediatrics, Frank H. Netter School of Medicine.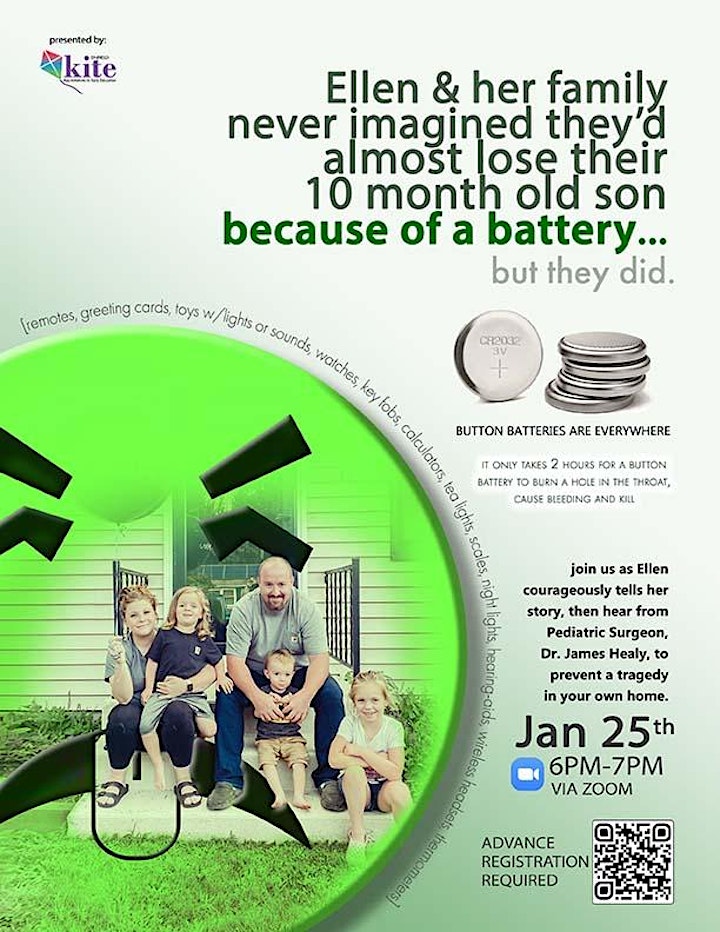 Organizer of Button Battery Safety RESCHEDULED
KITE advocates for Enfield's youngest citizens. Because we recognize that PLAY is essential to a child's overall development and is a child's most important form of learning, KITE is leading a 3-year campaign called Enfield Play's On to inform, incorporate, and increase play in the community. Enfield Plays On!  wants to share with parents, caregivers and the general public the importance of play for children's cognitive, physical, social, and emotional growth. Enfield Plays On! supports parents in incorporating play as part of their child's daily lives and routines. 

Facebook @EnfieldKITE
Facebook @EnfieldPlayOn!