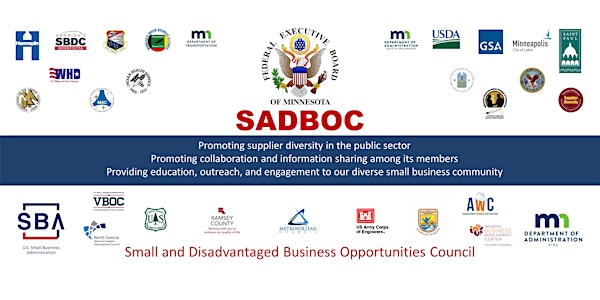 22nd Annual SADBOC Government Procurement Virtual Training Week
The SADBOC Government Procurement Virtual Training Week brings you 24 workshops to increase access and success in selling to government.
About this event
Welcome to the 2021 SADBOC Government Procurement Virtual Training Week!
The annual SADBOC fair is Virtual for this year, similar to last year's fair.
We have scheduled 24 workshops to help you grow and compete on government contracts. The workshops are being hosted by the MN PTAC on their WebEx platform. Over 15 different organizations will be presenting timely topics and time-tested basics.
Once registered, you will receive confirmation and a copy of the final program once complete. Follow the instructions on the program for individual workshop registration and enjoy the presentations!
SADBOC is FREE so attend as many of the workshops as you want!
The fair runs Monday through Thursday with 6 classes per day on the hour from 9 a.m. to 3 p.m.
We are focused on making this virtual SADBOC Government Procurement Fair benefit your business. Your business is important to the success of our procuring agencies and prime contractors.
Workshop subjects include:
Monday:
9:00 a.m. Welcome to SADBOC
10:00 a.m. The Basics of Selling to the Government
11:00 a.m. Selling to the State of Minnesota
12:00 p.m. The GSA Schedules Program: What You Need to Know!
1:00 p.m. SAM to beta.SAM – Two Becoming One!
2:00 p.m. Finding Opportunities
Tuesday:
9:00 a.m. Starting a Small Business in Minnesota
10:00 a.m. Know Your R&R: Responsiveness & Responsibility in Government Contracts
11:00 a.m. Small Business Government Contract Legal Developments
12:00 p.m. TBD -SBA's Mentor Protégé Program or Subcontracting Strategies
1:00 p.m. Getting Started: Creating the Right Legal Business Structure
2:00 p.m. Federal Agency Buyer Panel
Wednesday:
9:00 a.m. Demystifying Agency Compliance
10:00 a.m. QuickBooks Accounting for Federal Contractors and DCAA
11:00 a.m. Financial Management / Working Capital / Break Even Analysis
12:00 p.m. Access to Capital: Business After Covid"The Good," "The Bad," "The Ugly"
1:00 p.m. Estimating & Bidding / Overhead Rates / Multipliers/ Cost Proposal Development
2:00 p.m. State & Local Government Agency Panel
Thursday:
9:00 a.m. Federal Certifications (8(a); HUBZone; WOSB/EDWOSB)
10:00 a.m. Disadvantaged Business Enterprise (DBE) Certification
11:00 a.m. State of MN Targeted Group/Economically Disadvantaged/Veteran Owned (TG/ED/VO) Certifications
12:00 p.m. CERT Certification Program Overview
1:00 p.m. Section 3 Certification & Twin Cities Collaborative
2:00 p.m. Are You Ready for Prime Time? –a Prime Contractor Panel
Completed program with workshop links will be emailed to registered attendees!
Matchmaking will take place Friday morning, April 30th from 9 a.m. to 11:30 a.m. Register here: https://sadbocmatchmaking2021.eventbrite.com
This event is sponsored by the Federal Executive Board of Minnesota, in cooperation with the Procurement Technical Assistance Center and U.S. Small Business Administration.