This fundraiser directly supports our youth programs, which encourage and reinforce the inherent positive values learned in playing golf.
About this event
ACTIVITIES & EVENTS
Closest-to-the-Pin
Hole-in-One Contest
Longest Drive
Golf Cannon
Lunch & Player Goodie Bags
Raffles, Prizes, & Awards
Networking & More!
REGISTRATION
Golfers
$125 per person
$175 per person with Diamond VIP Ticket
$500 per 4-person team
$700 per 4-person team with Diamond VIP Ticket
Diamond VIP Ticket
Purchase the Diamond VIP Ticket and receive:
3 Mulligans ($20 day of event)
Buy-A-Drive* ($20 day of event)
Ball Launcher** ($20 day of event)
Raffle Tickets ($20 per purchase, day of event)
*Each person on a 4-person team must purchase a "Buy-A-Drive" in order for the entire team to be able to hit the ball from the "Buy-A-Drive" mark.  Individual golfers may purchase a "Buy-A-Drive" at the hole. 
**In order to take advantage of the ball launcher's best lie, the entire team must purchase a "Ball Launcher" ticket.  Individual "Ball Launcher" tickets may be purchased at the hole.
Diamond VIP Ticket Price
$50 per person ($80 savings)
$200 per 4-person team ($120 savings)
SPONSORSHIP OPPORTUNITIES
Sponsor a Camper   $125
Diamond Presenting Sponsor   $5,000         
Lunch Sponsor     $3,000
Hospitality Sponsor     $2,000         
Platinum Sponsor      $1,000          
Gold Sponsor   $500   
Hole/Tee Sign Sponsor   $125* [Deadline to submit logo (.pdf /.jpeg file) is 6/05/2021]
 Raffle Underwriter - We ask that you donate a gift valued at $100 or higher  
Player Gift Bag Donor (Company item Included in 125 gift bags)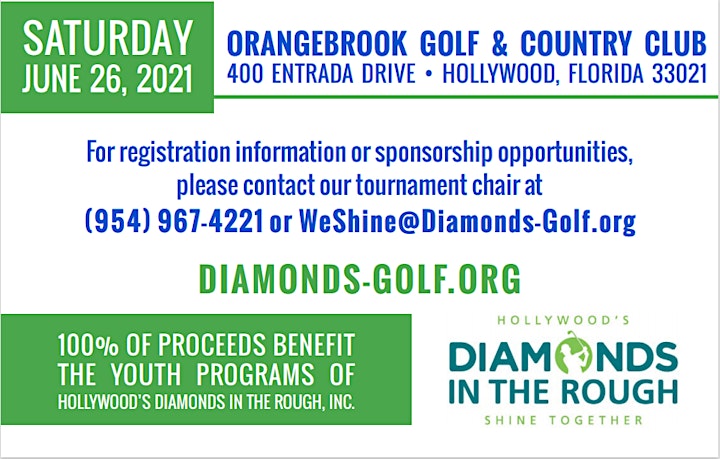 Organizer of 22nd Annual Hollywood's Diamonds Charity Golf Classic
Hollywood's Diamonds in the Rough was established in 1998 through the inspiration and collaborative efforts of a local group of community advocates and golf enthusiasts in Hollywood, Florida.
Our mission is to ensure that all youth in our local communities have an equal opportunity to uncover their unique potential through the game of golf.