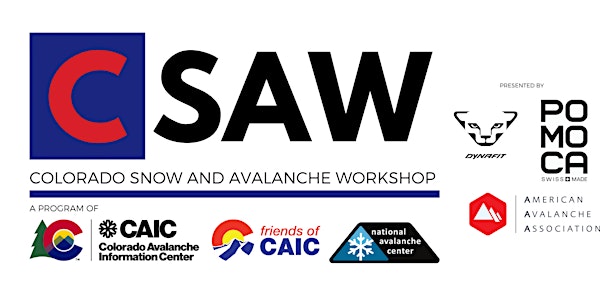 22nd Annual Colorado Snow and Avalanche Workshop
CSAW is a professional-level education event with content aimed at avalanche industry workers and advanced recreationalists.
When and where
Location
Breckenridge Riverwalk Center 150 W Adams Ave Breckenridge, CO 80424
Refund Policy
Contact the organizer to request a refund.
Eventbrite's fee is nonrefundable.
About this event
The 22nd annual Colorado Snow and Avalanche Workshop will be held on Thursday, October 13 and Friday, October 14. The Thursday session will be held online-only. On Friday, CSAW will be back at the Riverwalk Center in Breckenridge for a live, in-person event. See below for full speaker schedules!
Buy your ticket now before prices increase Oct 3 by $10.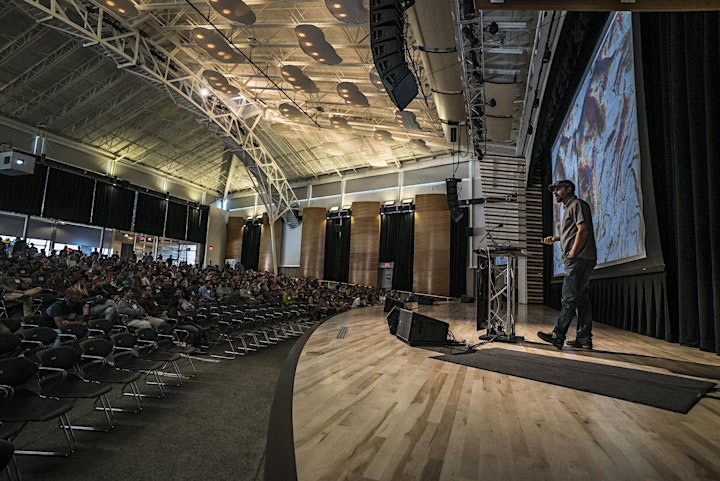 Colorado Snow and Avalanche Workshop Schedule Day 1
Thursday October 13, 8:00 AM to 12:45 PM Mountain Time - Virtual Workshop via Zoom
Welcome 8:00 AM to 8:10 AM - Ethan Greene
Session 1 - Avalanche Release
8:10 AM to 8:15 AM | Session Intro | Moderators - Karl Birkeland and Ron Simenhois
8:15 AM to 8:45 AM | The effect of spatially variable snow depths on avalanche triggering by skiers and snowboarders. | Francis Meloche, Johan Gaume, Louis Guillet, Francis Gauthier, Alexander Langlois
8:45 AM to 9:15 AM | An index for crack propagation derived from field measurements | Bastian Bergfeld, Alec van Herwijnen
9:15 AM to 9:45 AM | Snow instability in a changing climate | Stephanie Mayer, Alec van Herwijnen, Jürg Schweizer
Break 9:45 AM to 10:05 AM
Session 2 - Technology and Avalanche Detection
10:05 AM to 10:15 AM | Session Intro | Moderators - Erich Peitzsch and Jeff Deems
10:15 AM to 10:45 AM | Large-scale avalanche mapping from optical satellite imagery | Elisabeth Hafner, Yves Bühler
10:45 AM to 11:15 AM | Investigating glide-snow avalanches with 10 years of time-lapse photography | Amelie Fees, Moritz Altenbach, Michael Lombardo, Alec Van Herwijnen, Jürg Schweizer
Break 11:15 AM to 11:30 AM
Session 3 - Modeling, Measuring, and Mapping Snow Depth
11:30 AM to 11:35 AM | Session Intro | Moderators - Erich Peitzsch and Jeff Deems
11:35 AM to 12:05 PM | Refining snowpack model predictions with snow depth observations | Simon Horton, Pascal Haegeli
12:05 PM to 12:35 PM | Community Snow Observations - From Concept to Operational Snow Distribution Modeling | Dave Hill, Nina Aragon, Gabe Wolken, Katreen Wikstrom Jones, Anthony Arendt, Emilio Mayorga
Closing 12:35 PM to 12:45 PM - Ethan Greene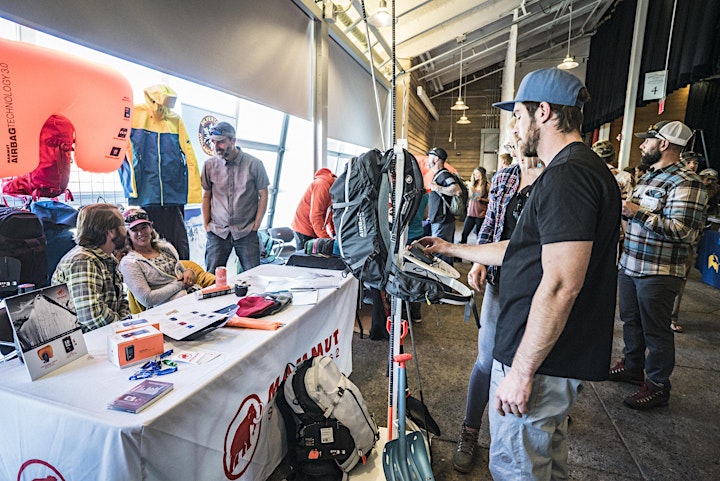 Colorado Snow and Avalanche Workshop Live In Person Schedule Day 2
October 14, 8:30 AM to 4:30 PM Mountain Time - Riverwalk Center, Breckenridge, Colorado (available live stream online)
7:30 am to 8:30 am | American Avalanche Association (A3) General Member Meeting (PRE EVENT MEETING - NOT LIVE STREAMED)
8:30 AM to 8:40 AM | Welcome | Ethan Greene
8:40 AM to 9:10 AM | The story of the Hiland Road avalanche with prequel and sequel | Eeva Latosuo, Brad Meiklejohn, Timothy Glassett, Paul Wunnicke
9:10 AM to 9:35 AM | Tracking liquid water flow in snow with hyperspectral imaging and upward-looking radar: A new era in snow pit characterization | Kevin Hammonds, Chris Donahue, McKenzie Skiles, James Dillon, Evan Schehrer
9:35 AM to 10:00 AM | Automated Avalanche Terrain Exposure Scale (ATES) Mapping - Localization and Validation in Western Canada | John Sykes, Håvard Larsen
10:00 AM to 10:30 AM | Break
10:30 AM to 10:55 AM | Characteristics of human-triggered avalanches that occurred during low danger in southwest Montana | Alex Marienthal
10:55 AM to 11:20 AM | The great debate about slab tension | Bruce Jamieson
11:20 AM to 11:45 AM | What We Can Learn from 55 Years of Snowy Torrents | Emma Walker, Spencer Logan, Blase Reardon
11:45 AM to 1:15 PM | Lunch - Enjoy the restaurants around Breckenridge!
1:15 PM to 1:40 PM | 2022-2023 Winter Weather Outlook | Mark Miller
1:40 PM to 2:05 PM| Drivers of Terrain Selection in Professional Ski Guides | John Sykes, Pascal Haegeli
2:05 PM to 2:30 PM | Estimating avalanche size - from far and near | Bruce Jamieson
2:30 PM to 3:00 PM | Break
3:00 PM to 3:25 PM | A Public Health Approach to Avalanche Education | Kelly McNeil
3:25 PM to 3:50 PM | CAIC Program Changes | Spencer Logan
3:50 PM to 4:15 PM | Comparing and contrasting avalanche danger during the 20/21 and 21/22 winters across the western United States | Karl Birkeland, Simon Trautman
4:15 PM to 4:30 PM | Closing | Ethan Greene
4:30 PM to 5:30 PM | Social hour | Sponsor TBA