Description
22nd Annual Buena Vista Bike Fest, June 6, 2020
A complete description of this Event is at bvbf.org.
BV Bike Fest is sponsored by the Rotary Club of Buena Vista, and is Rotary's primary fundraiser for the Dolly Parton's Imagination Library, promoting literacy by providing free, high-quality books to pre-school children regardless of income.
The beautiful century route goes North to Leadville, along the scenic rolling hills of Turquoise Lake Road, around the Mineral Belt Trail passing aspen groves and conifer forests, meandering through the historic Leadville Mining District, and back to Buena Vista in the shadows of Colorado's highest mountain peaks. Nearly all of the climbing is completed over the first 60 miles of the ride, with the last 40 miles essentially downhill to flat! Riders also have options to take shorter routes including a 35 miler, a 50 miler, and a Metric Century while still enjoying the Collegiate Peaks' magnificent scenery.
This year a new Gravel Grinder route has been added. Details of the route are at bvbf.org.
All registrants will receive a 22nd annual BV Bike Fest T-shirt. The Post Ride Celebration will include music in the park, a commemorative pint class and beer from Eddyline Brewery of Buena Vista and Bristol Brewery of Colorado Springs.
BVBF Apparel Orders: 22nd annual BVBF Event Jerseys can be ordered individually or with registration at Eventbrite. Jerseys are available in both men's and women's sizes.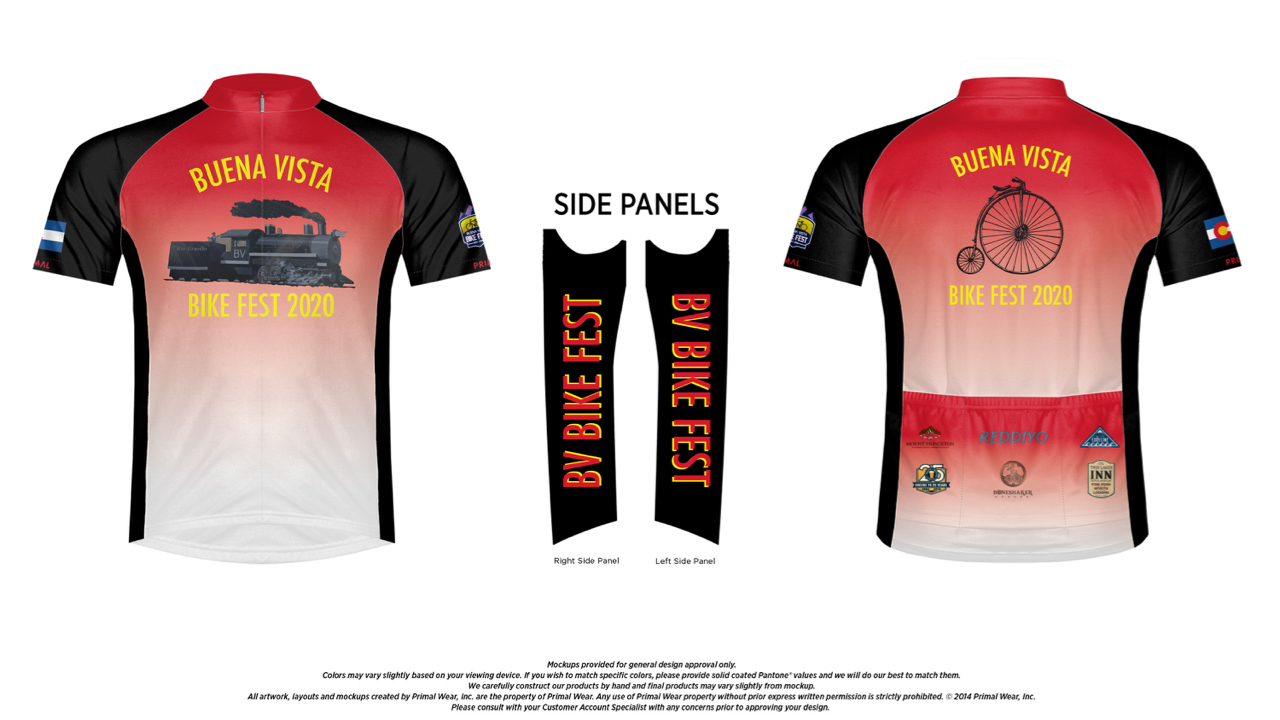 BVBF FAQ
When will registration open for BVBF?
Registration opens at 7:00 am. MST on January 8, 2020. All BVBF registrations other than at the event on Friday and Saturday will be online.

Can I mail in a registration?
There will be no mail-in registrations. Registrations will be online at Eventbrite.com. There will be limited registrations at the event.
Can I register at the event?
Only if we are not sold out. We have sold out in the past so register early. Sold out status will be noted on our home page.
Is there a cap on rider registrations?
Yes, the ride is capped at 400 riders. SO REGISTER EARLY!
How will I know when the cap has been reached?
A message will be posted on this site's home page and the registration link will be removed from this site.
Where and when can I pick up my packet?
Packet pick up will at McPhelemy Park on Friday, from 3:00 p.m. to 9:00 p.m. and Saturday morning from 6:30 a.m. to 9:30 a.m.
How can I get a jersey?
Jerseys can be purchased with your registration or purchased separately on Eventbrite.com. The initial jersey order will be placed with Primal Custom Wear. If you purchase a jersey by March 23, 2020 your jersey will be available at packet pickup. If you order a jersey after March 23, 2019, it will be shipped to your billing address seven to eight weeks after the event. Please note that the jersey price increases after March 23, 2020 to cover the additional cost of shipping to your home.
Can I get a refund if I am unable to ride?
There are no refunds for this event. If the event sells out and you can be replaced from our waitlist, then we will refund your registration through Eventbrite.
What happens if it rains?
This is a rain or shine event, there are no rain dates. Come prepared!
Where does the ride start?
You may start where and when you want, but please note aid station opening and closing times and SAG support times which will are noted on the website. Parking will be at the Sangre de Cristo Electric Association and the United Congregational Church. Signs will be provided to direct you to parking.
Do I have to wear the wrist band?
Yes, your wrist band gives you access to aid stations, food, drink and SAG support. It also gives you access to the post ride party, meal and drinks after the event.
Will there be enough food at the aid stations or do I need to bring my own?
The aid stations are approximately twenty miles apart and will be fully stocked including a variety of fruit, bagels, muffins, bars, water and an energy drink. There will be a light lunch on the longer courses.
What is the total elevation gain on the Century Route?
It is approximately 5780 feet recorded by a Garmin Edge 705.
What type of clothing should I bring?
Expect it to be warm and sunny in the lower elevations, but be prepared for a possible afternoon shower which could include snow or sleet so it is wise to carry a rain jacket and/or leg and arm warmers. Expect sun – so wear sunscreen! This is Colorado and we have little control over what Ma Nature feels like throwing you.
What if I have a breakdown on the road?
There will be SAG support along the route. They will get to you as soon as possible, but come prepared to at least be able to fix a flat. Those with serious mechanical difficulties will be transported to aid stations or bike shops near the course.
What about safety considerations while riding?
There will be a Colorado State trooper dedicated to this event for all routes as well as support from the Lake County and Chaffee County sherriff's office. Search and Rescue personnel will provide first aid and expert first responder support, including transport to an appropriate medical facility if needed. As always, riders should ride single file and on the shoulder to minimize interactions with passing vehicles.