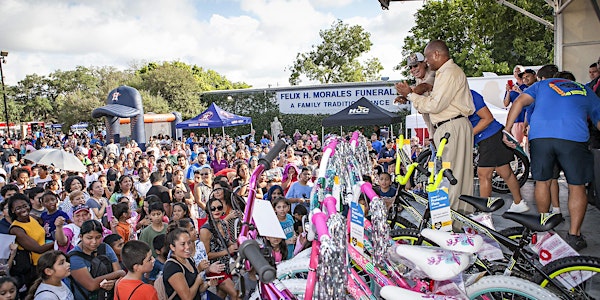 22nd Annual Back To School Giveaway & Health Fair
g
When and where
Location
Felix H. Morales Funeral Home 2901 Canal Street Houston, TX 77003
About this event
Register (optional) to receive free school supplies while supplies last! Supplies will be distributed on August 7th, 2021 from 8am to 10am at Felix H. Morales Funeral Home, 2901 Canal St. Houston, TX 77003.
The 24th Annual Back to School Supply Distribution sponsored by The Morales Memorial Foundation is annual event hosted on the parking lot of Morales Funeral Home. As a way to support our community and education, our foundation will be giving away 2,000+ school supply kits by grade level during the event.
​This year, the event will be in-person. Masks are optional for fully vaccinated individuals. Those who are not vaccinated are recommended to follow CDC Guidelines.
Refreshments, Healthy Snacks, Raffles (including bicycles), & college information will be available. 
Registering for event does not guarantee school supplies. Supplies are distributed on a first-come first-served basis.
Regístrese (opcional) para recibir útiles escolares gratis hasta agotar existencias. Los suministros se distribuirán el 7 de agosto de 2021 de 8 a.m. a 10 a.m. en Felix H. Morales Funeral Home, 2901 Canal St. Houston, TX 77003.
La 24ª Distribución Anual de Suministros de Regreso a Clases patrocinada por la Fundación Morales Memorial es un evento anual que se lleva a cabo en el estacionamiento de la Funeraria Morales. Como una forma de apoyar a nuestra comunidad y educación, nuestra fundación regalará más de 2,000 kits de útiles escolares por nivel de grado durante el evento.
Este año, el evento será presencial. Las mascarillas son opcionales para las personas completamente vacunadas. Se recomienda a quienes no están vacunados que sigan las pautas de los CDC.
Habrá refrigerios, refrigerios saludables, rifas (incluidas bicicletas) e información sobre la universidad.
Registrarse para el evento no garantiza los útiles escolares. Los suministros se distribuyen por orden de llegada.