September 19. 2012

 

 We are delighted to invite you to our 22nd Anniversary Dinner to honor the renowned actor and director Joan Chen. Joan will be interview by the broadcast journalist and "Evening Magazine" co-host Jan Yanehiro.  In addition, selected film clips of Joan's work will also be shown.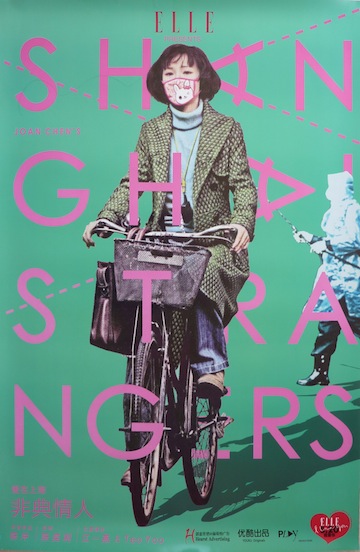 We will be showing Joan's latest directorial work, "Shanghai Stranger" this evening.  "Shanghai Strangers" is about the dilemma of a young woman, Xiu Xiu, in post-Communist China, where the fast-growing material wealth and the spiritual void create a longing for a more authentic era when love was more difficult but ultimately more meaningful.  A chance encounter, an unexpected discovery, a fateful afternoon, a song and a boat..., this film is my love haiku to Shanghai - a city where I was born and raised, an urban landscape that I most frequent in my dreams.  
The Yank Sing Restaurant   (Validated parking at Rincon Center Garage)
Rincon Center,  101 Spear St.
San Francisco,  CA
Tel: 415-781-1111

Reception - 6:00 p.m..
Dinner -       6:45 p.m. 
Program -   8:00 p.m.
Tickets:
     Event Sponsor Table     $5,000  (Table seating 10,  plus 2 seats at VIP table)
     Patron Table                    $2,500 (Priority table seating 10)
     Host Table                        $1,500  (Table seating 10)
     Individual Tickets            $150 per person
Optional:  You can also make donations to any of the Institute' programs in addition to,  or instead of, purchasing tickets.  
Payments will be securely processed in a separate window by Eventbrite/PayPal. You will be able to pay by credit card or check.   If you wish to pay by check, please click on the
Show other payment options 
 link just below the ORDER NOW button and then click
Pay Offline
.  
Space is limited,  please purchase you tickets early! 
Please contact  lucillelee@1990institute.org for any questions or comments.  Or send letter or fax to:
The 1990 Institute
P.O. Box 1681
Burlingame, CA 94011
(T) 650 558-9939
(F) 650 558-9499


The 1990 Institute is a 501(c)3 organization.  Our website is http://www.1990institute.org