Description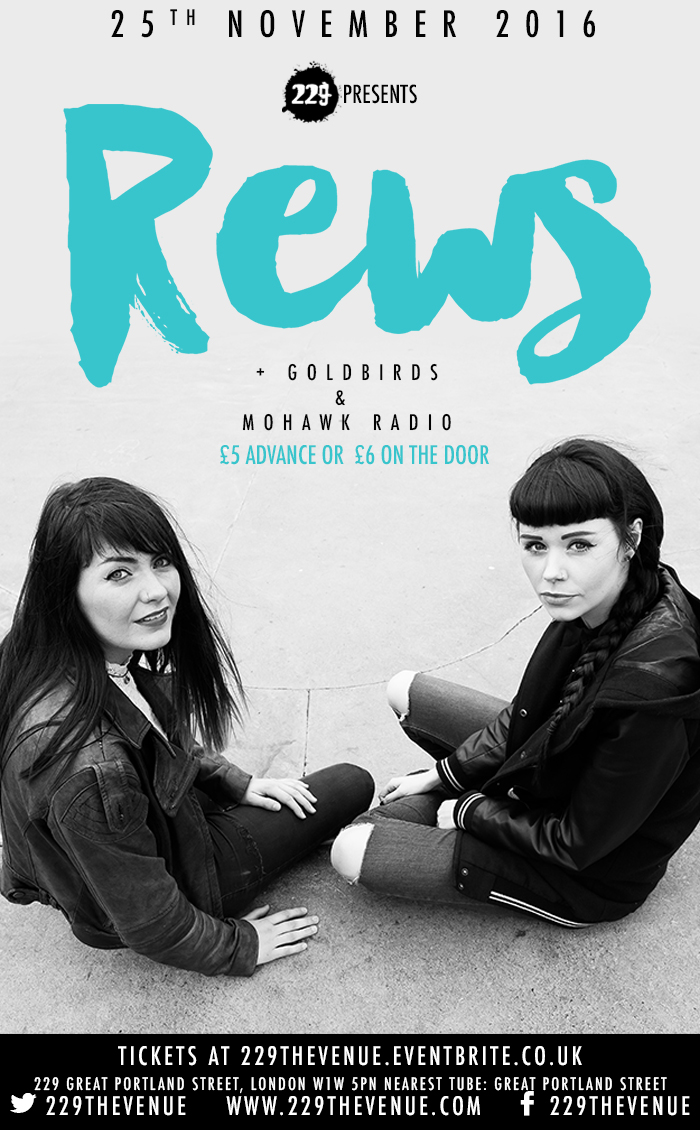 229 Presents Rews + Goldbirds + Mohawk Radio
25th November 2016
£5 advance £6 on the door
REWS are a London based high energy alternative pop rock female duo consisting of songstress Shauna Tohill and beat-maker Collette Williams who together are creating a genuine buzz on the UK/Ireland music scene following the release of their debut single 'Can You Feel It' in Oct'15.
Shauna is responsible for one of the most recognisable Irish syncs of the last few years with the track 'Can't Keep Up', which she wrote and performed with her previous band Silhouette, used by Discover NI in an extensive TV advertising campaign. Shauna has spent the last 18 months touring as guest vocalist with Snow Patrol and as bassist with American indie artist Darwin Deez and was inspired to form REWS following an inspirational artist retreat in late 2014. She met the fantastic Collette Williams in March'15 and they have been a match made in heaven ever since. Collette is also a hugely talented vocalist and musician and can be seen drumming in the video for Gabrielle Aplin's current hit single 'Sweet Nothing'. She has also played live on the Graham Norton Show and done session work for SYCO, Sony etc
REWS aim is to inspire people to be who they are, dance, sing, have fun yet address those deep issues that people face in every day life. It might just be your medicine!!
https://www.youtube.com/watch?v=fTWx9nmMU4w
On Hot Press Magazine's list of "Most Likely To Make An Impact in 2016"
"How good is that track? I think those guys have got something really special." – Sophie K, Team Rock Radio
'This is good, this is really fucking good' – CeolCaint.com
'Infectious uplifting songs overflowing with punchy choruses and hooks' – Bestofmusicandfilm.com
'Hooks that give you goose-bumps you could hang your hat off, adore this' – Hot Press Magazine
'Hook filled power-pop, a real ear worm' – EncoreNI.com
'Deadly new tune, like Breeders or Throwing Muses, if you're not instantly foot-tapping then you must be clinically dead' – Joe Donnelly TXFM
'One of Ireland's most promising tunesmiths' – HotPress Magazine
'Track of the Day' – BBC Radio Ulster
'Glam-rock guitar indie pop at its best' – Nialler9
'Ultra high energy infectious alt rock' – YourHandsMusic
'Bouncy & Brilliant' – Indieminded
GOLDBIRDS
https://www.facebook.com/goldbirdsband
Soho Dogs - https://www.youtube.com/watch?v=hG9rNk7f45Y
"Goldbirds make me want to stop everything I'm doing and rush to the dance floor" - Alex Bakerman, Kerrang

"Heartfelt & Powerful" - Spindle

"Timeless" - Digital Spy

"Following on from their debut single, the band has managed to capture the tone and lyrics of the song, with another catchy chorus that remains one of those earworms, as the harmonies compliment the edgy verses. With big chords and an even bigger chorus, it captures the essence of the perfect summer anthem." - Rock n Roll Creations

"It's not often you run into a band that just plays good, old-fashion rock 'n roll that you would expect to hear in a saloon. Goldbirds are, as such, a unique band. Sticking to classic instruments, the London quartet aren't making thrashing, head-banging rock, but instead their music makes you move." - The Revue

It's always nice to check out the smaller stages at this kind of festival and with a break for a quiet pint at the Unsigned stage in the beer garden mid-afternoon, we managed to catch Goldbirds. With a nice line in lively rock/pop tunes they worked the acoustic set up well and in singer Si Connelly they had one of the best voices we heard all day. One to keep an eye on. - Metaltalk.net

MOHAWK RADIO
www.mohawkradio.co.uk
www.mohawkradiouk.com
Mohawk Radio is an award winning Manchester based band, injecting their own unique style into the modern rock scene.Powerful female vocals complimented by engaging melodies and backed by dynamic guitars with a strong, driving rhythm section.
Voted the best UK band in Parliament's Rock the House competition, Mohawk Radio continues to get rave reviews from industry professionals, along with continuous air play on both Manchester and international airwaves; BBC Manchester, Real Radio XS, FM 89.1, Pure FM, Mix 106.1
Not only do their two EP's continue to make a great impact on the music scene, their legendary live performances have been described as an ' energetic memorable throwback to true rock n roll'. Playing all over the UK, some of their performances include: Sold out Deaf Institute, Academy 3, Dancehouse, American Ambassadors Residence, Sat In a Field festival, Blackthorn Music Festival, Headlander festival. Loving described as the moment when Cher met Metallica, Mohawk Radio uniquely hell bent on rock n roll domination.
"creating a genuine buzz on the London scene with the release of their debut single Can You Feel It." – rockshot.co.uk