Description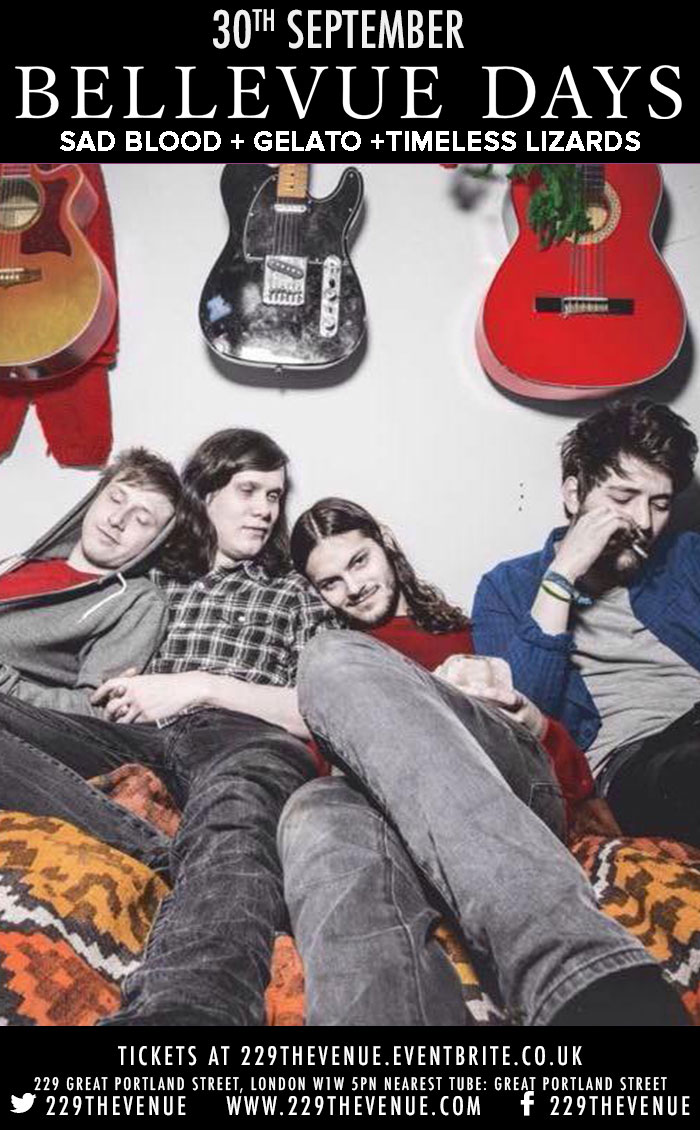 229 Presents Bellevue Days and Sad Blood
Tickets - £5 advance // £6 on the door
Bellevue Days
Croydon 4 Piece - Bellevue Days recalls The Xcerts as their most boisterous, Manchester Orchestra at their most anthemic, and Weezer at their perfect-pop-crunch best. Having released one of the most exciting debut EPs of 2015 ('The Sun Came Up When We Were Young'), Croydon 4-piece Bellevue Days kicked off their 2016 with a video to accompany latest single 'Ripped Jeans' With the track premiered by Zane Loweas his #WORLDRECORD on Beats 1 Radio at the tail end of 2015. Bellevue Days  embarked on a nationwide tour with DIYmagazine supporting Tigercub in march 2016 and  performed this year at 2000 Trees with lots more to come
...Bellevue Days are:
...Alan Smith (Vocals/ Guitar)
...Dan Lukes (Guitar/ Vocals)
...Joe Blackford (Bass/ Vocals)
...Jack Pavitt (Drums)
"A gut-punching cut of intelligent and anthemic rock, cut through with an everyday paranoia that's destined for huge, uniting festival slots" - DIY Mag
Top 15 EPs of 2015: "vibrant, atmospheric and forward moving"- Upset Mag
20 Acts To Watch In 2016: "They're going to be huge" -Punktastic
"Probably my favorite band in the whole world" - Alex Baker,Kerrang!
https://www.facebook.com/BellevueDays/
Sad Blood
After failed attempts at careers in both professional wrestling and standup comedy (due to a lack of any discernible athletic or comedic ability) George Phillips turned his hand to songwriting.
He picked up a guitar and started writing songs about his failures in life and love focusing mostly his failed imaginary relationship with pop sensation Taylor Swift.
But he needed a band. After attempting to recruit drummer Daniel Goldberg and bassist Krys Bascombe approximately 22 and half times, they finally relented and Sad Blood was born.
With a raft of emo, power-pop twinged songs they entered the studio in 2015 to record their debut EP. They called it "Ultimate Worrier". 
After a lengthy fictional court battle with Ms. Swift over their ill advised Bad Blood based band name, the band returned to the studio to record their sophomore effort and christened it "Legion of Gloom", learning nothing from their previous problems with pun-based nomenclature.
The band are about to release a video for the song "Heavy Petting Zoo" from the aforementioned double entendre ladened EP.
You can catch Sad Blood on tour supporting the likes of Moose Blood, Dead! The New Tusk and other bands sympathetic to their catchy, pun-based ditties.
https://www.facebook.com/sadbloodband
https://www.youtube.com/watch?v=q-6KlOvUoDw