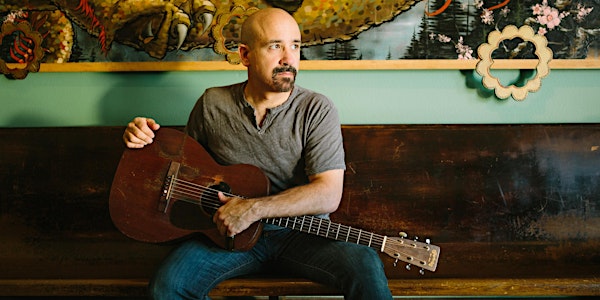 2/21: Tony Furtado, Ian Moore @ Ballard Homestead (RESCHEDULED from 2/9)
When and where
Location
Ballard Homestead 6541 Jones Avenue Northwest Seattle, WA 98117
Refund Policy
Refunds up to 30 days before event
Description
RESCHEDULED TO FEB 21 DUE TO WEATHER/TRAVEL
-----------
2/21/19: Tony Furtado & Ian Moore
Tony Furtado, the acclaimed and award-winning singer, songwriter and multi-instrumentalist, is an acknowledged master of many different styles and sounds. Relix Magazine put it best when writing of Tony's music, "True talent doesn't need categories." From bluegrass to blues, from folk to rock, from banjo to slide guitar, the music of Tony Furtado knows no boundaries.
Ian Moore:
Since his arrival as a solo artist in 1993 and his self-titled debut on Capricorn Records, Seattle based and Austin, TX born -Ian Moore's journey has been one of perpetual forward motion and constant change. Moore's music has channelled all the influences from his childhood, soul music and the blues, while carrying forward all the hard-earned life lessons acquired on his journey that allow him to infuse these songs with a depth that only comes from years and miles. Moore's ability to straddle genres like a Neil Young or a Jack White is obvious. Because his songs often pay tribute to such luminaries as Curtis Mayfield, Otis Redding, Aaron Neville, and Sly Stone- Ian Moore can offer music politically charged at times, as well as the heartfelt love song filled with emotion and purpose.
Influences: Nick Lowe, Sam Cooke, Spiritualized, Richard Thompson, Neutral Milk Hotel, Martin Denny, Jimi Hendrix, murder ballads and 50's gospel
@ Ballard Homestead
7:30p show, 7p doors
All ages, seated
(Rescheduled from 2/9)
MORE EVENT INFO:
- Seating is not reserved.
- We have a mix of padded chairs and benches available.
- We are an all ages venue.
- Please refrain from talking or texting during the show.
- Please enter quietly if the show has already begun.
- Please leave quietly, it's a very quiet neighborhood.
- Kids 10 & under are free at Abbey Arts concerts & arts events unless noted.
- For ADA information at Ballard Homestead, please see www.ballardhomestead.org/rent or email arts(at)fremontabbey.org There is a ramp around back on the south side of the Homestead for wheelchair access. Fremont Abbey is ADA accessible on both levels.
ABBEY ARTS, SEATTLE | NONPROFIT 501C3, NON-RELIGIOUS, EST. 2005
Presenting welcoming music, arts & cultural experiences for people of all ages & incomes.
We support low income families, veterans, and humanitarian nonprofit workers with free event tickets. http://www.fremontabbey.org/artsconnect
Venue rental info & more: http://www.fremontabbey.org/rent
Concert & events calendar: http://www.abbeyarts.me
Home Venue: Fremont Abbey, 4272 Fremont Ave North, Seattle, WA 98103 / 206-414-8325
Ballard Homestead: 6541 Jones Ave NW, Seattle
All ticket sales are final unless noted.