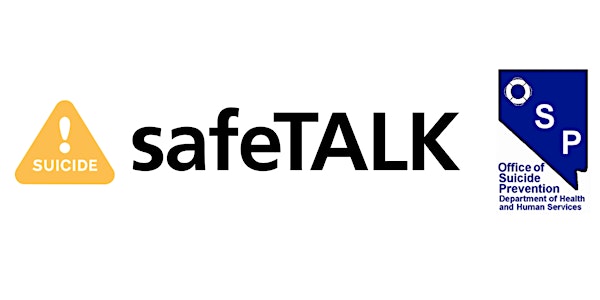 [220831N] safeTALK Suicide Prevention Training (Winnemucca)
Using a simple yet effective model, safeTALK by LivingWorks empowers everyone to make a difference to prevent suicide.
When and where
Location
Humboldt County Library 85 E. 5th Street Winnemucca, NV 89445
About this event
LivingWorks safeTALK is a face-to-face workshop featuring powerful presentations, audiovisuals, and skills practice.
At a LivingWorks safeTALK workshop, you'll learn how to prevent suicide by recognizing signs, engaging someone, and connecting them to an intervention resource for further support.
A skilled, supportive trainer will guide you through the course, and a community resource will be on hand to support your safety and comfort.
--------------------------------
Like all of LivingWorks' core programs, LivingWorks safeTALK is evidence-based. Here's what over 15 peer-reviewed reports and government studies on LivingWorks safeTALK found:
Improves trainee skills and readiness
Safe for trainees, with no adverse effects from training
Effective for participants as young as 15 years old
Helps break down suicide stigma in the community
Better skill retention compared to other connector programs
--------------------------------
LivingWorks safeTALK trainees learn to recognize when someone is thinking about suicide and connect them to an intervention provider, such as an LivingWorks ASIST trainee. In this way, LivingWorks safeTALK trainees build a safety network around these intervention providers and greatly increase their reach and impact.
--------------------------------
Note
At this time, our current guidance for our in-person classes is as follows:
On the day of the class, if you have tested positive for Covid-19 within the past 5 days or are currently experiencing symptoms (e.g., sore throat, cough, body ache, hardness in breathing), please cancel your class registration and reschedule for a later date.
Masks are optional and encouraged regardless of vaccination status.
Social distancing will be possible dependent on the size of the classroom. If you require space for social distancing, please contact the event organizer and we will do our best to accommodate your needs.
Please bring your own pen, to avoid the need for sharing.