Location
Glencoe City Center
1107 11th St E
Glencoe, MN 55336
Annual Continuing Education Conference for Professionals on Suicide Prevention and Mental Health
About this event
TARGET AUDIENCE: Healthcare and Behavioral Health professionals, Educators, Law Enforcement, Clergy, and anyone with an interest in the topic.
CONTINUING ED: All attendees will receive a certificate of attendance for 7 clock hours. This educational event is designed to meet continuing education requirements for nurses, social workers, educators and other professions. ***Each attendee is responsible for determining whether the activity meets the requirement for acceptable continuing education.
Additionally, this conference has been approved by the MN Board of Peace Officer Standards and Training (POST), course # 10620-0010, for 7 hours. It meets the POST Board learning objectives for Other General Continuing Education.
REGISTRATION FEE: $40 per attendee. Includes continental breakfast, lunch, snacks and beverages. Registration is transferable. Sorry, no refund unless the event is canceled. ***Elephant Joe's Coffee Truck will be onsite from 7-10:30am for additional purchase.
Register by August 31st to receive an early bird gift!
REGISTRATION DEADLINE: September 16, 2022, or until sold out.
ONLINE REGISTRATION: www.eventbrite.com or contact us for offline registration options
CONTACT INFORMATION: info@2BContinued.org
HEALTH, SAFETY, & COMFORT: This is an in-person only conference. Please do not attend if you are sick. Business casual attire and layered clothing are recommended to accommodate room temperature variations. A designated room will be available for nursing mothers, and also a Safe Room for anyone who may feel overwhelmed by the sensitive nature of some topics.
LEARNING OBJECTIVES:
Learn how, through support, suicide attempt survivors can recover fully to share their stories, providing hope.
Learn how recreation therapy can assist in the recovery of suicide attempt survivors.
Learn how faith communities can support and care for suicide attempt survivors as they recover.
Understand language when talking about mental health and suicide.
Be empowered to have healthy conversations around mental health and suicide.
Learn what to do when you identify someone who is in distress or suicidal.
Understand the 988 Suicide and Crisis Lifeline Network.
Understand how MDH is collaborating with statewide partners to strengthen crisis services in Minnesota.
Understand Forest Bathing and its goals.
Understand research on nature's healing role.
Explore applications of techniques to professional and personal needs.
Understand signs and symptoms of long COVID-19.
Understand the impact of COVID-19 on the community, health care industry, and mental health.
Understand what the current data tells us related to mental health status of teenagers in America.
Recognize signs and signals that suggest professional help may be needed for a teenagers' mental health journey.
Understand at least 2 beacon-of-light strategies that adults can use in the moments, right here and right now, to promote adolescent resiliency.
Gain understanding of suicide and its impact on suicide loss survivors.
Recognize how a suicide loss survivor's shared experiences can aid suicide prevention.
Strengthen mental wellness through music and dance.
PROGRAM SCHEDULE:
7:30-8:00AM- Check in, Continental Breakfast & Resource Vendor Fair
8:00-8:05AM - Opening & Welcome
8:05-9:00AM - Opening Keynote - "Focusing Through a Lens of Hope", Shannon Heath Parkin
9:00-10:00AM - "Changing the Narrative", Destiny Brown
10:00-10:15AM - Break
10:15-10:45AM - "Someone to Call: 988 Suicide & Crisis Lifeline", Emily Yang Lindeman & Sheriff Tim Langenfeld
10:45-11:45AM - "Forest Bathing: Nature's Healing Gifts", Sharon Franquemont
11:45-12:30PM - Lunch/Resource Vendor Fair
12:30-12:50PM - 2B CONTINUED Education & Outreach, Melanie King
12:50-1:50PM - "Coping with COVID: Impacts of Long Haul COVID-19 on Mental Health", Kristine Knudten, MD
1:50-2:50PM - "Beacons of Light During Stormy Times", Anastasia Ristau, PHD, LP
2:50-3:05PM - Break
3:05-3:30PM - Q&A / Speakers' Panel Discussion
3:30-4:25PM - Closing Keynote - "Connections and Reflections: I Hope You Dance", Tammy Diehn, featuring special performance by Dennis Yelkin & Rebecca Abas
4:25-4:30PM - Evaluation & Closing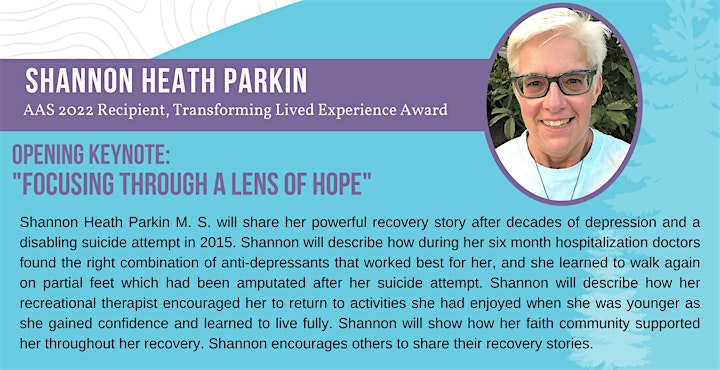 About Shannon:
Shannon Heath Parkin M.S. (she/her/hers) received the Transforming Lived Experience Award from the American Association of Suicidology in 2022. Shannon's essay, 'Learning to Hope after 30 years of depression and a suicide attempt' was the first guest essay, December 2021, on Speaking of Suicide, an internationally known website dedicated to suicide prevention. Shannon co-presented with Reverend Michele Johns of Silver Spring United Methodist Church on How Faith Communities Can Welcome and Support Suicide Attempt Survivors at the MD Suicide Prevention Conference, 2021. Shannon volunteers with the National Alliance on Mental illness, Montgomery County, MD as an In Our Own Voice speaker and Connection Recovery Facilitator. Shannon has a B. S. in Biology from Bryn Mawr College and a M. S. In Environmental Health from University of Washington, Seattle.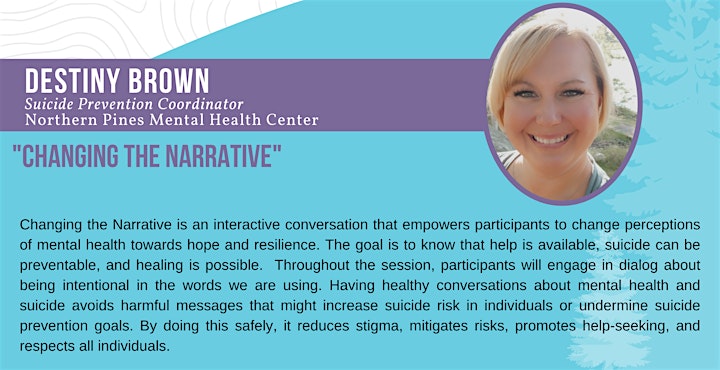 About Destiny:
Destiny Brown has worked in the mental health field for over four years. She works for Northern Pines Mental Health Center as a Mental Health and Suicide Prevention/intervention Instructor, as well as the North Central Regional Coordinator for the Crisis Text Line. She offers Make It OK-Stop Mental Illness Stigma, Question, Persuade, Refer (QPR) presentations, including QPR for Emergency Service Professionals, Talk Saves Lives, and safeTALK-Suicide Alertness for Everyone. She is an advocate for the American Foundation for Suicide Prevention.
Destiny is a suicide loss survivor with a passion for suicide prevention, as well as working with law enforcement regarding suicide prevention/intervention. Currently, Destiny is attending Liberty University, working to obtain her Bachelor of Science in Psychology- Crisis Intervention. She enjoys meeting new people and hearing their story.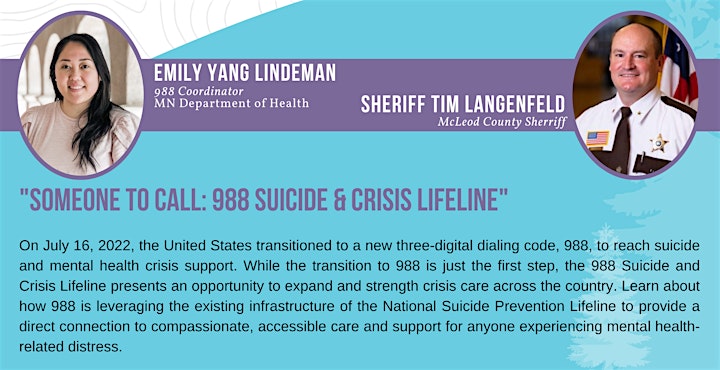 About Emily:
Emily Yang Lindeman is a Suicide Prevention Coordinator within the Injury and Violence Prevention Section at the Minnesota Department of Health. She leads the 988 planning efforts and coordinates activities with 988 Lifeline Centers, state and federal government agencies, and community partners across the state. Her experience spans public health injury prevention and behavioral health quality improvement.
About Sheriff Langenfeld:
Sheriff Tim Langenfeld has served as Sheriff of McLeod County since 2020. Prior to becoming Sheriff, he served as Chief Deputy for 14 years.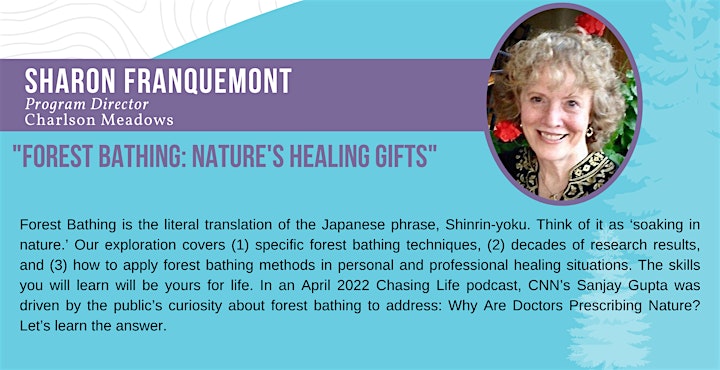 About Sharon:
Sharon Franquemont, Psychology, M.A., Interfaith Minister, Certified Forest Therapy Guide, is an international author, coach, teacher, and consultant. As Program Director for Charlson Meadows in Victoria, MN, she offers Forest Bathing retreats and the unique Life Journey Program. Both provide people with techniques and experiences that tap nature's healing gifts. Sharon's intuition expertise can be found in the Intuition in Healthcare module co-created with UMN's Earl E. Bakken Center for Spirituality and Healing; Ways of Knowing conference videos; and her guest editor article, Kaleidoscope of Realities, Creative Nursing, Vol. 20, Issue 1 (2014). While a graduate professor of intuition at John F. Kennedy University in California, Sharon partnered with other organizations to create conferences on intuition or higher wisdom for psychologists and teachers. Her books include You Already Know What To Do (Tarcher/Putnam), and the audio program, Intuition: Your Electric Self (Sounds True.)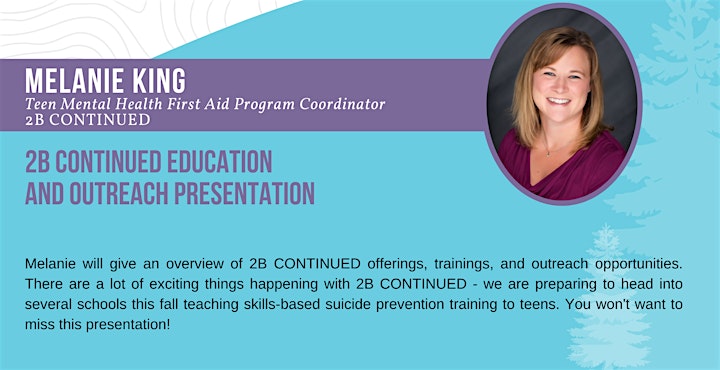 About Melanie:
Melanie lives in Norwood Young America with her husband, Matt, and two children, Ryan and Emily. She lost her brother to suicide in 2013 which set her on a path determined to create change. She earned her Master of Arts degree in Addiction Counseling: Integrated Recovery for Co-Occurring Disorders from Hazelden Betty Ford Graduate School of Addiction Studies and became an advocate for mental wellness and addiction recovery. In 2019, Melanie worked to pass legislation that required the State of Minnesota to provide schools with the resources necessary to teach mental health in classrooms.
Melanie became Treasurer for 2B CONTINUED in 2021, using her skills as a Certified Public Accountant (CPA) to manage the finances of the organization. Additionally, Melanie became certified to teach Youth Mental Health First Aid and Teen Mental Health First Aid from the National Council for Mental Wellbeing.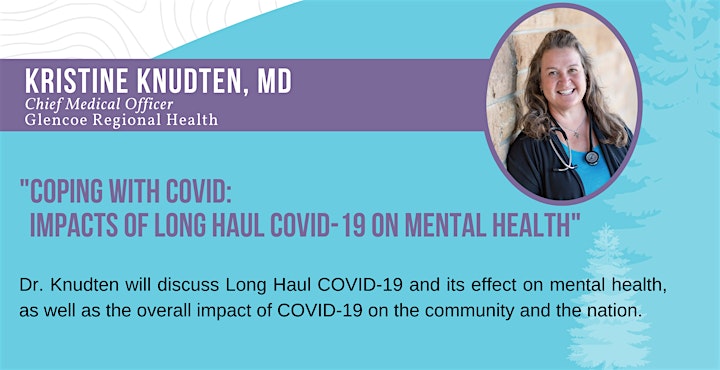 About Kristine:
Kristine Knudten and her husband, Chris, have three adult children: Isaiah, Ethan and Joe. They also adore their grandchild, Lukas, and his wonderful mom, Madde. They have lived in Glencoe, MN for 24 years. Kristine was born and raised in Chaska. She has been a family physician at Glencoe Regional Health for the last 24 years, the past five as the Chief Medical Officer. Her interests include spending time with friends and family, quilting, reading, golf and gardening. She been a 2B CONTINUED board member since its inception.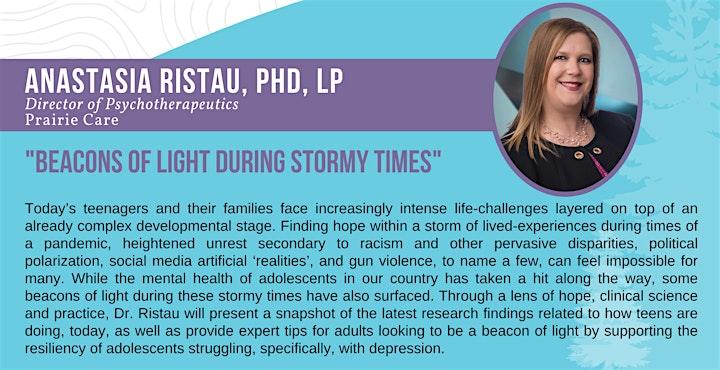 About Anastasia:
Licensed as a psychologist in Minnesota since 2004, Dr. Anastasia Ristau holds pediatric, integrative, and clinical psychology expertise. Dr. Ristau partners with youth and their caregivers to nourish and stabilize mental health, emphasizing a balance of the science and art of practice within the field. She is passionate about providing an inclusive, safe and comfortable stomping grounds ripe for interpersonal growth and support.
As the Director of Psychotherapeutics, Dr. Ristau oversees the clinical functioning and direction of the practice of psychotherapy across the full continuum levels of care within PrairieCare, throughout all 9 of their locations. Committed to active allyship within diversity, equity and inclusion, she additionally provides training, consultation, program development, and change management guidance while remaining a public relations presence within the clinical scope of this role.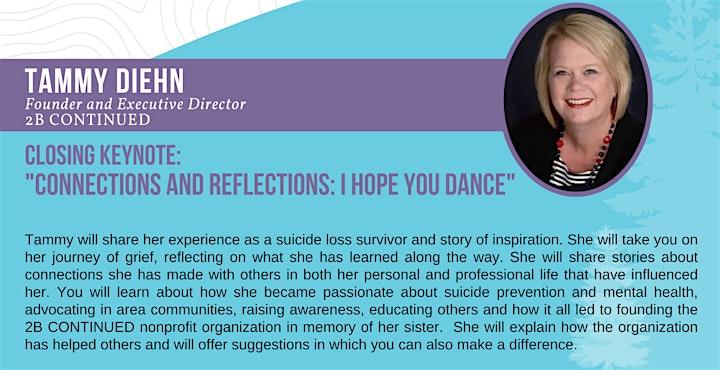 About Tammy:
Tammy and her husband, Allen live in rural Arlington, MN on their family farm where they raised their two children, Jesse and Bethany. Both Tammy and Allen have lost a sibling to suicide. After her sister's death in 2017, Tammy connected with other loss survivors who were also in this "club which nobody ever wishes to be a part of". She began advocating for suicide prevention and mental health in area communities, sharing her story of loss, raising awareness, and educating others. In 2018, Tammy became a certified QPR instructor. (Question, Persuade, Refer, the mental health version of CPR). She has since trained more than 1,500 professionals and community members. Tammy is also certified to teach Adult Mental Health First Aid, safeTALK, Changing The Narrative of Mental Health and Suicide, Talk Saves Lives™ and It's Real: Teens and Mental Health. While these efforts offer to help others, Tammy has also found them to be personally therapeutic in her own grief recovery journey.
Recognizing the need and with great passion, Tammy founded Teuby Continued (dba 2B CONTINUED) in 2019, in memory of her sister, Shelly "Teuby" Teubert and serves as the organization's Executive Director. Professionally, Tammy has been a nurse for the past 30 years and is a Family Nurse Practitioner at Minnesota State University, Mankato, in the Student Health Services Clinic. She also enjoys quilting, motorcycling, attending the annual Sturgis Motorcycle Rally, and spending time with family, especially her grandchildren, and friends.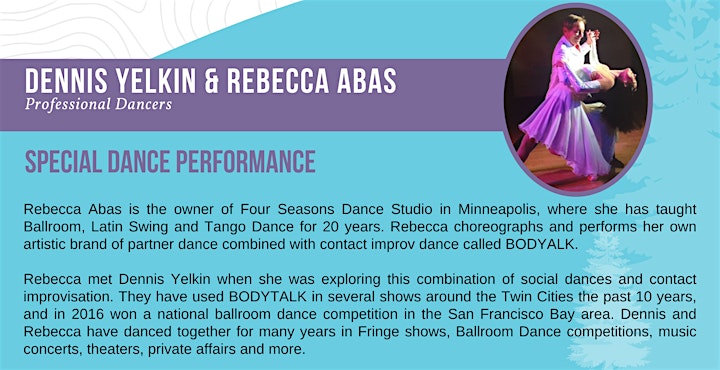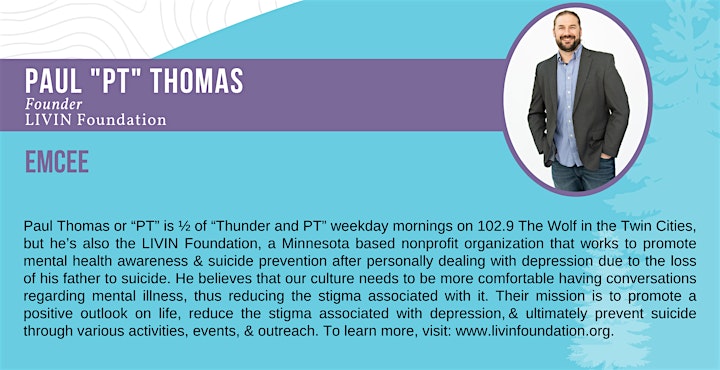 Thank you to our 2022 Premier Sponsors!


RESOURCE VENDORS:
Contact us for more information and to reserve your space!
ABOUT US
2B CONTINUED is a 501c3 nonprofit organization founded in 2019 in memory of Shelly "Teuby" Teubert.
OUR MISSION: To raise awareness of suicide prevention, mental health & wellness through advocacy, education & outreach.
Visit our Website: www.2BCONTINUED.org
Follow us on Facebook: www.facebook.com/2BContinued
CONTACT INFORMATION:
Info@2BContinued.org
(507) 381-4082