Take the 22-Mile Red SHOE Challenge and come walk with us the 1st Saturday of each month
About this event
Let's get ready for the 22-Mile Red Shoe Challenge
Mark your calendar for the first Saturdays of the month
Get ready for your 22 Delta Miles
Wear your walking shoes and workout gear
Bring your water bottle
Bring friends and family
Join us in-person or virtually at your convenient time and place
Tag us with your pictures @wcacdst
We are all in this together and will continue to walk the paths of our ancestors!
Please note that the location is subject to change each month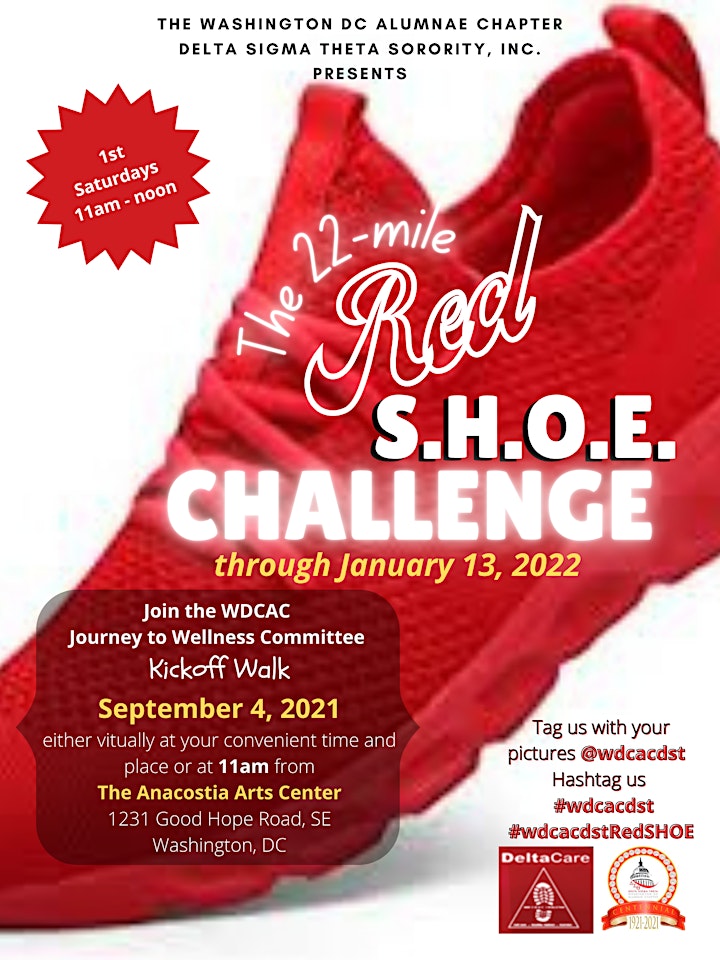 Organizer of 22-Mile Red S.H.O.E. Challenge
Since its founding in 1913 Delta Sigma Theta has clearly distinguished itself as a public service organization that boldly confronts the challenges of African Americans and, hence, all Americans. Over the years, a wide range of programs addressing education, health, international development, and strengthening of the African American family have evolved. In realizing its mission, Delta Sigma Theta provides an extensive array of public service initiatives through its Five-Point Program Thrust of Economic Development, Educational Development, International Awareness and Involvement, Physical and Mental Health, and Political Awareness and Involvement.
Since its chartering in February 1921, the Washington DC Alumnae Chapter (WDCAC) of Delta Sigma Theta Sorority, Inc., has mirrored its programs of community service in the distinguished image of its National organization, which in dramatic fashion, clearly confronts the challenges of African-Americans and their families. During the past 100 years, WDCAC has worked tirelessly to develop and implement a wide range of empowering programs and initiatives that emulate its shared mission with that of Delta Sigma Theta Sorority, Inc.