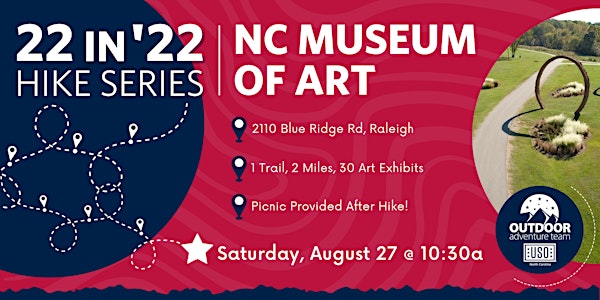 22 in '22 Hiking with the USO North Carolina - NC Museum of Art
Join us for our hikes exploring North Carolina!
When and where
Location
North Carolina Museum of Art 2110 Blue Ridge Road Raleigh, NC 27607
About this event
Explore North Carolina while hiking with the USO NC Outdoor Adventure Team!
Each month we will have hikes planned around the state for attendees to enjoy getting out and experiencing some great views of nature and artwork!
Nature scavenger hunt sheets will be provided upon request.
A confirmation email with meetup information will be provided to attendees prior to event.
USO NC staff will lead the group through the trails below; however, attendees may choose other/additional trails at their discretion and may set their own pace to hike beyond the group if they choose.
A picnic meal will be provided at the end of the hike. Don't forget to bring a blanket to sit on the lawn for the picnic! Attendees may visit the NC Museum of Art free of admission after the picnic.
***This event is open to active duty, reserve, and guard service members currently serving in North Carolina and their families.***