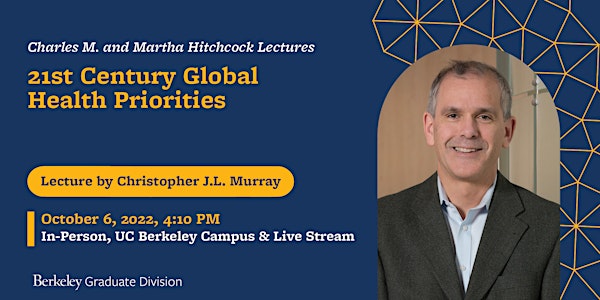 21st Century Global Health Priorities
Hitchcock Lecture: Christopher J.L. Murray on 21st Century Global Health Priorities
When and where
Location
International House- Chevron Auditorium 2299 Piedmont Avenue Berkeley, CA 94720
About this event
Join Dr. Christopher J.L. Murray, Chair of Health Metrics Sciences at the University of Washington and Director of the Institute for Health Metrics and Evaluation (IHME) for a Charles M. and Martha Hitchcock Lecture on the topic of 21st Century Global Health Priorities.
This lecture will discuss how future pandemics are a real risk but there are a number of other threats to human health and well-being as well. These include climate change, the rise of obesity, inverted population pyramids, inter-state conflict, rising inequalities, antimicrobial resistance. Counterbalancing these threats are the opportunities that may come through the health sector and broader innovation.
Please be advised that this event is currently being offered virtually and in person, though that is subject to change.
This event will be held in person at International House, Chevron Auditorium, 2299 Piedmont Avenue — UC Berkeley Campus. The event will also be available virtually via live stream on the lecture webpage.
For updates about this lecture and upcoming lecture series events, please visit the Berkeley Graduate Lectures website.