21st Century Education | The Future of Teaching and Learning Study Day
Description
21st Century Education – The Future of Teaching & Learning | Study Day


Universities are increasingly being reminded that they need to reform. We are told that the university as we have known it is 'dead'. Exponential growth in digital technologies, the 'massification' of learning, and radical disruptions to the nature of work, health, relationships, ethics and society at large, paint a bleak picture for institutions that have prided themselves on status and stability. But all is far from bleak.
In recent years, innovative and exciting new ways of thinking about learning and teaching have emerged, with some talking about powerful shifts in the way we construct knowledge, expertise, reward and social capital. New ways of learning, through curation, collaboration, open inquiry, and critical thinking are being worked through in spaces that transcend traditional boundaries. Classrooms and lecture halls are being replaced by flexible and innovative learning spaces: MOOCS and flipped classrooms examples of disruptive methods we have come to recognise as the new norm; traditional qualifications are being subverted by open badging and nano-credentialing; and 'banking' of learning has been challenged by more student-centred modes of critical inquiry.
During this study day, we hope to bring together a range of participants from across education, health and digital technology spaces, who can join our four facilitators to explore some of the opportunities and challenges of 21st century education. Our purpose is to create a forum for thinking 'otherwise' about education and learning, and to provide some prompts for change in peoples' individual and collective educational work.

The study day will be particularly significant for lecturers in higher education with interest in possible futures for learning and teaching, teachers and researchers interested in technology-supported learning, innovative pedagogy and the possibilities for new spaces, technologically-mediated engagements (including health and social care).

Our Facilitators and foci for the day will be |

Steve Wheeler | International guest and speaker from the United Kingdom.
A specialist in the area of technology-supported learning and distance education. See Steve speak on YT here
See Steve's full online bio here

Cath Conn (AUT) | A Participatory and 21stC Visioning for Public and Environmental Health Tertiary Education at AUT in South Auckland
Dr Cath Conn is Associate Head of School for Public Health and Psychosocial Studies at AUT South. Cath has worked for 20 years in international health and development in Africa and Asia; first with Save the Children over a 10 year period as a programme manager. Her roles included emergency programme management in Uganda; and adviser to primary health care and sanitation programmes in Sudan and in The Gambia. She worked for a further 10 years as a consultant and researcher, in health systems development for Vietnam and Laos; as a primary health care support in Nigeria; and as a programme manager for urban primary health care training in China. Over the last 15 years she has lectured and conducted research in the UK, New Zealand and overseas. Cath is passionate about real world solutions to people's health, especially for vulnerable communities. She is taking a leading role in developing a distinctive profile for AUT in public health at AUT's South Campus with an emphasis on addressing inequalities, youth and community empowerment, and the south Auckland population. Her research and teaching interests include youth and gender empowerment, young women's health, public health in developing countries, HIV prevention, sexual health, critical management and policy, international indigenous health and participative and action methodologies.
In her session Cath will speak on the future public and environmental health education at AUT South which will be informed by: contributing to healthy communities and city; embracing digital NZ; maximizing youth employability; and developing an outstanding 21st Century tertiary environment. Our goals are to conduct a significant re-conceptualization of curricula; develop a student driven culture and enhance student voice; promoting partnerships with communities and a fast-changing industry. See Dr Cath Conn's full CV here

Leon Benade (AUT) | The future is now! Why the classroom is obsolete
Dr Leon Benade is the Coordinator of Research in the School of Education. His main research interests are teachers' work, school policy, ethics, philosophy in schools, critical pedagogy, and the New Zealand Curriculum. Leon's current research work focuses on how '21st century learning' impacts the work of teachers and school leaders, particularly in relation to the establishment of Innovative Learning Environments (ILE) and digital pedagogies. Related areas of interest include the question of teachers' critical reflective practice and the evolving role and nature of the concept of 'knowledge' in the 21st century curriculum.
Leon is currently on the Executive Committee of the Philosophy of Education Society of Australasia (PESA), and is a member of the editorial board of the New Zealand Journal of Educational Studies. He is co-editor of the New Zealand Journal of Teachers' Work. From 2018, Leon will be one of the co-editors of the New Zealand Journal of Educational Studies. He contributes further to the research environment by his work as a consulting reviewer for the Australian Journal of Teacher Education, Policy Futures in Education and Educational Philosophy and Theory.
His teaching interests include — the philosophy of education, education policy, and the theory of research. Connect with Leon on Twitter


Duncan Babbage (AUT) – Technology-mediated healthcare
Duncan Babbage, PhD, is an Associate Professor in Rehabilitation at Auckland University of Technology, Director of the AUT Centre for eHealth (ehealth.aut.ac.nz), and heads the Implementation Science cluster of the AUT Centre for Person Centred Research. He previously practiced as a clinical psychologist, with a focus on neuropsychological rehabilitation after brain injury. In addition to being a health researcher, Duncan is lead software developer on several Centre for eHealth projects. Outside academia, Duncan's other life is as the developer of Intro, a personal network management app for iPhone that includes tools for learning people's names and recognising faces. Duncan built Intro partly because he has terrible trouble retrieving people's names himself, so when you run into him be sure to re-introduce yourself!
Duncan's session will examine ways in which current mainstream technology is enabling us to rethink aspects of delivery of healthcare. Examples from a number of projects will examine the ways in which technology can enhance, creatively disrupt, or bypass altogether the formal health system in the pursuit of health and wellness. This creates opportunities as well for rethinking the ways in which we teach and evaluate both knowledge and skills acquisition. In this session we will grapple with what would be required to develop a roadmap for integrating such approaches into our educational processes.
Connect with Duncan on Twitter and via his ocial media, website, blog, research links:http://about.me/babbage and http://ehealth.aut.ac.nzduncan.babbage@aut.ac.nz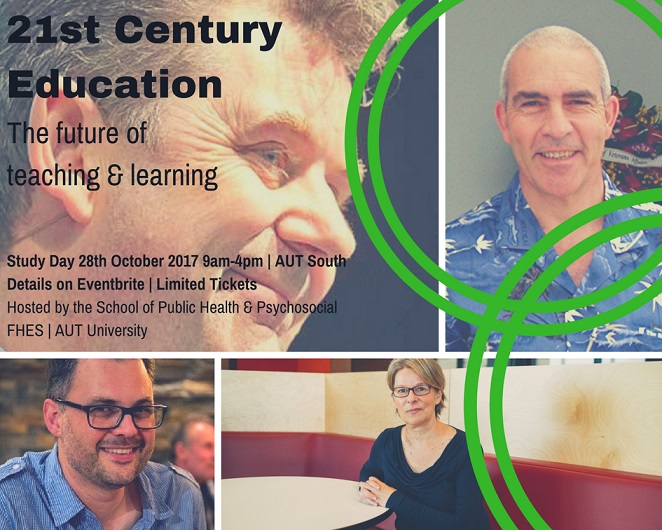 The morning session for this event will start at 9am until 12 noon and will be at Ormiston Junior College, 285 Ormiston Road, Flat Bush, Manukau 2019, Auckland. See details on Ormiston here
The afternoon session for this event will restart at 1pm until 4pm, located in Room ME103 at AUT South Campus, 640 Great South Road, Manukau.AUT South map is noted in the location details.
The event cost is free for AUT staff and $150pp for non-AUT participants.
Register via Google Docs here
Our team will be in touch with you regarding payment if you are a non-AUT attendee.