21st Century Economic Development: Creating & Promoting Local & Regional Destinations
When and where
Location
Dante Hall Theater 14 North Mississippi Avenue Atlantic City, NJ 08401
Refund Policy
Contact the organizer to request a refund.
Description
Featuring nationally- and globally-acclaimed
Roger Brooks of Roger Brooks International (http://www.destinationdevelopment.com/)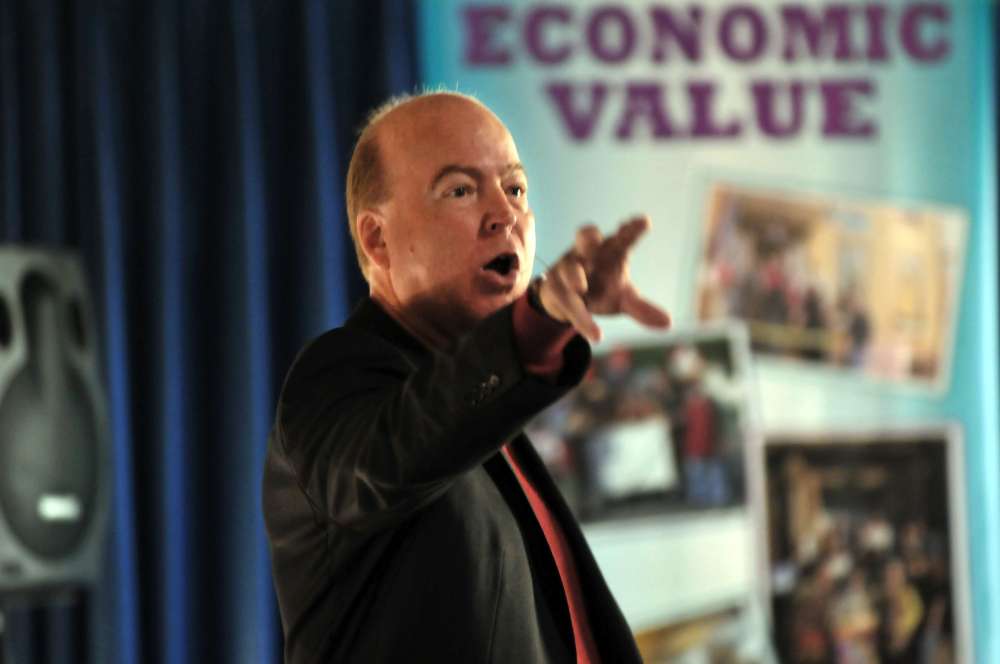 Hosted at Stockton College's Historic Dante Hall Theater close by to The Avenue within the AC Tourism District in Atlantic City - a Main Street New Jersey community since 2004.
APA 3.75 CM Credits Pending
Agenda (Session details follow.)
September 24:
8:15 a.m. – 9:00 a.m. – Registration
9:00 a.m. – 9:15 a.m. – Introduction and Welcome
9:15 a.m. – 10:45 a.m. – The 10 Ingredients of an Outstanding Downtown
11:00 a.m. – 12:15 p.m. – The Art of Branding (Finding Your Focus)
12:30 p.m. – 1:45 p.m. – Lunch Provided + Q & A/FAQ with Roger
1:45 p.m. – 3:15 p.m - Things You Can Do Today to Make A Difference Tomorrow
3:15 p.m. – 4:30 p.m. – The Seven Deadly Marketing Sins
4:45 p.m. – 6:00 p.m. – Reception in MSAC District
Detailed Topic Descriptions:

The 10 Ingredients of an Outstanding Downtown
Have you ever wondered why some communities or downtowns are so successful while others struggle? To find out, the DDI team spent nearly six years surveying and studying more than 400 well-branded, vibrant downtowns, downtown districts and communities in North America to uncover the most common elements that led to their success. In this photographic "idea book" workshop, you'll hear stories from these great places, see dozens of "how-they- did-it" photographic examples, and learn the 10 universal ingredients, including things you can do to create or enhance your own outstanding downtown.
The Art of Branding (Finding Your Focus)
"Branding" is the keyword of the decade, but what does it really mean? Most people don't understand what a brand really is or how to actually create one. This presentation demystifies and explains the process of branding for umbrella organizations (multiple communities) cities, downtowns, and marketing professionals. Through case histories, video clips, dozens of photos, and humorous stories, attendees will learn what it takes to create a successful brand, how to make if obvious, and how that translates to cash.
Things You Can Do Today to Make a Difference Tomorrow
This workshop provides a dozen tips and tricks − inexpensive marketing and community-improvement actions you can implement immediately to increase local spending, attract visitors, extend their stays and increase sales. Using case histories, advertising examples, and dozens of photos, we'll show you how merchants have doubled their sales for just pennies; tricks that will pull customers into your stores and communities; and ways to get everyone on the same page and pulling in the same direction. This is a "must see" workshop for all − local businesses, downtown organizations, city leaders, chambers of commerce, tourism and economic development offices, and elected officials.
The Seven Deadly Marketing Sins
In this age of marketing oversaturation and instant information, ninety-seven percent of all advertising and marketing efforts are ineffective. In this entertaining presentation, learn how to avoid the seven deadly marketing sins and get your product or service noticed. Participants will see the good, bad and ugly of marketing through real-life examples and humorous stories. Learning how to turn deadly sins into heavenly marketing will put you in that successful three percent of marketing efforts, increasing your sales, improving the perception people have of your business, organization or community.

(NOTE: Promotional Partners will receive a special code for discounted registrations, as will Designated and Selected Main Street New Jersey Programs.)
Promotional Partners: