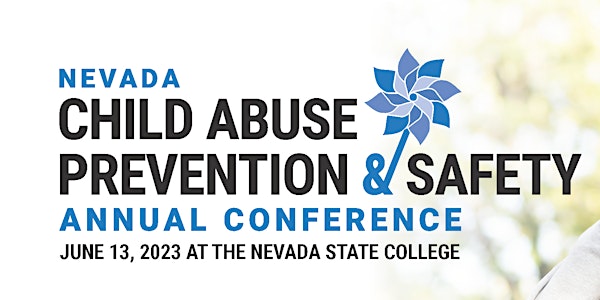 21st Annual Nevada Child Abuse Prevention & Safety Conference
Cultivating Communities where All Families can Bloom.
By Nevada Institute for Children's Research & Policy
Date and time
Tuesday, June 13 · 8am - 4pm PDT
Location
Nevada State College 1300 Nevada State Dr, Henderson, NV 89002 Henderson, NV 890092
Refund Policy
Refunds up to 30 days before event
Agenda
Keynote Speaker: Parent Leader Network
---
The Parent Leader Network presentation will focus on sharing commitments contained in the Manifesto for Race Equity & Parent Leadership. Parent leaders will shared lessons learned from over 5 years o...

Increasing Awareness of the Whole Child to Prevent Maltreatment
---
This training is based on the philosophy of child development and the whole child. Participants will gain further understanding of adverse childhood experiences and how children may express trauma in...

Enough Abuse: It's Not Just Jenna
---
It's Not Just Jenna is a 30-minute video co-produced by Massachusetts Citizens for Children and Alvid Productions to educate middle and high school youth, their parents, and other youth-serving profe...

Addressing Adverse Childhood Experiences in Native American Communities
---
This workshop will explore the impact that adverse childhood experiences (ACEs) have upon Native American children, adolescents and adults. ACEs are stressful or traumatic events, including abuse and...

Engaging Diverse Populations and Incorporating Lived Experience in Prevention
---
Primary prevention consists of activities that are targeted toward the community at large. Join this session to learn more about primary and secondary prevention along with how to implement these pro...

Innovative and partner-based approach to Safe Sleep awareness
---
Safe sleep environments are critical for preventing infant fatalities. However, risk factors, like co-sleeping, pillows or blankets in the crib, or being placed to sleep somewhere other than a crib l...

Group-Based Parenting Education Programs and their Influence on Protective Fac
---
The primary purpose of the current study was to investigate the influence of group-based parenting education programs on protective factors that prevent child abuse and neglect. The group-based paren...

A Father's Place:The Importance of Male Involvement in Early Childhood Develop
---
This workshop will emphasize the critically important role that engaged fathers play in the healthy growth and development of young children and present proven strategies that promote and support mal...

About this event
The Nevada Child Abuse Prevention and Safety Conference brings together professionals and community members from across the state with the mission to learn, inspire, network, connect, and collaborate to build safe, stable, and nurturing environments for ALL Children in Nevada.
The conference is focused on primary prevention and will have workshops on diverse topics that are informed by science and provide strategies to enable kids, families, and entire communities to thrive today, tomorrow, and for generations to come.
About the organizer
The Nevada Institute for Children's Research and Policy (NICRP) looks out for Nevada's children. Our mission is to conduct academic and community-based research that will guide the development of policies, programs and services which will enhance the health and well-being of Nevada's children.