Annual Elvis Festival celebrates the life, the music, the interests and inspiration of the King of Rock and Roll in an all day-tribute .
About this event
READ BEFORE BUYING RESERVED SEATS
THIS IS A FREE EVENT (Free admission and parking) IF YOU WANT TO HAVE RESERVED SEATS at the STAGE FOR THE ENTIRE DAY that REQUIRES you to SELECT and PURCHASE YOUR SEATS HERE.
To purchase reserved seats you must either provide proof of COVID-19 vaccination or provide proof of a negative COVID-19 PCR test taken within 72 hours prior to the Festival. The latter has been added to accommodate guests under age 12 or those who need a reasonable accommodation for medical reasons or due to a sincerely held religious belief. While the festival is an outdoor event, under 10, 000 attendees, the Department of Public Health recommends this policy where people are near each other for long periods of time, regardless of the situation. The reserved seats fit that circumstance.
Reserved seats allow you to come and go, check out the rest of the Festival, grab a bite to eat etc. and not worry about losing your seat. It's a full day of entertainment on the stage from 10 a.m. to 6 p.m.
The Garden Grove Downtown Business Association is bringing Elvis Festival to Main Street to help keep local businesses thriving while also offering "safe" and fun entertainment for the whole family.
IF YOU require Handicapped Seating send an email to elvisfestival@yahoo.com BEFORE PURCHASING seats.
FREE SEATING AREA is a come and go section and does not require proof of vaccination but wear a mask if you are not vaccinated.
*Buyers in the Tier 1/$35 reserved seats will automatically be entered to win an autographed copy of The Hound Dog, the The Leiber and Stoller Autobiography. Mike Stoller will be at the Festival to autograph the books for the winners as well as a SteelCraft Gift Basket.
All other tickets purchases will be entered to win Elvis memorabilia with drawings throughout the day. DROP your ticket printout at the Info/Check In Booth in Front of the Stage.
Elvis Festival Moves to Fall for a "Change of Habit"
Themed after an Elvis Presley movie it will be "A Change of Habit" when the 21st Annual Elvis Festival returns to Historic Main Street in Garden Grove on Sunday, October 10, 2021. Traditionally held in August near the anniversary of Elvis Presley's death (August 16, 1977) , the festival was postponed last year and rescheduled for this fall due to COVID.
California's only Elvis Festival, the all-day tribute to the King of Rock 'n' Roll runs from 10 a.m. to 6 p.m. and will feature a combination of traditional Elvis performances as well as not so traditional including a set of performances by singers inspired by the King but do not aim to look or sound like them.
Kirk Wall of Anaheim, who has served as the Festival's Ambassador since its inception, will perform songs from the movie Blue Hawaii along with the Halau Hula Lani Ola dancers and then bring bluegrass versions of Elvis hits with his band Krazy Kirk and the Hillbillies, which plays regularly at Knott's Berry Farm.
Among the highlights this year is special guest and Elvis songwriter Mike Stoller, who along with the late Jerry Leiber, wrote many of the songs Elvis performed and turned into hits including" Jailhouse Rock," "Hound Dog" and "Treat Me Nice." Several Elvis Tribute Artists and other vocalists will perform several of their Elvis songs in a tribute to the Rock and Roll Hall of Fame Songwriters.
While music history might have convinced people that Elvis Presley and the Beatles didn't get along, some said it was just their competitive spirit in the rock and roll world. No matter what both are music legends, and Elvis did sing many of the Beatles' hits such as "Hey Jude," "Something," "Yesterday "and the Beatles sang Elvis hits such as "That's All-Right Mama," " I Got a Woman" and " I Forgot to Remember to Forget." And they both recorded other rock hits such as "Johnny B. Goode" and "Long Tall Sally."
In keeping with that spirit, the festival's finale band will combine the diverse vocal talents of Elvis Tribute Artist, James King with Beatles Tribute Band, The Walrus: The King and the Walrus will perform a variety of Presley and Beatles songs along with other rock and roll hits from the 1950's and 60's.
Other performances will include multi-award-winning Elvis Tribute Artist Martin Anthony singing Elvis gospel, duets with vocalists Erika Boychenko, Marlena Khramova, Melody and Dahlia Valdez and other selections. Also featured will be Elvis tributes by Steven Williamson, Brad Carrow, Gary Anderson, Fernie Ramirez, Anthony Alcala and Ronnie Po.
In addition to stage entertainment the festival will include the King of Cadillacs Car Show for passenger cars from 1977 and earlier, Elvis fan clubs: Jailhouse Rockers of California and Blue Suede Shoes of California, vendors with memorabilia and collectibles, stilt Elvis and Priscilla, Abbit the Average Elvis, food trucks and Main Street restaurants and merchants.
Dignity Memorial™ is returning as the presenting sponsor reminding us that Every Detail Remembered is an important part of honoring our loved ones including the King of Rock and Roll. Participating Dignity Memorial locations include Fairhaven Memorial Park & Mortuary, Santa Ana; Fairhaven Memorial Services, Mission Viejo and Dimond Shannon Mortuary, Garden Grove, and are part of the network, which also owns the Memphis Funeral Home that handled Elvis Presley's arrangements.
In addition, the festival is supported by the Garden Grove Downtown Business Association and the Garden Grove Community Foundation.
Festival admission is free and parking at the adjacent Concorde and Coastline College lots, is also.
More information including a full schedule may be obtained at the 21st Annual Elvis Festival-Garden Grove Facebook page, by emailing elvisfestival@yahoo.com or calling 714-267-4657.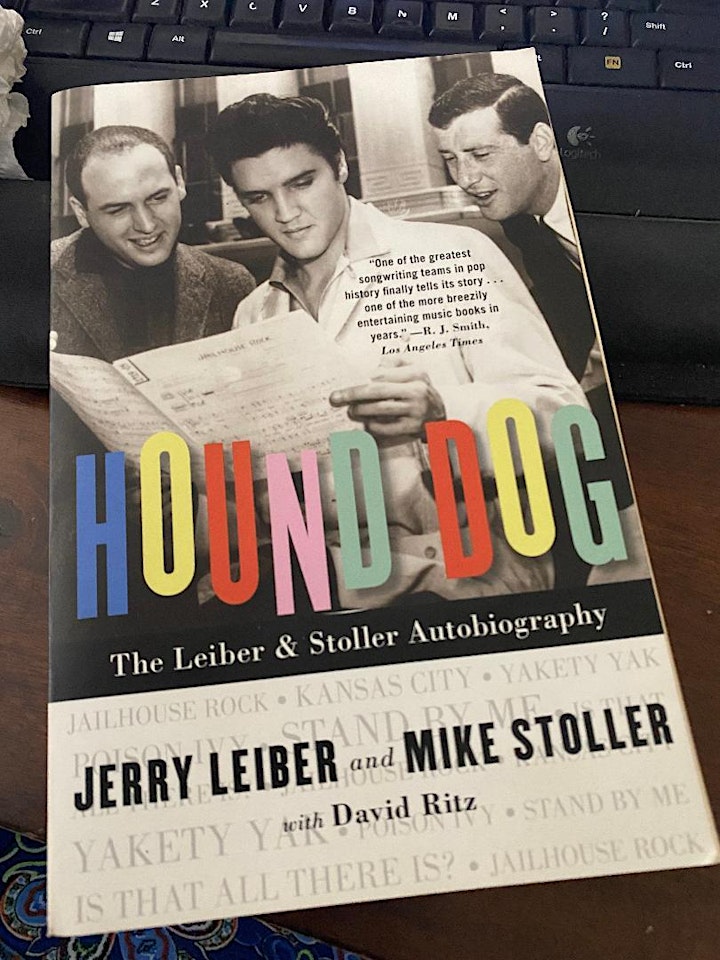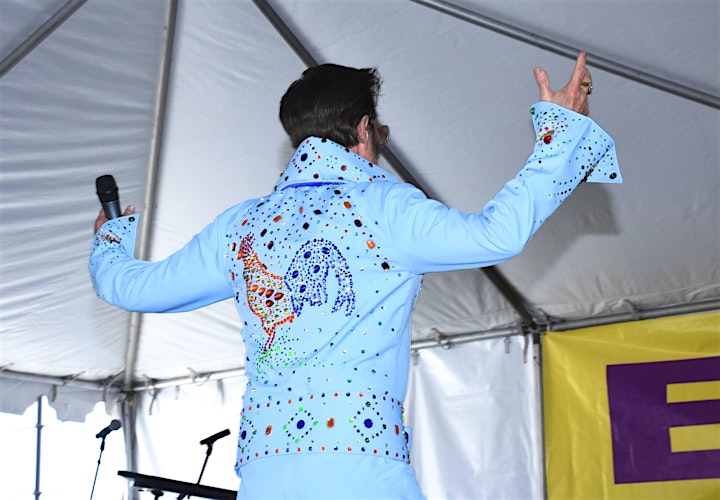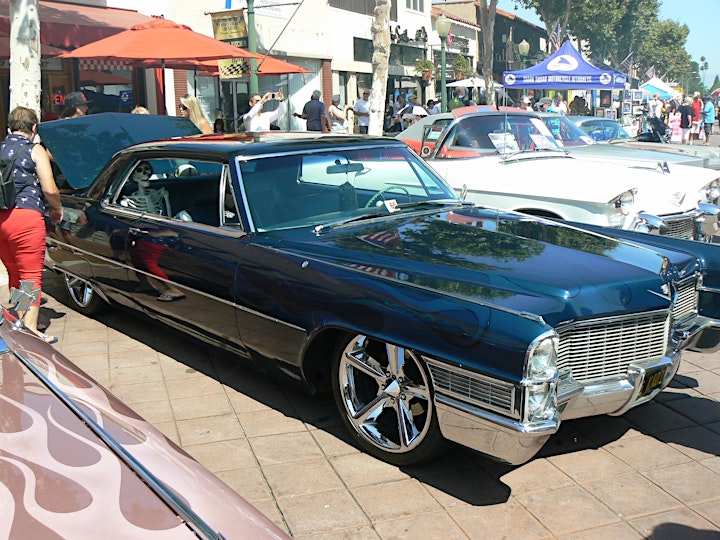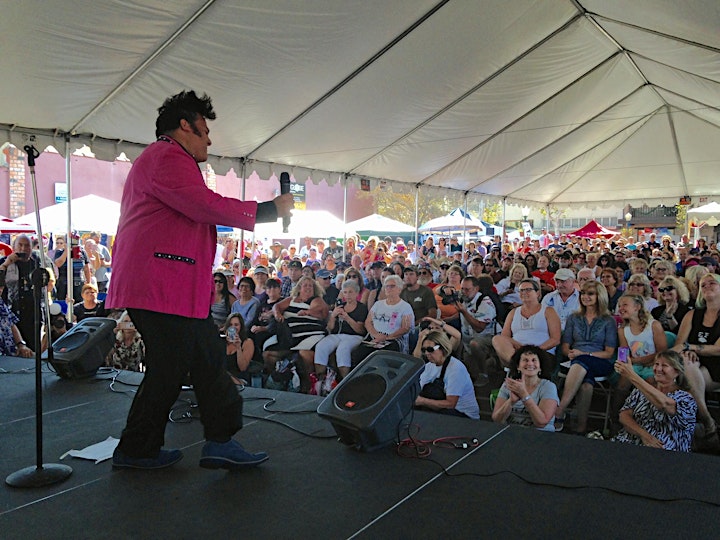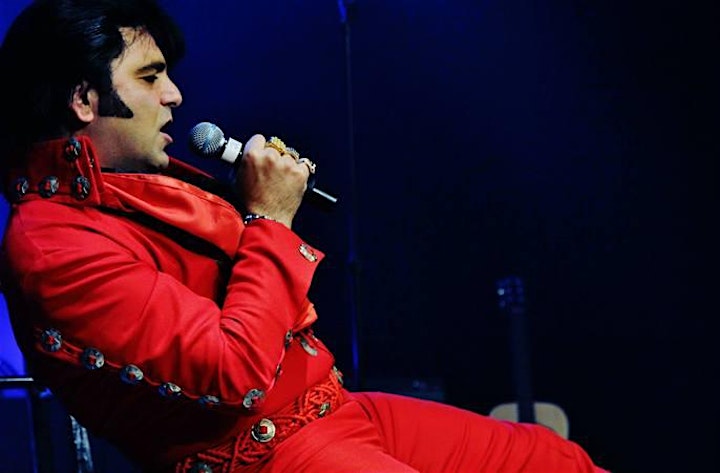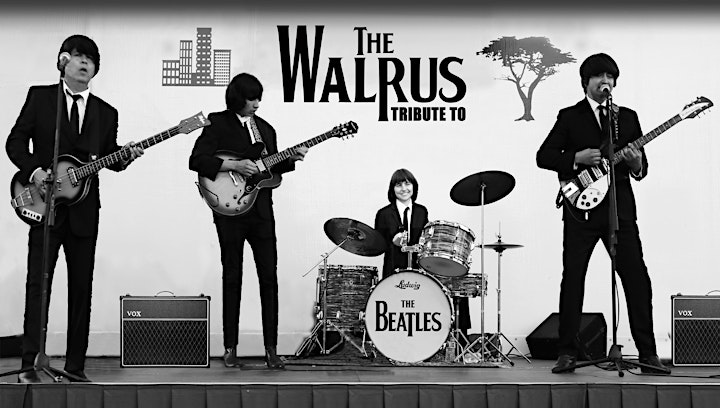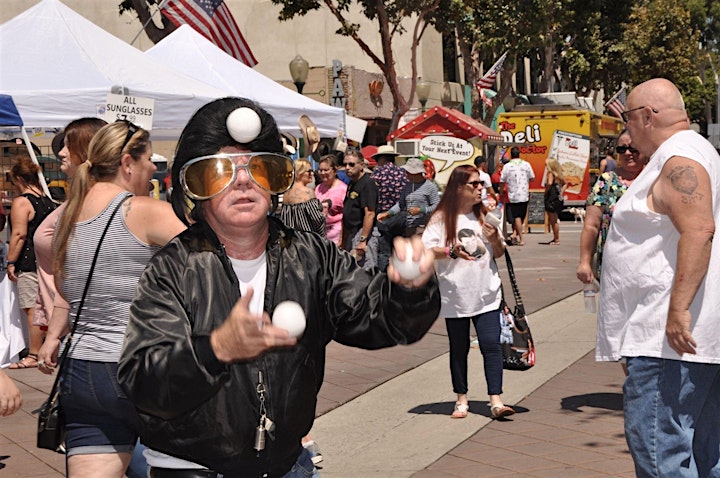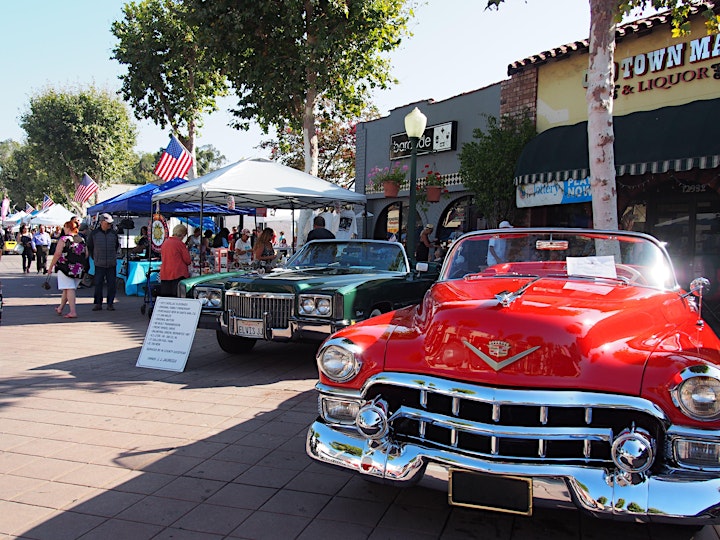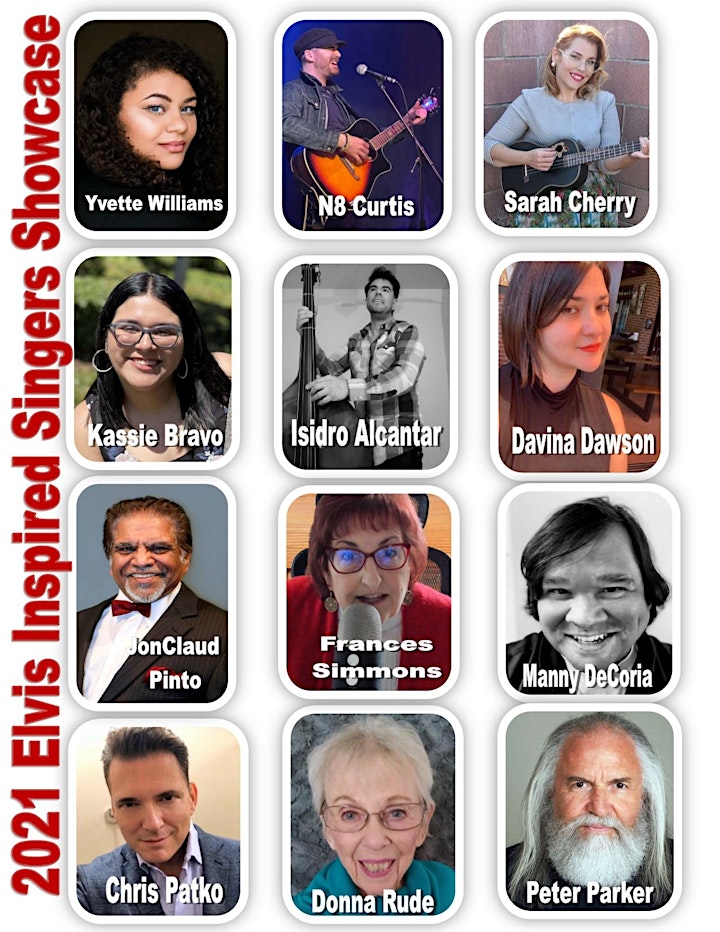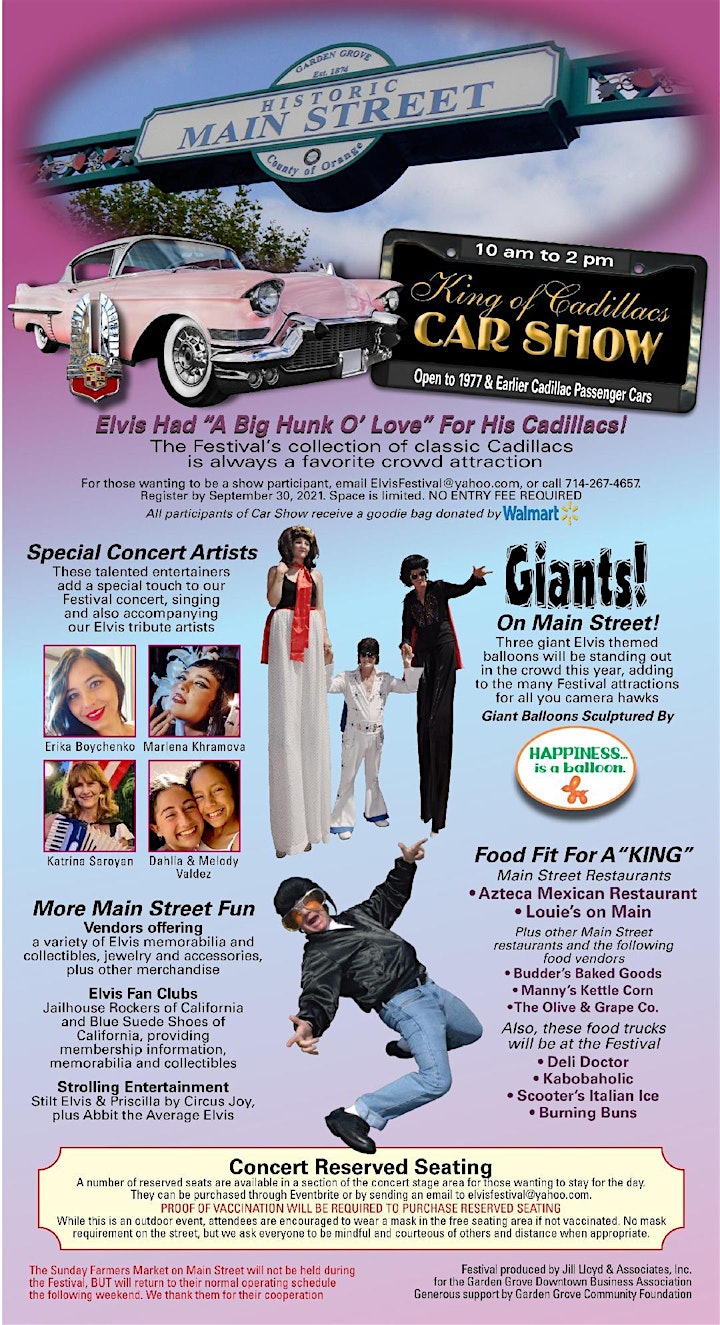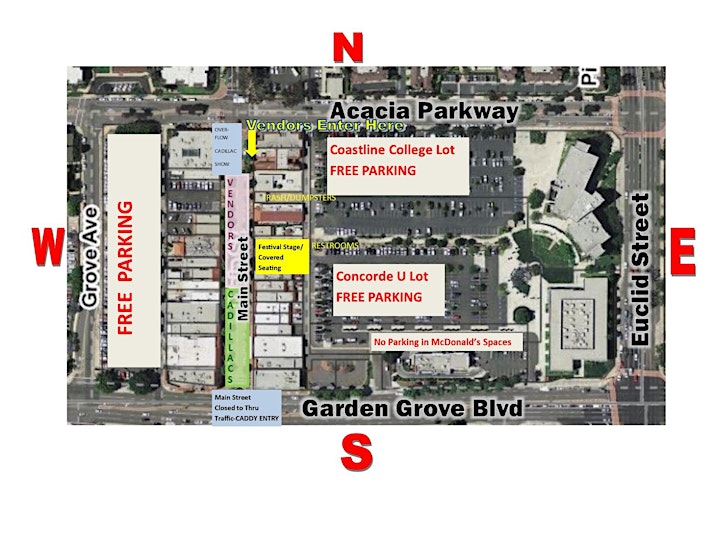 Organizer of 21st Annual Elvis Festival