Sales Have Ended
Ticket sales have ended
Thank you for supporting Raksha and Ek Shaam Raksha Ke Naam!
Sales Have Ended
Ticket sales have ended
Thank you for supporting Raksha and Ek Shaam Raksha Ke Naam!
Description
Join us for the 21st Ek Shaam Raksha Ke Naam!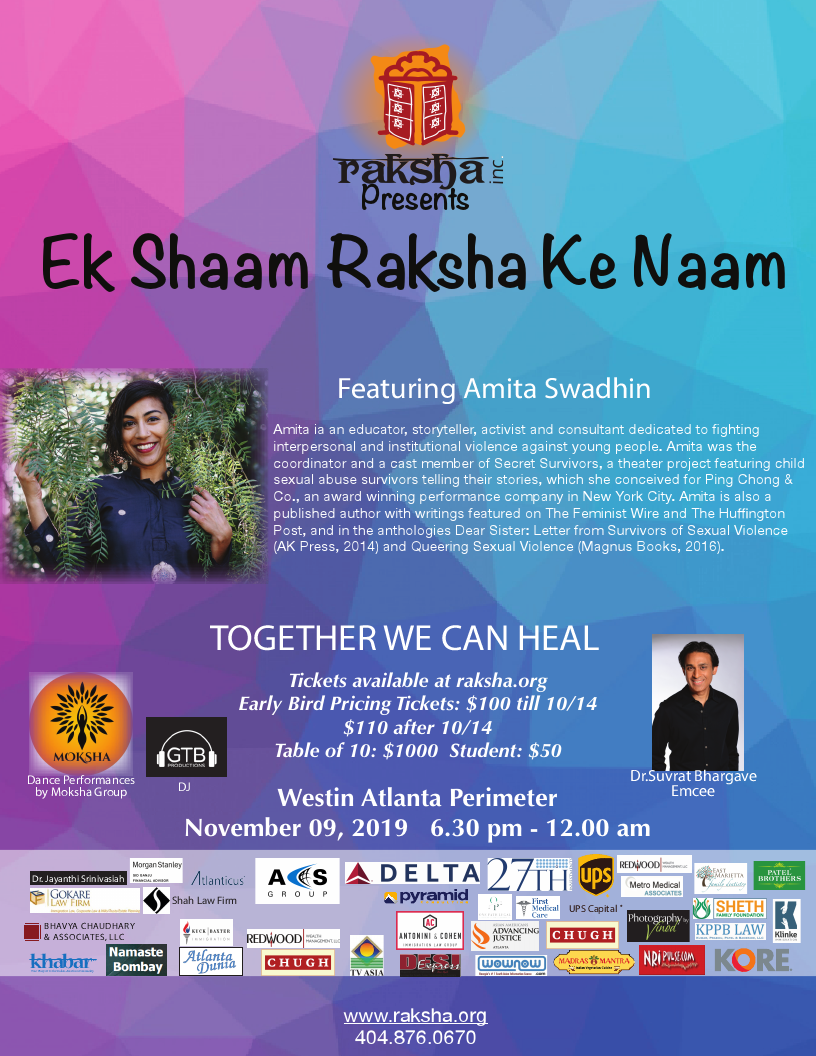 Raksha has grown from a small volunteer organization to a leading community-based agency that plays a critical role in addressing violence against immigrant adults and children. Raksha continues to be the only organization serving the social service and justice needs of the South Asian population in the State of Georgia and the metro Atlanta area. The lives of more than 40-thousand community members have been touched by Raksha.
Celebrate our annual signature event with Keynote speaker Amita Swadhin, A renowned Storyteller and Activist.
Amita has held positions at Legal Momentum, Global Kids, Make the Road NY, Sadie Nash Leadership Project and Kingsborough Community College (CUNY), and served as the final Board Chair of the National Youth Advocacy Coalition, a national organization advocating for and with LGBTQ youth.
Amita is also a published author. Her writing has been featured onThe Feminist WireandThe Huffington Post, and in the anthologiesDear Sister: Letters from Survivors of Sexual Violence(AK Press, 2014) and Queering Sexual Violence(Magnus Books, 2016).
She holds a Master's in Public Administration degree from New York University, where Amitawas a Catherine B. Reynolds Fellow in Social Entrepreneurship, and a BS in Foreign Service from Georgetown University.

This years Sponsors include:
❖Gold Sponsors
Kore, UPS Capital, and Patel Brothers

❖Silver Sponsors
ACS Group, Redwood Wealth Management, 27th Investments, Delta Airlines, Kumar Prahbu, Patel, and Banerjee

❖Bronze Sponsors
Antonini and Cohen, Asian Americans Advancing Justice Atlanta, The Chugh Firm, Klinke Immigration, Kuck and Baxter, Madras Mantra, First Medical Care, Gokare Law Firm, Pyramid, Metro Medical Associates, Dr. Jayanthi Srinivasiah, Sheth Family Foundation, Morgan Stanley,

❖Media Sponsors & Community Exposure
Atlanta Dunia, Desi Express, KhabarMagazine, NRI Pulse, TeleguPatrika, TV Asia, WOWNOW.com, Social Media, Divinity AV Productions, Photography by Vinod, Action Design and Excel Events