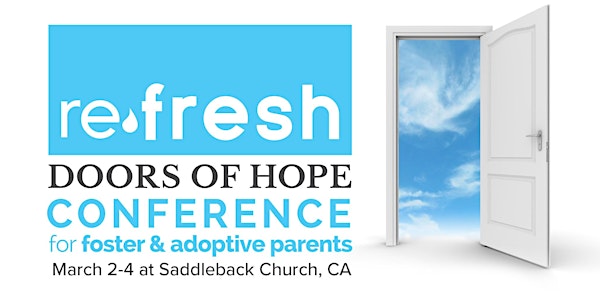 ReFRESH Conference: for Adoptive, Foster, Kinship, and Safe Family Parents
Come, walk through the Doors of Hope to an experience of inspiration, healing and tools you'll live and take with you.
About this event
Refresh will be at Saddleback Church in California with a team from Overlake coming to help ensure the best experience. Full speaker list and all the details are coming soon. This is an in-person event just for parents and caregivers.
Visit theRefreshConference.org to learn more about ReFresh 2022.
Come, take a load off and relax while we help you recenter your life with God, others and self. Refresh is a Christian conference designed for foster and adoptive parents, kinship providers, grandparents, and others who care for vulnerable children. Refresh is not a foster/adoptive recruiting conference. It is all about supporting parents like you on your post-placement journey. We understand firsthand that this journey can be difficult and lonely. The Refresh Conference is a time for you to escape from the distractions and chaos of life and be physically, emotionally, and spiritually refreshed and inspired.
Four Pre-Conference Tracks on March 2 to choose from:
Blocked Care: When you've lost compassion w/ Lisa Qualls & Melissa Corkum
Soul Care: How to manage Your Own Health w/ Brandi Lea
TBRI Deep Dive for Caregivers w/ Renea Dupuis
Anchored: A Bible Study for Self-Worth w/Cindy Lee
Some of the many activities included:
Four Main Speaker Sessions
Dozens of Breakout Topical Sessions
The First Timer's Welcome, Tips & Tricks
Caregiver's Chill and Play Area
Quite Zone and Nap Room
Sensory Exploration Room with an OT
Live Equinel Experience
1-on-1 Connection Coaching
Pamper Your Soul Station
Night of Worship
Mom & Dad's Breakfast
Family Resource C.A.R.E. Kit
Single Parents Dinner
Some of the Speakers who will be refreshing you: Lisa Qualls, Beth Guckenberger, Elizabeth Styffe, Stephanie Fast, Kyle Raney, Jayne and David Schooler, Deborah Gray, Lynne Ellis-Gray, Brandi Lea Bergren, Cindy Lee, Derek Hamer, Nathan Ross, Renea Dupuis, Melissa Corkum, Pam Parish and Ted Lowe.
Travel Info: We recommend booking flights to John Wayne Airport (SNA) and staying at the Courtyard by Marriott or the Ayres Hotel where shuttles will be available to and from the conference. There are few other cheaper hotel/motels near the conference but the reviews are less favorable.
COVID Update: Based on Covid infection trends we anticipate that by March 2022 the rate of infection will drop and it will be as safe as possible for our conference. So we don't believe that we will need to cancel the conference and that wearing masks will be a choice that people will make for themselves. The current mask mandates are due to expire in February. We plan to have plenty of hand sanitizer available and lots of space for social distancing. Our worship center has no side walls so it's more of an indoor/outdoor space with unrestricted airflow. This will be the safest conference experience featuring mostly outdoor venues.
Visit theRefreshConference.org to learn more.

Organizer of ReFRESH Conference: for Adoptive, Foster, Kinship, and Safe Family Parents
The Initiative for Vulnerable Children is a part of the PEACE Plan and has a vision to find a family for every child and equip the Church to care for them!