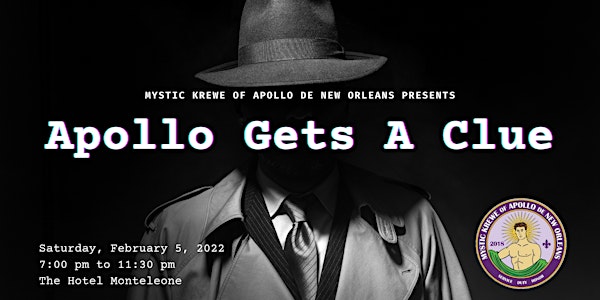 Mystic Krewe of Apollo de New Orleans - Bal Masque XIX - Apollo Gets a Clue
Event Information
Location
Hotel Monteleone
214 Royal Street
New Orleans, LA 70130
The Mystic Krewe of Apollo de New Orleans presents Bal Masque XIX, Apollo Gets A Clue. Are you ready to help us solve the mystery?
About this event
The Mystic Krewe of Apollo de New Orleans returned in 2020 after three decades out of the limelight with the celebration of its Resurrection Bal Masque and the 50th anniversary of the first Apollo ball. Now it's time for the spotlight to shine again after a year of Covid delays when we bring you Apollo Gets a Clue on Feb. 5, 2022.
We will be returning to the "scene of the crime" where both the first Apollo ball and the Resurrection Bal Masque were held – the luxurious Hotel Monteleone in the French Quarter. Join us for a three-course meal and a tableau where everyone participates in determining who committed the heinous crime. Enjoy depictions of characters and places from New Orleans past and present as you try to help our Game Makers and Sexy Detectives solve the mystery.
King and Queen Apollo New Orleans XVIII Dr. Rick Cain and John Bertrand will reign over the event, and King and Queen Apollo New Orleans XIX Tom Merrill and Andrea Sabillon Halsted may just surprise you as they make their triumphant debut on stage.
Seating is limited for this intimate dinner and tableau, so get your tickets early. Doors open for cocktail hour at 7 p.m., followed by seated dinner (with music/entertainment) at 8 p.m. and the tableau at 9 p.m.
You don't want to miss this elegant, interactive and intimate event!
ATTIRE
Full formal. Tux or evening gown required for entry. We will follow New Orleans and Hotel Monteleone Covid safety protocols in place at the time of the event (so proof of vaccination and/or mask wearing while entering the venue could be required).
MENU
(All options include California Greens Salad as a starter and Crème Brulet for dessert, as well as tea and coffee. A cash bar also will be available.):
FISH: Redfish Almondine with Chef's Choice of Sides.
CHICKEN: Thyme Marinated Chicken Breast with Prosciutto Bacon Wrap, Portobello Mushrooms, Goat Cheese Polenta Cake and Roasted Shallot au Jus.
VEGETARIAN: Ratatouille and Goat Cheese Ravioli, Bloomsdale Spinach and Sun Dried Tomato Pesto.
Date and time
Location
Hotel Monteleone
214 Royal Street
New Orleans, LA 70130