Join the challenge to hike or run 21 miles in Van Cortlandt Park anytime during 2021!
About this event
The Challenge:
Hike or Run 21 miles in Van Cortlandt Park anytime during 2021, post on social media from the park to spread the word, and wear your 21 in '21 Finisher's Patch (see below) with pride once you attain your goal (because you earned it!).
VCPA will provide you with route options within Van Cortlandt Park, the third largest park in NYC, but you pick your method (hike, run, stroll, skip) and you pick when (as long as you complete all by December 31, 2021). Van Cortlandt Park, located in the Northwest Bronx, has over 20 miles of trails of various levels of difficulty. If any of the suggested trails are too strenuous, you can substitute as you like. The specific trails do not matter as much as hitting the goal of 21 miles.
Registration:
Register now to receive the list of 9 different trails you can hike and some start-up swag! More details below.
Registration closes September 1, 2021 but the sooner you register, the more perks you will receive, and the more time you will have to meet the challenge.
Cost/Proceeds:
For only $35 per person, you can participate, receive swag, and make a difference in Van Cortlandt Park. All proceeds support Van Cortlandt Park Alliance's environmental education, internship and community stewardship programs.
The Swag:
Every participant gets a VCPA neck gaiter, VCPA sticker, VCP map, and invitations to 2 exclusive 21 in '21 guided hikes with special giveaways for attendees (optional but will count towards your 21 miles). After you complete your hikes, you will receive an exclusive 21 in '21 Finisher's Patch, a virtual filter to use on social media, and bragging rights! Patches will be mailed starting in Fall of 2021.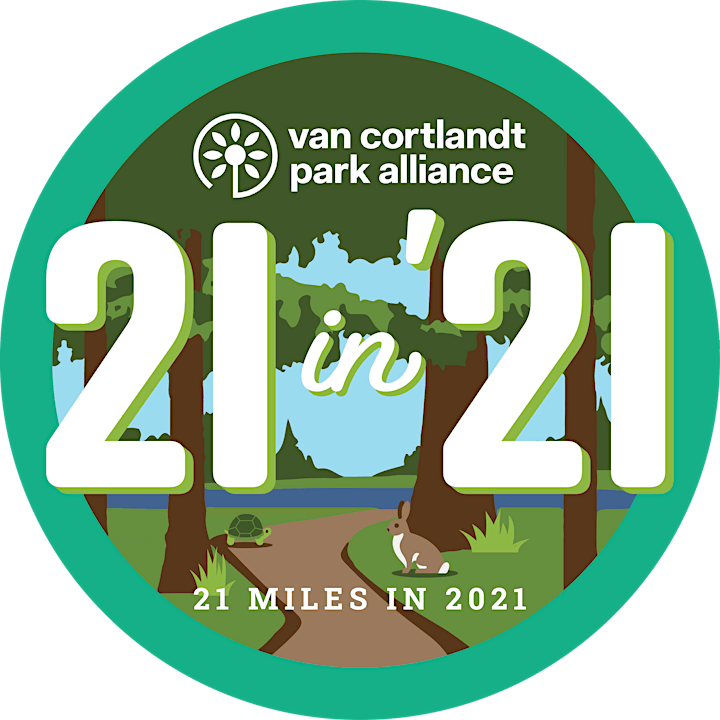 Can't participate but really want some swag? Or want some extra swag? No problem, select Swag Only in ticket sales and you'll receive all the swag except for the Finisher's Patch.
21 in '21 Packets:
Packets, which you will receive once you sign up, will include suggested routes, completion form, and initial swag, and will begin shipping by mid-April via first class mail.
Get Social:
When posting about your adventure and bragging on social media, we encourage you to tag us @vcpalliance and to use #vancortlandtpark #21in21invannie #vcpwherenychikes