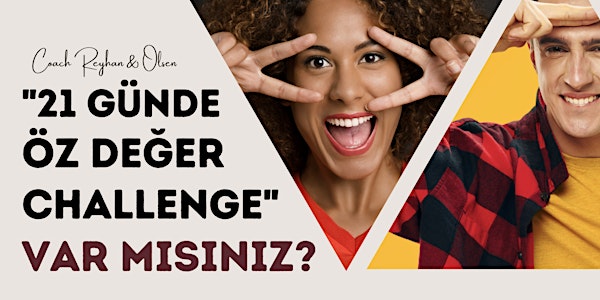 21 Günde Öz Değer Challenge | Ocak 2023
21 Günde Öz Değer Challenge'ına VAR MISINIZ? 15 Ocak - 5 Şubat Arası
Refund Policy
Contact the organizer to request a refund.
Eventbrite's fee is nonrefundable.
About this event
Kendinden şüphe etme (self-doubt) alışkanlığını bırakıp, gerçek dengeli özgüvene (self-confidence) nasıl ulaşılır?
Öz Değer Challenge kimler için hazırlandı:
Değersizlik duygusundan dolayı hayat kalitesinin düştüğünü düşünenlere,
Kendi potansiyelini keşfetmek isteyenler,
Potansiyelinin farkında olup, bir türlü oraya varamayanlar,
"Dinliyorum, okuyorum fakat davranışa geçirmekte zorlanıyorum" diyenlere..
Teknik olarak öğrenmek kolay, yalnız başıma pratik yapamıyorum diyenlere…
Öz Değer Challenge Ne Sağlayacak;
Zorluk yaşanan noktalarda birbirimize destek olma,
Grupla birlikte, kendimiz gibi aynı dertle zorlanan ama gayret eden insanlarla dolu dolu alışkanlık kazanma yanımızı desteklemek.
Öz Değer Challenge Nasıl Olacak?
Canlı buluşmalar,
Günlük video kayıtları ve
Harika sorularla 21 gün boyunca kuracağımız Telegram grubu ile sizinleyiz!
4 kez canlı buluşma;
Aşağıdaki konuları konusacağımız ve hep beraber öğrenip gelişeceğimiz bir program olacak:
Bizi sınırlayan düşünce kalıpları,
Öz Değere yeniden bir bakış
Olumsuz duygulardan kurtulma, pozitif düşünce alışkanlığı geliştirmek (Duygusal Çeviklik)
Düşündüklerini çekinmeden söyleyebilmek ve gerektiğinde hayır diyebilmeyi öğrenmek,
Özgüveninizi kıran düşüncelerle başa çıkmak, korkularla yüzleşmek,
Gerçek özgüveni öz şefkatle birlikte kazanmak,
Mindfulness teknikleri ile öz farkındalığı artırmak
Sağlıklı kişisel sınırlar çizmek,
Kendini suçlamayı terkedip, öz saygı ve mutluluk tanımını güncellemek
Kendi ile barışık, kendine nezaketli olma alışkanlığı kazanmak
(Bireysel Çeviklik) Gercek hedef koyma, plan yapma yöntemleri - İçi dolu motivasyon