Event Information
Location
Online Workshop
Toronto, Ontario
Canada
Description
Beauty begins in your Belly:
Have you heard the saying "Beauty begins in your belly"? Your skin is a reflection of what's going on within you. Although the skin is our largest organ, it is the most external organ, hence it is the last one to receive nutrients. By nourishing your skin from inside out, you're allowing your body to repair and balance out all the impurities of your skin.
Glowing skin from within:
Beautiful skin is the result of a healthy well-functioning body. When your digestive system is at its optimum, and you absorb and eliminate foods properly, when you fuel your body with beauty foods, and give it the rest it needs, your skin will glow! During the 21 days we will dive deep into the importance of a healthy skin regime, and learn everything on how to be beautiful from inside out.
What's included:
4 Online LIVE Sessions

Step-by-step 21 day guide to glowing skin

4 Weekly Interactive Worksheets

Beauty food recipes

Private online community for support and accountability
Past participants have noticed an improvement within 1-2 weeks. Imagine having youthful glowing skin that your friends will complement you on. If you are looking for a holistic approach to keep your skin healthy and radiant for years to come, or if you experience skin impurities and are frustrated with no results, then this program is a great foundation to get you on a glowing beauty path.
Keep in mind, 21 days is just the foundation to your glowing skin journey. Please be patient with yourself and your body. Transformation takes time and lots of nurture.
21 day breakdown:
Week 1: Skin Sense – The What, the Why, and the How to glowing skin. Learn about the top Beauty Foods and the terrible Beast Foods. How can you remove the Beast foods, and incorporate lots of Beauty foods into your daily routine? And what's your liver got to do with it?
Week 2: Skin Glow: Nutrition – We will begin with our beauty food regime. You will get a step-by-step guidance on what to eat and take home a few beauty recipes to get you inspired.
Week 3: Skin Glow: Lifestyle – We will discuss any challenges from last week and begin introducing some beauty lifestyle practices into your regime.
Week 4: Glow for life – How do you maintain your glow for life? Learn about ways to intergrade your beauty regime into your lifestyle. We will also discuss about natural skincare products and what to watch out for when shopping for skincare.

Cost:
Early Bird Price: $197 (before June 30)
Regular Price: $250

Got questions? Connect with Lusine at info@bareholistics.com or call 416 804 7261.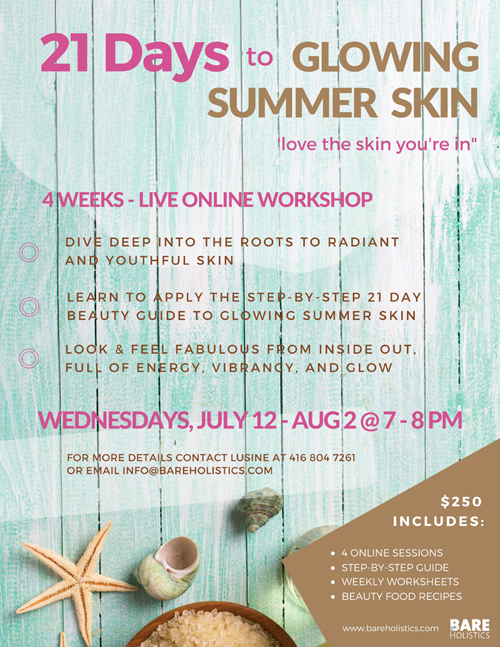 Save
Date and Time
Location
Online Workshop
Toronto, Ontario
Canada