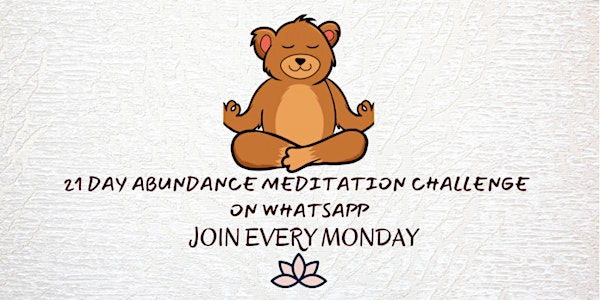 21 Day Abundance Meditation Challenge- Monday 12/23 on WhatsApp
In this time of worldwide changes we will commit to 21 days to shift our mindset from scarcity to abundance and do a vibrational energetic
Refund Policy
Contact the organizer to request a refund.
About this event
❤🧡💛💚💙💜🤍
👋 Group #134 of the 21 Days Abundance💫 Meditation Challenge Group on WhatsApp.
Held every 3 weeks,
Monday December 12th
(Originally Created by the Chopra Center, Modified and Led by Spiritual Entrepreneur & Transformational Coach & Energy Healer Sheri "The Revitalizer" Kaplan.)
In this time of worldwide changes we will commit to 21 days to shift our mindset from scarcity to abundance and do a vibrational energetic RESET and reconnect for a fresh and new start.🏵
Welcome.👋 I am Sheri Kaplan "The Revitalizer".☆I'm honored☆ to have you participate in this group challenge of practicing meditation on abundance, consciousness, and changing your thinking, to allow you to get more of what you really want in life, whether it's love, wealth, health or opportunity, for 21 days and spreading the abundance, love, and miracles far and wide.🌺
In 3 week's we will focus on different aspects of abundance from Deepak Chopra:
🌸Week #1) Preparing for Abundance with unlimited potential, what true abundance is, how consciousness & mind affects the flow, & how it's a divine right.
🌸Week #2) Spiritual laws of success, from pure potentiality to law of dharma, serving Humanity.
🌸Week #3) Practical aspects through living in abundance. Exploring Syncro-destiny, intention and meaningful coincidence, living gratefully in unity and love.
🍃You will receive a daily task to accomplish in 24 hours and a 15-minute video of meditation from Deepak every day, so you practice tapping into the unlimited abundance around you.
🌸You also get:
• Private WhatsApp & Facebook Group
• Free Access anywhere in the world via phone or computer
• Community Feed
• Daily Inspiration Messages
• Meditative Moments
• Connect and Message with Your new Friends (a great alternative to Facebook). We have a worldwide reach. So Introduce yourself!
• Explore a sampling of meditations, mudras, and mantras
Every day you will receive a meditation & lesson/task to do freely on your own.
✅You check in with the group when completed within 24 hours.
• As a result, we will create a mindset for charity
• Being a contribution to the world with your business
• Attract Abundance for you and your business
• Create a mindset of gratitude and abundance
• Experience WIN-WIN-WIN situations between you, your customers, and the universe.
WHAT TO DO
👉1) Download WhatsApp (free)
https://bit.ly/whatsappandroid
👉2) Register on WhatsApp and check in daily to the group feed for your daily lessons and tasks.
Please ✍introduce yourself when you join the group and tell us where you are from.
🌍🌎🌏 It's fun to see how far and wide of where the group participants are joining us from.
I live in Aventura/Miami FL, USA,🏖 and my healing studio is located in Dania Beach FL. Reach out for in-person intuitive Transformational chakra balancing sound & energy healing sessions.💆‍♂️(Sherikaplan.com).
👉3) Join the Private Facebook Group: optional
https://www.facebook.com/groups/21dayabundancemeditationchallenge
👉4) Buy a Notebook, or staple copy paper together. Yes, you will be writing✍or use your computer or tablet.
🌻🦚🕊🙌
Remember to introduce yourself in the group feed!
Bio - Sheri Kaplan "The Revitalizer" is a passionate resilient Spiritual Entrepreneur Energy Healer Intuitive Transformational Coach Motivational Speaker and Author. Her unique approach to healing blends over 30 years of experience as a TESLA Healer Practitioner Reiki Master Sound Healer Access Consciousness Bars Practitioner and Coach. Sheri transforms her clients through a multi-sensory journey that recharges and activates every cell in their bodies. A driving force and educator in the community she successfully led a five-year-old Sound Healing Meetup in Dania Beach until 2020 and unified South Florida's community through a weekly Sound Bath Meditation and Holistic Fair known as "Revitalizing Tuesdays".
In August 2020 she took it online and now produces and hosts this monthly platform offering virtual wellness and psychic fair on Zoom called Healers Network. She recruits speakers for this 1 stop shop for Holistic Health and Mental Wellness. She teaches how to create Airbnb experiences as a Travel Experience Host monthly on Zoom.
She is a passionate advocate for those who do not have a voice. Sheri Kaplan has been featured in numerous local and national TV Radio and Print Media including People magazine Montel Williams and ABC's 20/20.
She is located in Dania Beach and works by Appointment for her transformational Revitalizing chakra balancing sound& energy healing sessions. She can see up to 6 in small groups. She offers free chakra readings anywhere in the world.
Sheri@sherikaplan.com
786- 419-1389
https://linktr.ee/sherikaplan
#21daychallenge #abundance #meditation #challenge