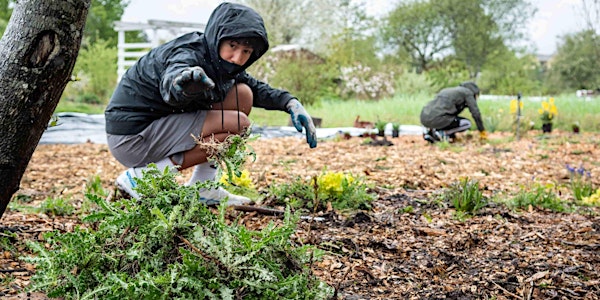 21 Acres Volunteering: Farm Stewards Volunteer Day
Get your hands dirty and learn about regenerative farm practices at 21 Acres! Wednesdays and Saturdays, 10 AM to 12:30 PM.
When and where
Location
21 Acres Center for Local Food and Sustainable Living 13701 NE 171st Street Woodinville, WA 98072
About this event
Work alongside knowledgeable 21 Acres staff on a variety of seasonal restoration and farm projects that build soil health and get the farm in shape for the next growing season. Your help supports local food systems by increasing farm productivity; creating more native habitats for animals, birds, and insects; decreasing stormwater runoff; and pulling carbon out of the atmosphere through green plant material. Activities include seeding, transplanting, planting, weeding, mulching, wheelbarrowing, and more!
No prior farm experience required. All tools provided.
Friends and family 13 years and older are welcome to join! Volunteers ages 13-15 need an adult participant volunteering with them, and anyone under the age of 18 needs a parent/guardian signature.
Be prepared for your visit to the farm! Read below:
If you are a new volunteer with 21 Acres, please take a few minutes to fill out our volunteer application before arriving. (Volunteer application link: https://tinyurl.com/21acresvolunteerapp )
Wear a mask.
Remember to check the weather and dress accordingly.
Wear loose-fitting comfortable layers you don't mind getting dirty.
Long sleeves and long pants are recommended.
Raincoats and rubber boots may be necessary on rainy days.
Please always wear closed-toe shoes for your safety.
Bring a reusable water bottle and plenty of snacks or a lunch to stay fueled and hydrated!
COVID-19 Safety:
Please review our COVID-19 Volunteer Policy prior to registering. By clicking "agree" during registration, you agree to comply with our COVID-19 policies and procedures.
Accessibility:
We are committed to making our volunteer events accessible for all attendees. Please reach out to our team with any questions, concerns, or needs prior to or during the event itself. If you are not attending this event due to accessibility concerns, please let us know! We welcome your feedback.
The 21 Acres farm is not ADA accessible. Our LEED-certified education center is ADA accessible. There is an elevator in the building that goes to the second-floor restrooms. While our restrooms are not gender-neutral, we invite all guests to use the restroom that aligns with their needs.
Transportation:
The number 231 bus runs along NE 171st ST and the 311 stops along NE 175th ST. Free parking is available in our parking lot. We have a bike rack outside the farm market that volunteers are welcome to use.
Cancellation:
Safety is our first priority. If existing or anticipated conditions pose a moderate to high risk to volunteers and staff, we will make the decision to cancel volunteer activities.
In the event of inclement weather including lightning, snow or ice, high wind, smoke, extreme heat or any other conditions that may create an unsafe or unreasonable working environment for volunteers or staff, volunteers will be informed of cancellations by the Volunteer Coordinator.
All registered volunteers will be notified by email of a possible or definitive cancellation by 8 AM the morning of the event. Please make sure that the email and phone number you provide during registration is accurate.
Questions?
For accessibility or other inquiries, please email Hillary Sanders, Volunteer Coordinator: hillarys@21acres.org.