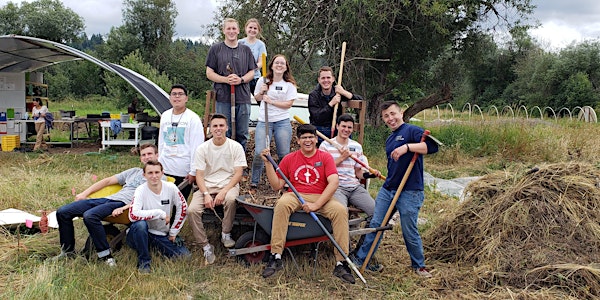 21 Acres Saturday Volunteer Work Parties - Seasonal Farm Projects!
When and where
Location
21 Acres Center for Local Food and Sustainable Living 13701 Northeast 171st Street Woodinville, WA 98072
Description
21 Acres Saturday Volunteer Work Parties - Seasonal Farm Projects!

Are you a climate activist looking for ways to get involved?
Join 21 Acres and other likeminded people for a day full of rewarding farm projects, Saturdays (10:00am - 2:00pm). First-time volunteers should arrive at 9:30am for a brief orientation and introduction.
Help us on a variety of seasonal farm projects that build soil health and get the farm in shape for the next growing season. Your help supports local food systems by increasing farm productivity; creating more native habitat for animals, birds, and insects; decreasing storm water runoff; and pulling carbon out of the atmosphere through green plant material. Activities include seeding, transplanting, planting, weeding, mulching, wheelbarrowing, fighting back invasive plants and more! No prior farm experience required.
Friends and family 13 years and older are welcome to join! Volunteers ages 13-15 need an adult participant volunteering with them, and anyone under the age of 18 needs a parent/guardian signature.
Save some time and fill out a volunteer application before arriving. To help you prepare for a day on the farm here are some notes to consider:
Remember to check the weather and dress accordingly.

Wear loose-fitting comfortable layers you don't mind getting dirty or ruined.

Long sleeves and long pants are recommended when removing blackberries and other thorny weeds.

Raincoats and rubber boots may be necessary on rainy days.

Please wear closed-toe shoes for your safety.

Bring a reusable water bottle and plenty of snacks or sack lunch to stay fueled and hydrated!
For more information on how to get involved please email Krystal Wasson, Volunteer Lead: krystalw@21acres.org.
Thank you!