21 Acres: Composting 201 - Compost Troubleshooting

Saturday, October 14, 2017 from 12:30 PM to 2:00 PM (PDT)
Event Details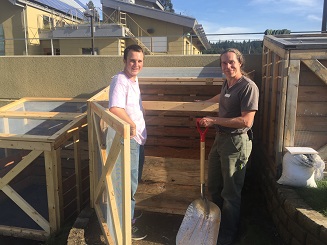 This is a class for anyone who has ever tried composting and run into problems. 
We've met far too many people who have had an unpleasant experience with compost and decided to just give up on the whole idea. That's a shame, because these problems are usually straight forward to address and simple to avoid.  A composting system should be easy to use, appealing to the eye, and pleasant to be around. This class is designed to give you all the tools you need to get there simply and with minimal fuss and effort. 
We will start out by going over the fundamentals of how compost works and use that understanding as a way to troubleshoot the problems people often run into (it's ok, it's really not that complicated). Understanding those fundamentals will be the most important tool you'll take away from this 90 minute class. But don't worry, you won't be left with nothing but theory to work with. We will spend much of the class going over the most common problems people run into with their compost systems, why they happen, and how to fix and avoid them. The solutions are surprisingly similar in most situations. So bring your list of past problems, issues, questions, or concerns and we'll make a list and address each of them. We will go over their likely causes, what can be done to fix them right now, and how to avoid them in the future. 
The goal of this class is for everyone to walk out with answers to the specific questions they walked in with, as well as a solid understanding of how to troubleshoot compost problems on their own.
The first class in our composting series Composting 101 – Composting Basics is offered October 14th 10:00am-11:30am. Click here to register for Composting 101.
Instructor: Tyler Morrison, 21 Acres Facilities Engineer & Sustainability Educator

Tyler Morrison is our Facilities Engineer & Sustainability Educator. Tyler likes to describe his work at 21 Acres as "running around and making things go," for everything from infrastructure to intellects. His work varies daily and ranges from things like building cabinets and window shades to creating and managing sustainable infrastructure, like our composting system and rocket mass heater project. Tyler loves to share his knowledge of practical solutions for sustainable living in the numerous sustainability-focused classes that he writes and teaches. With a B.S. in Ecology and Conservation Biology and over 10 years' experience working as a biologist in the Olympic and Rocky Mountains, Tyler's knowledge and expertise cover an eclectic range—including the performance of electrical work on a training boat as well as rattlesnake and wolf tracking. Recently, Tyler spent five years living in the middle of the wilderness, managing a remote biological research station for the University of Idaho. Tyler always has a smile and, often, a random biological fact for everyone he meets. You can usually find him around the building devising simple solutions for complex problems or explaining how the heck those rocket mass heater things get fire to burn sideways.

Registration is required in advance for culinary programs. All proceeds benefit educational programming at 21 Acres and initiatives related to accelerating social change toward more sustainable ways of growing, eating and living that protect the environment while supporting a better quality of life.
The more the merrier! Our culinary classes are twice as much fun when they're full. 21 Acres reserves the right to cancel any class that fails to meet the minimum enrollment numbers required for teacher participation. 21 Acres may also cancel classes due to chef illness or inclement weather. If 21 Acres cancels a class, students will be notified and a full refund will be mailed or a credit issued on the credit card used. Learn more about 21 Acres' cancellation and refund policy.

Be a conscientious commuter—walk, bike, carpool or bus to 21 Acres events whenever possible.
Have questions about 21 Acres: Composting 201 - Compost Troubleshooting?
Contact 21 Acres
When & Where

21 Acres
13701 Northeast 171st Street
Woodinville, WA 98072


Saturday, October 14, 2017 from 12:30 PM to 2:00 PM (PDT)
Add to my calendar
Organizer
The 21 Acres Center for Local Food and Sustainable Living is a nonprofit sustainable agriculture learning center and inspires action to solve climate challenges by learning as a community to grow, eat and live sustainably.
Contact information: generalinfo@21acres.org  |  425-481-1500