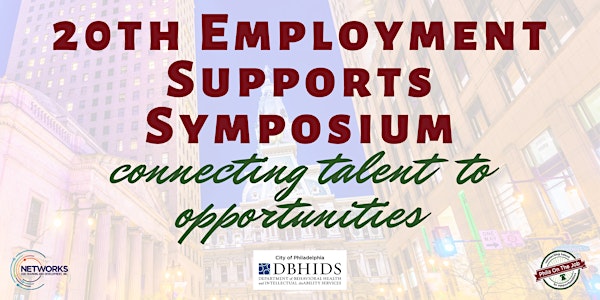 20th Employment Supports Symposium - Fall Series [EMP]
20th Employment Supports Symposium (Fall Series)
Refund Policy
Contact the organizer to request a refund.
About this event
The 20th Employment Supports Sympsium is now virtual through ZOOM!
Beginning October 1, 2020 and running through December 17, 2020... register and gain access to all sessions being offered (sessions offered weekly). A few days prior to each session you will receive an email with the specific link to attend each session.
Join us and register today...
30 hours of training (if attending all sessions).
...with an individual certificate of attendance issued for each session you attend!
...all of this fantastic content for $60.00 per person (or $50 if you register before the "Early Bird" deadline of September 23rd, 2020)
...that's $2.00 per training hour per person...
Please note: To receive credit for attendance and to also receive your certificate of attendance for each session, you need to name / identify yourself accordingly when using the ZOOM platform. Those who attend, but do not do as requested above will not receive training hour credits and associated certificate.
-------------------------------------------------------------------------------
Click here for more information of topics, sessions, speakers, and more!
-------------------------------------------------------------------------------
While these trainings are not yet pre-approved for CESP Continuing Education (CE) credit, nearly all align with CESP content, and documentation of attendance will be provided for each session attended. Attendees are encouraged to submit this for credit for CESP recertification upon reviewing the CESP content criteria. Click HERE for more information.
-------------------------------------------------------------------------------
Please note our updated Cancellation & Refund Policy (effective 8/27/18):
CANCELLATION / REFUND POLICY: Cancellations made in writing (email) within 7 business days of the scheduled training will receive a full refund of the event cost.To cancel, please contact the designated contact person for the specific event.Cancellations made after this window of time are not eligible for a refund, however you can send another person in your place.
Please contact with general questions at 1-610-482-4935 or 1-866-683-3651.
Networks reserves the right to cancel a training session / series. In the unlikely event that your training course is cancelled after you have received your registration confirmation, we will make every effort to reschedule the training session / series and will be in touch with you within 30 days of the cancellation to offer an alternative date to attend. If you are not able to attend the rescheduled date, a full refund will be provided of the event cost.
-------------------------------------------------------------------------------
Funding for the 20th Employment Supports Symposium - Fall Series is provided by Philadelphia Department of Behavioral Health and Intellectual disAbility Services