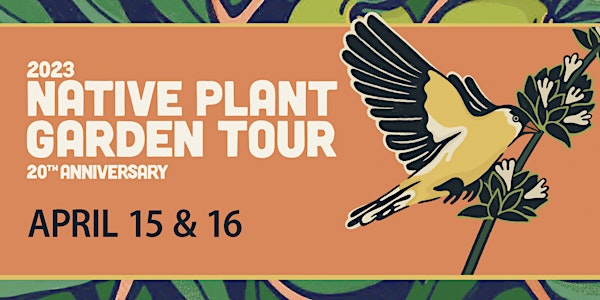 20th Annual Theodore Payne Native Plant Garden Tour | April 15 & 16, 2023
Journey across LA to experience visionary native plant landscapes and meet the people, plants, and animals who make them what they are.
About this event
1 day 7 hours

Mobile eTicket
SPRING OF LIFE
As lawns go dry across Southern California, opportunity is knocking. Life can spring from our cities while we reduce our outdoor water consumption and strengthen our communities. Find out what this looks like on the 20th annual Native Plant Garden Tour on April 15th and 16th, 2023. This year we are pulling out all the stops, highlighting visionary native plant landscapes across the city, and the cast of characters—people, plant and animal alike—who make them what they are. Join us as we reorient towards an ancient, ever-changing spring—the overflowing abundance of nature.
Spotlighting 30+ gardens across the city, this two-day journey will bring together the plants and people that make Southern California one of the most unique and biodiverse places on the planet.
For a sneak peek, please visit nativeplantgardentour.org
PLANNING YOUR TOUR 
The gardens are divided into two groups:
Westside Gardens Open Saturday, April 15 from 10 am to 5 pm
Eastside Gardens Open Sunday, April 16 from 10 am to 5 pm
A ticket allows you into gardens on both days.
HOW TO ATTEND
Each ticket includes admission for a single visitor to all gardens across both days, and a printed color guide with addresses and driving directions. The tour is self-guided, so you can visit gardens that interest you and go at your own pace. Tickets and tour guides will be mailed starting in early March. Children under 16 do not require a ticket.
SPONSOR A TICKET 
Add a Sponsor Ticket to your purchase at checkout! TPF will distribute these tickets to the Foundation's school and community partners.
37 GARDENS
Saturday, April 15 | 10 AM – 5 PM
01 Gerety Family Garden
02 Panatier Dreamcatcher Gardens
03 Henschel Native Garden
04 Uberoi & Ruecker
05 The Gottlieb Native Garden
06 Carthay Rewilding & Renewal
07 Casa Apocalyptica
08 Jack's Garden
09 The House of the Seven Sages
10 Garden Butterfly - South Central L.A.
11 Gardena Willows Wetland Preserve
12 Manhattan Beach Botanical Garden
13 Ballona Discovery Park & Swimmer Medicinal Plant Garden
14 Casita Manzanita
15 Mediavilla/Ahern Gardens
16 Duvivier Tipton Watershed Garden
17 Kuruvungna & The Tongva Sacred Springs
Sunday, April 16 | 10 AM - 5 PM
18 Kaufman Fire-Resilient Ranch
19 Justice Tujunga Garden
20 LaPlante+D'Auria Native Restoration Garden
21 Corrigan
22 El Jardin Del Patron
23 Cameron Moore Garden
24 Bonfigli & Hessing
25 Washington Elementary Native Habitat Garden
26 New Horizon School Pasadena Peace Garden
27 Arlington Garden in Pasadena
28 The Phelps Garden
29 Oswald/Zepezauer Garden
30 Los Nogales Nursery
31 Zamora-Rojas Garden
32 Garden of Plant Friends
33 Gabbert Hidden Canyon Garden
34 Walton Family Garden
35 Sinclair
36 Benjamin Franklin Elementary School
37 KX LAB
CONTACT THE TOUR COORDINATORS
If you have feedback or suggestions about the Tour, ideas for new gardens, or if you'd like to learn how to become a Tour sponsor, please e-mail us at gardentour@theodorepayne.org. We would love to hear from you!
PHOTOGRAPHY POLICY 
Photography permitted for personal use only. Any photos used for web or other media must be credited to the Theodore Payne Native Plant Garden Tour.
COVID POLICY
Masks are not required outdoors, however, indoors (restrooms, etc.) they are required at all times. If you are feeling sick we urge you to stay home.
Special Thanks to Our Garden Tour Sponsors