20th Annual Texas Skate Jam for Make-A-Wish

Saturday, November 5, 2016; ends at 6:00 PM (CDT)
Event Details
TEXAS SKATE JAM benefiting Make-A-Wish.
    Make-A-Wish Texas Gulf Coast & Louisiana Chapter!

100% of all money raised at this event goes to the:
                             Make-A-Wish Texas Gulf Coast & Louisiana Chapter!. 

So far, we've raised over $885,000 in the 19 years, through this event.
This year's event will host a plethora of tent displays from many of today's fan favorite skateboard and lifestyle brands who will be exhibiting and promoting the latest in skate footwear, apparel, and cutting edge hard goods including; Curb Slayer, DC Shoes, Diamond Supply Co., Hercules Thrustmaster, Real Skateboards, Spitfire Wheels, Thunder Trucks, Skatetrash, New Balance Numeric, Nike SB, and Vans.

It's a one of a kind event and your ticket is basically like a "all access-backstage pass!" 
You hang out with the pros in the park and stand right next to the action.
Autographs are the norm and spectators in line usually receive a FREE thank you gift bag with over $40 in product from this year's event sponsors.
Frequently Ask Questions below pictures.

The video from 2015's Texas Skate Jam, By Diamond Supply Co.

2015's lineup included: Jamie Thomas, Chris Cole, Erik Ellington, Cody McEntire, Mikey Taylor, Paul Hart,  Ronnie Sandoval, Tom Schaar, Robbie Brockel, Jordan Trahan, Anthony Schultz, Marius Syvanen, Sierra Fellers, Jack Olson, Jordan Taylor, Chris Luhring, Trace Saylor, Daniel Vargas, Hollywood Martinez, Brandon Perelson, Hubba, Justin Grubbs, Adam Wiggins, David Langston, Tate Malpass, Christian Dufrene, Eric Ostos, Mighty, Brad Mc Clain, Jordan Maxham, Felix Arguelles, and more!

RAIN OR SHINE! This will go off, it's an indoor skatepark!! See photos below from 2013!
Some photos from previous year's, Tents with swag & fundraising, the action, the awards ceremony.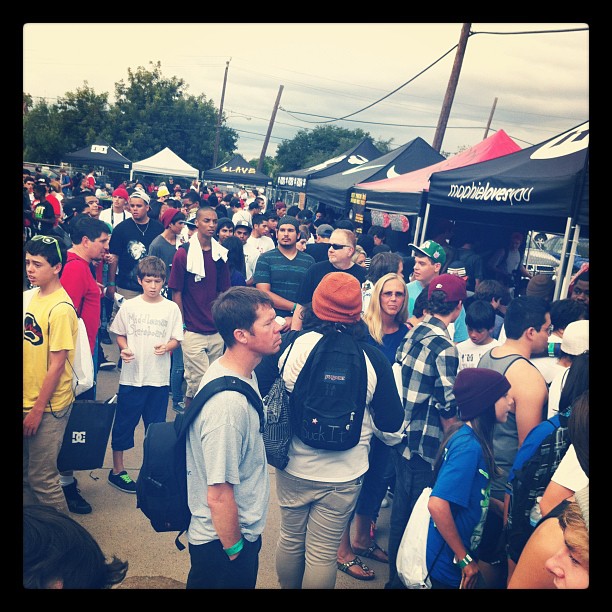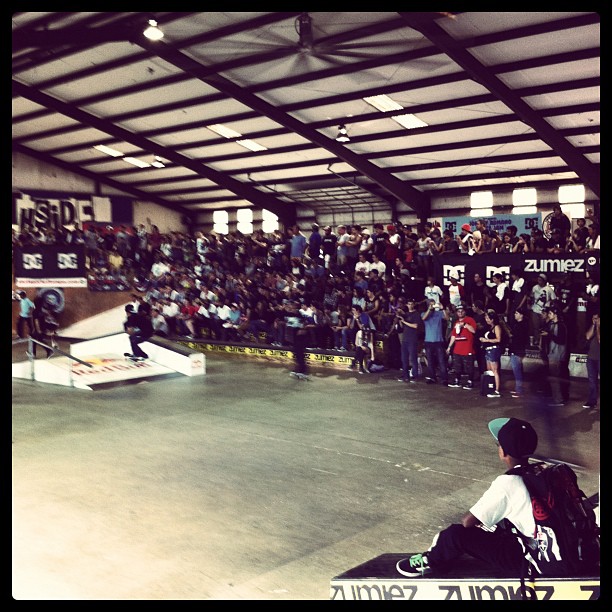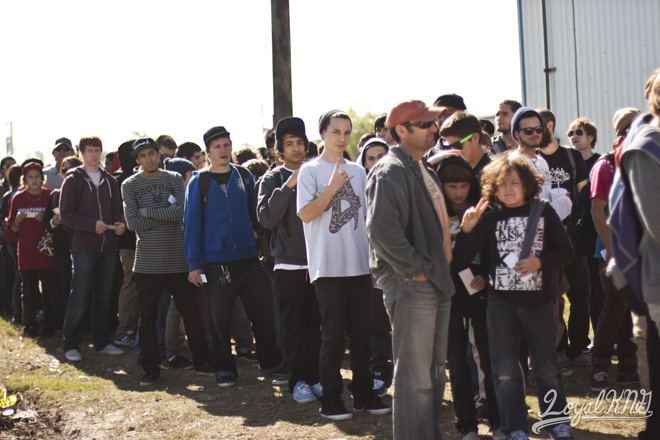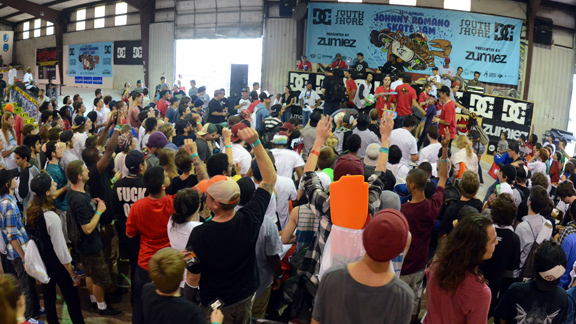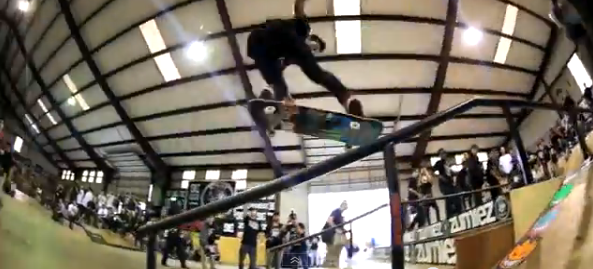 FAQs
What are my parking options getting to the event?
There is a huge field right beside the park specifically for parking.
What can/can't I bring to the event?
No drinks or food. Also leave your complete skateboard at home or in the car.
There is NO PUBLIC SKATING! You are welcome to bring decks and other items you would like to get signed by the pros.
Can I skate at the event with the pros?
No as stated above NO PUBLIC SKATING! Only invited PROS & AMS are allowed to skate Saturday Nov. 5th.
If you would like to skate with the pros, they usually are at the skatepark the day before getting used to the park. Try then, but it does require membership, yearly or single day membership with a signed wavier. Under 18 must have parental consent & signature.
Do I have to bring my printed ticket to the event?
Yes & No...you will need to if you don't have a smart phone with the email or the Eventbrite App. to check in.
You must have access to the 3D barcode so we can scan your ticket. 
The name on the ticket doesn't match the attendee. Is that okay?
We don't mind who purchased the ticket. Just as long as you show up with the ticket.
Once it's scanned it's cleared out in our system and can not be reused by another ticket holder, so don't lose it!
Are the pros listed guaranteed to appear?
No there are no guarantees on who will show. Flights get canceled, skaters have injuries or last minute schedule conflicts come about. 
Will I get a goodie bag?
Also not guaranteed. 2015 the first 300 got some free stuff at the door. This all depends on the event sponsors and what they provide.
Save
Save
Save
Save
Save
Save
Save
Save
When & Where

gcc233Southside Skatepark
510 Iowa Street,
South Houston, TEXAS 77587


Saturday, November 5, 2016; ends at 6:00 PM (CDT)
Add to my calendar
Organizer
100% of the funds raised through this event are donated to
The Make-A-Wish of the Texas Gulf Coast & Louisana Chapter.
The 2016 event will be the 20th Skate Jam held at South Side Indoor Skate park For Make-A-Wish! We have raised over $885,000 in the previous 19 years for Make-A-Wish.

Contact us at South Side Skatepark!
Phone: 713-946-0414
http://southsideskatepark.com/