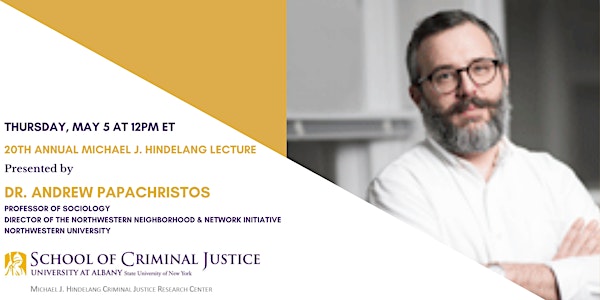 20th Annual Michael J. Hindelang Lecture
The Michael J. Hindelang Criminal Justice Research Center invites you to its 20th Annual Lecture
About this event
Deadly Links: What Network Science Tells Us About Neighborhood and Police Violence
The Michael J. Hindelang Criminal Justice Research Center will hold its 20th Annual Lecture on Thursday, May 5 at 12pm ET.
The lecture will be delivered by Dr. Andrew Papachristos, Professor of Sociology and the Director of the Northwestern Neighborhood & Network Initiative at Northwestern University. Papachristos aims to understand how the connected nature of cities—how their citizens, neighborhoods, and institutions are tied to one another—affect what we feel, think, and do. His main research applies network science to the study of gun violence, police misconduct, illegal gun markets, Al Capone, street gangs, and urban neighborhoods. He is also in the process of completing a manuscript on the evolution of black street gangs and politics in Chicago from the 1950s to the early-2000s. Papachristos is also actively involved in policy related research, including the evaluation of gun violence prevention programs in more than a dozen U.S. cities. An author of more than 50 articles, Papachristos' work has appeared in journals such as JAMA, The American Sociological Review, Criminology, The American Journal of Public Health, The New York Times, The Washington Post, and The Chicago Tribune, among other outlets. Papachristos was awarded an NSF Early CAREER award to examine how violence spreads through high-risk social networks in several U.S. cities.
Prior to coming to Northwestern, Papachristos was a professor of sociology at Yale University and director of The Policy Lab. He is a Chicago native and earned his PhD from the University of Chicago.
Papachristos is also the Director of the Northwestern Neighborhood & Network Initiative (N3) at the Institute for Policy Research.
Presentation Abstract
It's a cliché to say "we live in a connected world." But we do. Over the last twenty years, the field of network science has consistently demonstrated that the ways in which people are connected affect what we feel, think, and do. The structure of social networks have a profound impact on the friends we make, the people we marry, the votes we cast, the diseases we catch, and the ways we think. This presentation explores how network science might help us better understand patterns of neighborhood and police violence in American cities as well as potentially ways to reduce associated injuries and harm.
Zoom Information for Hindelang Lecture
Please click the link below to join the webinar:
https://us02web.zoom.us/j/83482800198
US: +16465588656,,83482800198# or +13017158592,,83482800198#
Or Telephone:
Dial(for higher quality, dial a number based on your current location):
US: +1 646 558 8656 or +1 301 715 8592 or +1 312 626 6799 or +1 253 215 8782 or +1 346 248 7799 or +1 669 900 9128
Webinar ID: 834 8280 0198
International numbers available: https://us02web.zoom.us/u/kjbYS09XG