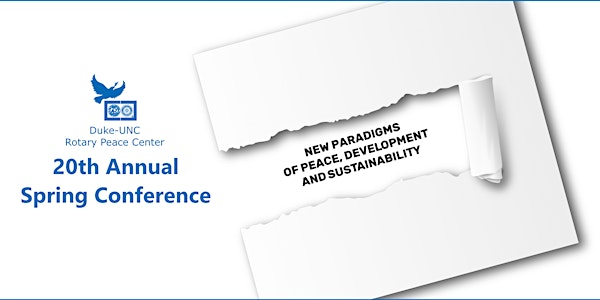 20th Annual Duke-UNC Rotary Peace Center Spring Conference
Join us on April 1st, 2023 for our 20th Annual Spring Conference! Our theme: "New Paradigms of Peace, Development, and Sustainability"
By Duke-UNC Rotary Peace Center
Date and time
Saturday, April 1 · 9am - 4pm EDT
Location
Nelson Mandela Auditorium, FedEx Global Education Center 301 Pittsboro St Chapel Hill, NC 27516
Refund Policy
Refunds up to 7 days before event
Eventbrite's fee is nonrefundable.
About this event
Description
Please join us on April 1st, 2023 for our 20th Annual Spring Conference! In keeping with our celebration of the 20th anniversary of the establishment of the Duke-UNC Rotary Peace Center, our theme this year will be "New Paradigms of Peace, Development, and Sustainability". Class XX Rotary Peace Fellows will present their research, exploring new ways of thinking about peacebuilding, international development, and conflict transformation in many regions of the world.
The conference will take place at the FedEx Global Education Center on UNC-Chapel Hill's campus from 9:00am to 4:00pm. Doors will open at 8:00am for those who wish to check-in early or enjoy coffee and a muffin.
We will be resuming all of our in-person activities this year, including our traditional luncheon. Similar to last year, we will also be offering a Zoom webinar and livestream for those who would like to attend the conference virtually.
Whether you decide to attend in-person or virtually, we look forward to having you join us!
SCHEDULE
8:00-9:00 Registration
9:00-9:30 Welcome and Introductions
Randy Lickey, Rotary Host Area Coordinator
Past RI Trustee Chair Brenda Cressey
Susan Carroll, Rotary Peace Center Managing Director
9:30-10:15 Panel I - Overcoming Marginalization in Governance and Social Policy
Sakina Dhorajiwala (India) - Overcoming Last Mile Challenges: Fashioning Research to Impact India's Social Policy
Jibikeoluwa Faborode (Nigeria) - Facilitating Women's Access to Elective Political Office for Inclusive Governance and Peace in Africa
Moderator: Catherine Admay
10:15-10:45 Coffee Break
10:45-11:40 Panel II - Opportunities to Move from Conflict to Cooperation: Two Case Studies from the Water and Energy Sectors
Yared Asfaw (Ethiopia) - The Grand Ethiopian Renaissance Dam: A Source of Conflict or an Opportunity for Cooperation
Abdedaim Battioui (Morocco) - Harmonizing Energy and Peace: Lessons from Morocco
Moderator: Edmund Malesky
11:40-12:35 Panel III - The Role of Disease Prevention in Peacebuilding
Mexan Mapouka (Central African Republic) - Community-Driven Solutions to Improve Health Outcomes in the Central African Republic
Simon Aseno (Ghana) - Pre-Exposure Prophylaxis for HIV Prevention: The Pursuit of Peace Within Ourselves
Moderator: Suzanne Maman
12:35-1:45 Lunch
1:45-3:00 Panel IV - Marginalized Voices, Expert Insights: Building Peace That Leaves No One Behind
Scarlett Hawkins (Australia) - Operationalizing the Humanitarian-Development-Peace Nexus
Neta Mishly (Israel) - Strategies to Mitigate Migrant Women's Vulnerability to Intimate Partner Violence (IPV)
Gabriel Bernardo da Silva (Brazil) - When You Have No Team to Play For: Integration Experiences of Unaccompanied Migrant Children
Moderator: Erica Johnson
3:00-3:30 Presentation of Certificates and Closing Remarks
REGISTRATION FEES
Our early bird registration fee this year for in-person attendance is $35.00 (USD) and will run until March 3. Those registering after this date as well as at the door will pay a $45.00 registration fee.
For those attending the conference virtually, there is a $10.00 registration fee to join the conference webinar. Additionally, currently enrolled students may attend in-person or virtually for a $10.00 fee.
Limited financial assistance is available to virtual attendees who would not be able to participate otherwise. For more information, email Thomas Lasater at tlasater@email.unc.edu.
ADDITIONAL INFORMATION
For those of you coming from out of town to attend our conference, we have blocked out rooms at two area hotels. More information about the hotels can be found here.
Parking will be available for free in the McCauley Parking Deck, located underneath the FedEx Global Education Center. The entrance to the deck is on Pharmacy Lane – you can take the elevator from parking straight to registration on the first floor.
Online registration closes on Friday, March 24 at 5:00pm EST. Registration cancellations received prior to Sunday, March 26 are eligible to receive a full refund. All refund requests must be made by the attendee and addressed to Thomas Lasater at tlasater@email.unc.edu
Refunds will be credited back to the original credit card used for purchase. Cancellations after March 26, 2023 are not eligible for a refund.