Climb 2071 steps representing the 110 floors of the Twin Towers on 9.11.202
About this event
Remembering Those who Made the Ultimate Sacrifice
In honor of those who lost their lives on 9/11/2001, and in continued honor of our first responders and military who protect us from foreign and domestic threats, we gather to pay our respects at the annual 911 Tower Challenge.
The World Trade Center's Twin Towers each consisted of 110 floors and 2071 steps, and each year thousands of people across Arizona walk, climb and run the stairs to remember. Firefighters in full gear, Police, Military and Bomb Squad personnel march steadily alongside civilians of varying ages, abilities and backgrounds.
Photographs of our fallen heroes line the stairs, and participants pause briefly to read the names in recognition of the sacrifice each made while in the service of others. This powerful morning will reconnect you to the kindness, strength and bravery exhibited on that dark day.
Together we vow to Never Forget.
For more information, please visit the 911 Tower Challenge Foundation website.
FREQUENTLY ASKED QUESTIONS
Where is the event in Phoenix held?
At this time we are on track to hold the 9/11 Tower Challenge in person at the Gila River Arena.
We have also added a virtual registration for those who either cannot attend or who do not want to attend in-person. See below for additional information about this option.
What precautions are you taking to protect against COVID-19?
We are monitoring the situation and working with the venue and our local elected officials to ensure the safest situation for everyone and will implement any required minimum distances and protocols required by the venue.
What is a Virtual Registration?
When you register to attend virtually, you will receive all of the t-shirt, swag bags, coins and badges as those who attend in-person. Virtual attendees do not complete the challenge at the venue but instead find a location (gym stair-stepper, running/walking, high school stadium steps, etc.) to complete the challenge on their own. This is a great option for those who don't live in Arizona but want to participate.
What time does the event start?
The opening ceremonies begin promptly at 0800 so please ensure to allow enough time to park and check in prior to that time. We recommend arriving 30 minutes early.
When do I need to register by?
Early registration ends August 6 with a guaranteed t-shirt size of choice and we are also limiting the number of in-person attendees, so it's critical to sign up early to ensure you get a spot.
Having an early registration allows us to guarantee t-shirt sizes and ensure they arrive in time for packet pickup (or mail-out) prior to the event. After early registration has ended on August 6, the entry fee will rise, and t-shirt sizes will no longer be guaranteed.
All registrations will end August 31 or when event capacity is reached. If available, late registration will open September 1 and end September 10, but packets will not be mailed until after the event.
When will I get my t-shirt?
Packets will be mailed by September 1, except late registrants (if any) will receive their packets after the event. All participants will receive a swag bag with a commemorative badge and t-shirt, along with other goodies from the sponsors. No packet pickup will take place.
When is packet pickup?
This year, all packets will be mailed (shipping is included in the registration). We will not hold packet pickups this year.
Can I register on the day of the event?
Only if we have not reached event capacity! Once capacity is reached, we will be unable to accommodate day-of registrants. Please be aware that for day-of registrants, a t-shirt is not guaranteed, and you may miss the beginning of the event. We highly recommend registering for the event prior to its start time.
Can children attend the event?
Children must be 16 & older to climb the stairs, and may not be carried on the stairs during the event, however they may participate in the concourse walk. Child care is not provided, however each location will have a designated area for children with their guardians.
I'd like to watch the event as a non-participant, or I'm participating in the event and bringing someone along to watch. How do I reserve a spot?
All non-participants must be supporting a registered individual. To reserve a spot, select the "Non-Participant Attendee" free registration and fill out the information. As a requirement of attending, you'll need to put in the name of the person that is being supported and we will check to ensure that person is registered.
Where do I park?
Be sure to park in Lot G, located directly East of the Gila River Arena (See Parking map).
What should I bring with me to the event?
Comfortable clothing, running shoes/sneakers, and the badge you received in your registration bag (this gains you entry to the event).
I'm military, police, public safety, or other first responder. Do I get a discount?
Thank you SO much for your service! You are the reason why we hold this event. We don't have a general discount because the majority of attendees are first responders of some type - and the proceeds are fed directly back into your community via the beneficiaries.
What we do instead is give a discount to all ROTC Cadets! If you fall into this category, please get with your leadership for your code. If they don't have the code, please have them email us directly.
Have more questions? Please email us!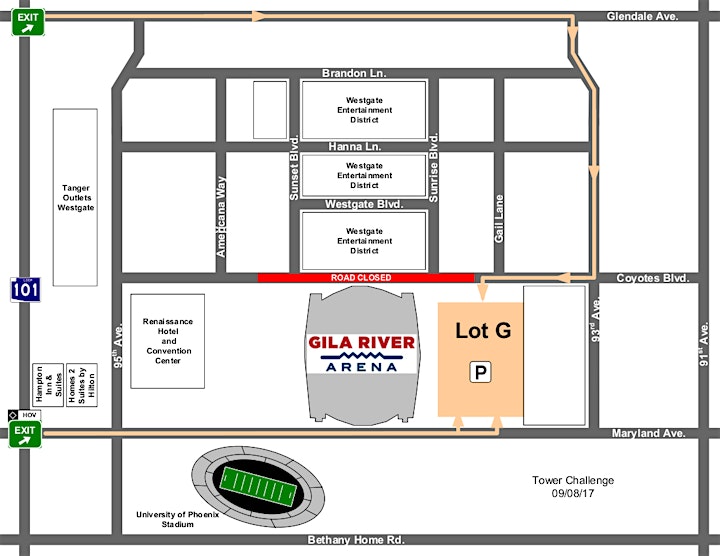 Organizer of 20th Anniversary Phoenix 911 Tower Challenge 2021
ABOUT US
Our organization is 100% volunteer based, and we couldn't do it without our incredible team!

When you see them out on the field, please give them a hello, thumbs up or pat on the back to show your support. They spend hours dedicating their time to create an incredible experience for everyone attending the event - all in the name of ensuring we keep our promise to never forget.
THE MISSION
The mission of the 911 Tower Challenge Foundation is to honor all those who lost their lives on September 11, 2001, educate the general public about our first responders and military who continue to put their lives in harm's way on a daily basis to protect us and raise funds to support charitable causes that provide support for families of first responder and military personnel.
Our team of volunteers work tirelessly to ensure a successful event, year after year.  We appreciate your participation!