Description
20th Anniversary Conference on the Arts & Crafts Movement
New York City and Environs, including Tarrytown and Irvington
September 20 - September 23, 2018
For more information, call: +1 646-485-1952 or
Email: info@artinitiatives.com
Click here to view and download full brochure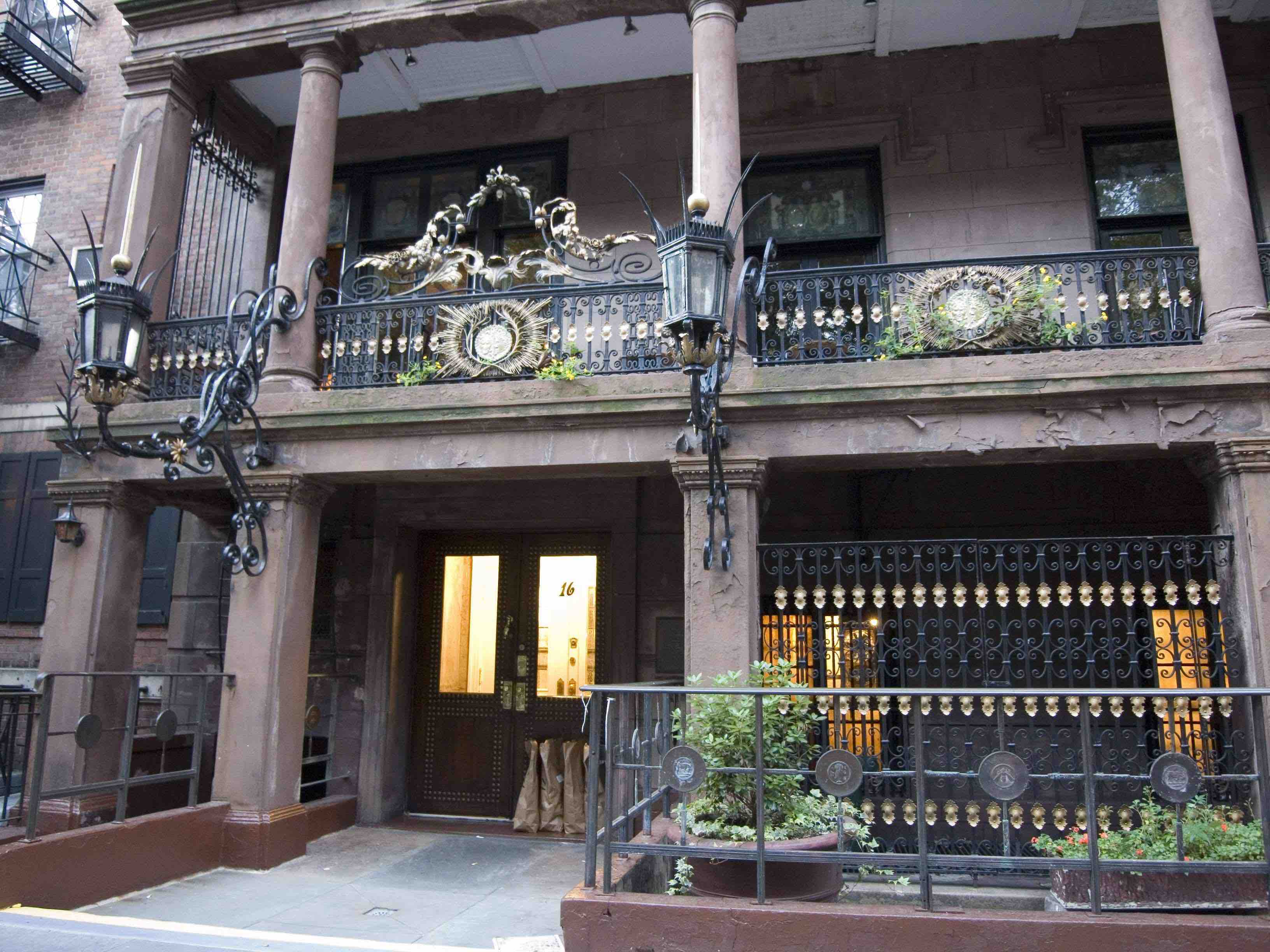 With a focus on New York as a hub for the Arts & Crafts Movement through creation / fabrication, patronage, education, exhibition, and publication, Initiatives in Art and Culture's upcoming 20th Anniversary Arts and Crafts Conference to take place September 20 - 23, 2018 revisits New York City and Environs.
The conference—which visits a different city each year and has been to such centers of the Movement as Boston, Philadelphia, Pasadena, Denver, and Buffalo—returns this year to New York, the city in which the first such conference took place.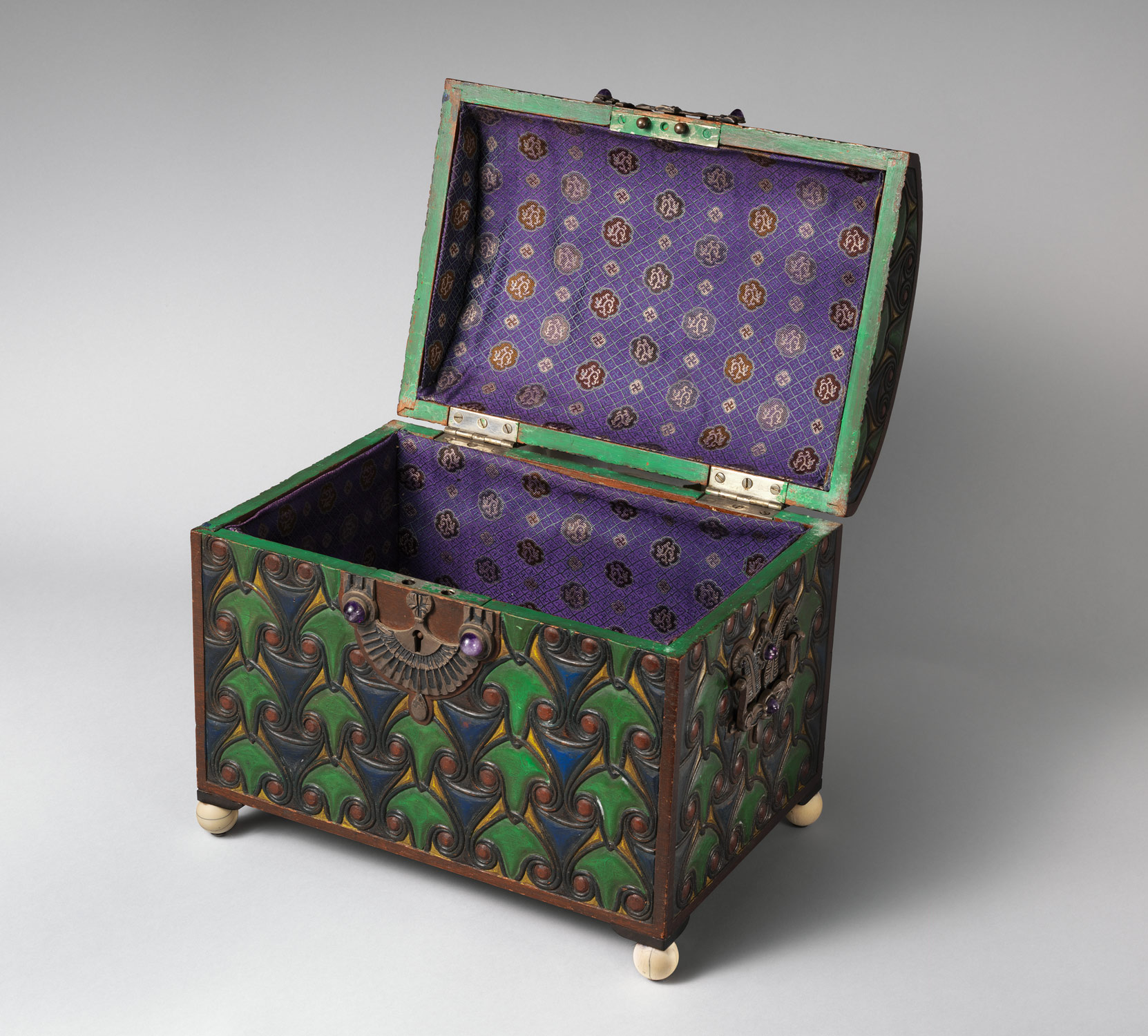 On Thursday, September 20, this year's conference begins with lectures, panels, book signings and receptions. Thursday evening we visit the Mayer–Loeb Townhouse for a reception and viewing. The Mayer-Loeb Townhouse is a six-story monument to the Aesthetic Movement. Michael and Marjorie Loeb, working with David Scott Parker Architects, restored and refurbished the 1882 building (dining room added 1889), filling it with pieces from Minton, Christopher Dresser and Herter Brothers, as well as with paintings of the period.
On Friday, September 21, we tour the American decorative arts and prints & drawings galleries at The Metropolitan Museum of Art with the curatorial team. The day continues with a lunch at the National Arts Club honoring architectural historian and preservationist Richard Guy Wilson. Housed in the Samuel Tilden Mansion (14 and 15 Gramercy Park South; built:1840s) modernized by Calvert Vaux with sandstone facade, bay windows and Aesthetic Movement ornament; interior treatments by Ellin & Kitson; glass panels by John La Farge; and a stained glass dome by Donald MacDonald. The group also visits the Players on Gramercy Park South (a Greek Revival structure, the interior and part of its exterior subsequently designed by architect Stanford White.) Friday evening we visit Lillian Nassau LLC for a reception, remarks and viewing.

On Saturday, September 22, we visit the Bronx, Irvington, Tarrytown, and Environs. In the Bronx we tour the Gould Memorial Library and Hall of Fame, designed by Stanford White (1895) and completed in 1899 as the centerpiece of New York University's Bronx campus which was built to relieve overcrowding in Washington Square.


In Irvington, we visit the award-winning restored Tiffany Reading Room located in Village Hall which was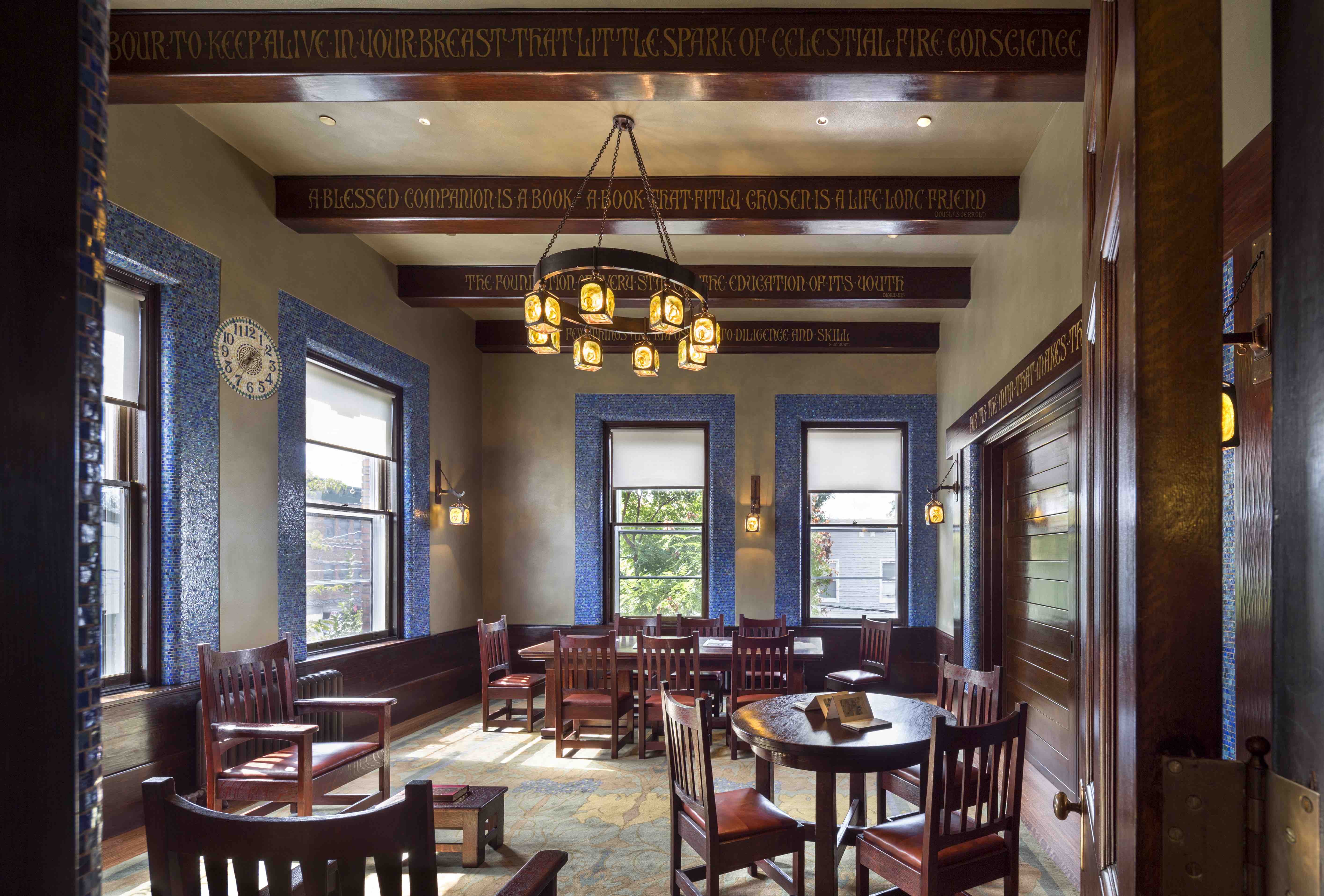 built in 1902. The room, featuring "turtleback" lanterns, mosaics, and gilded quotations carved into heavy ceiling beams, was commissioned by philanthropist Helen Gould, daughter of railroad tycoon Jay Gould. We also visit The Episcopal Church of St. Barnabas (1853; with tower, transept and chancel,1863 by Renwick & Sands) which features stained glass including two by Tiffany and another by La Farge, as well as the Irvington Presbyterian Church (first built, 1853; larger stone edifice: James Renwick, 1869) the interior of which was redecorated in 1913 and features 185 opalescent windows created by Louis Comfort Tiffany.
We then visit two distinguished residences. Sunnyside, the home of author Washington Irving from 1835 until his death in 1859; termed "the first example of Colonial Revival architecture" and featuring stepped gables and ornate chimneys, the house reflects Dutch, Gothic and Tudor Revival influences, while a later 1847 tower was designed to resemble Spanish architecture. The building contains many of Irving's original furnishings and possessions. Irving carefully landscaped the grounds with a meandering driveway with stone walls, and a stream the course of which was changed to curve elegantly and run under a bridge. Nearby a memorial to Irving, (1927) by Daniel Chester French, features a bust of the flanked by two of his characters.
Next door is the Gothic Revival Lyndhurst, designed in 1838 by architect Alexander Jackson Davis who also designed over 50 pieces of furniture for the dwelling; the continuity of architecture and interiors is an early evocation of the Gesamtkunstwerk that is seen as a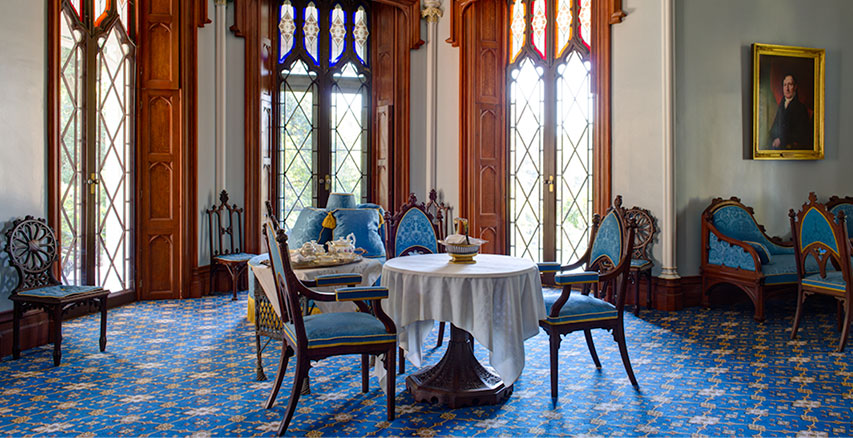 characteristic of the Arts and Crafts movement. The main house evolved from a country villa "in the pointed style" to a Gothic Revival mansion. Its architecture is complemented by the park-like landscape, decorative wall paintings and treatments, and by Tiffany and La Farge stained glass windows. At the behest of its second occupant, New York merchant George Merritt, in 1864-1865 Davis doubled the size of the mansion, while subsequently during the tenure of the Goulds, the house received numerous Tiffany windows.
While at Lyndhurst, we view the temporary exhibition, "Becoming Tiffany," which focuses on Louis Comfort Tiffany's early work as a painter and decorator and, in particular, his relationships with women patrons, collaborators, and designers, in particular, re-establishing the reputation of Helen Gould as a significant Tiffany patron.
Continuing the focus on glass, we conclude the day at the fieldstone neo-Gothic Union Church of Pocantico Hills built by John D. Rockefeller, Jr. in 1921, which features a 1948 rose window designed by Henri Matisse commissioned upon the death of Rockefeller's wife Abby Aldrich Rockefeller and eight windows by Marc Chagall.
On Sunday September, 23, at Green-Wood Cemetery, the
exploration of glass as a medium and the consideration of patronage and networks of taste will be also brought to bear.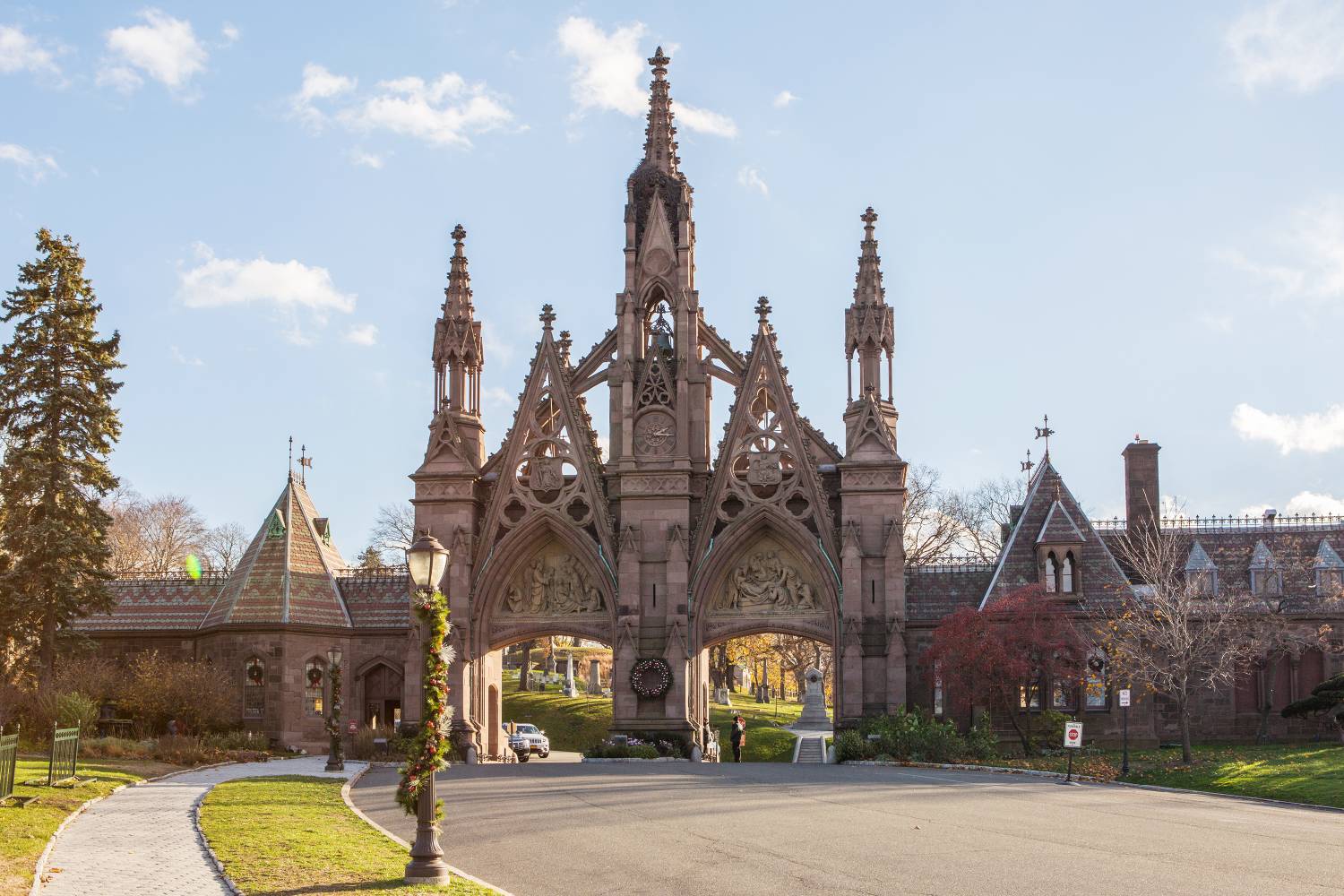 Comprised of 478 acres and established in 1838, Green-Wood was inspired by recently opened Mount Auburn Cemetery in Cambridge, Massachusetts. The gates were designed by Richard Upjohn in Gothic Revival style. The cemetery's brownstone main entrance (1861-65) features sculptured groups on limestone panels depicting biblical scenes of death and resurrection from the New Testament executed by John M. Moffitt. Green-Wood is home to an extraordinary collection of Tiffany stained glass which we will explore while also viewing the work of other glassmakers whose work is featured in the Cemetery's structures. Continuing the focus on glass, we will visit Urban Glass which was established in 1977 to foster experimentation and advance the use and critical understanding of glass as a creative medium, touring the studios and witnessing demonstrations of glassmaking. (as of June 27, 2018).

Among those participating at this early stage are:
Alice Cooney Frelinghuysen,

Anthony W. and Lulu C. Wang Curator of American Decorative Arts,

The American Wing, The Metropolitan Museum of Art;

Medill Higgins Harvey,

Associate Curator of American Decorative Arts and Manager of The Henry R. Luce Center for the Study of American Art, The Metropolitan Museum of Art;



Anne McCauley,

David H. McAlpin Professor of the History of Photography and Modern Art, Princeton University

;

Constance C. McPhee,

Curator, Prints & Drawings,

The Metropolitan Museum of Art;

Marsha Morton, Professor, Pratt Institute;

Emily M. Orr

, Assistant Curator of Modern and Contemporary American Design at Cooper Hewitt, Smithsonian Design Museum;

Jeff Richman,

historian, Green-Wood Cemetery historian;

Julie Sloan,

noted stained glass preservationist, consultant and authority

;

Adrienne Spinozzi

,

Assistant Research Curator,

The American Wing, The Metropolitan Museum of Art;

Janis Staggs, Director of Curatorial and Manager of Publications, Neue Galerie New York;
Beth Carver Wees

,

Ruth Bigelow Wriston Curator of American Decorative Arts, The American Wing, The Metropolitan Museum of Art;

Samuel G. White

,

FAIA, LEED AP, partner at PBDW Architects, and Stanford White's great-grandson who is leading an effort to restore the former NYU library donated the institution by Jay Gould's eldest daughter Helen and considered Stanford White's most important building;

Richard Guy Wilson,

Commonwealth Professor of Architectural History, University of Virginia.




(as of June 27, 2018).
We hope you can join us for another GREAT conference with amazing sites, insightful information and great people.
Comfirmation of purchase will be sent through Eventbrite. Please check your junk/spam folders if you do not receive your confirmation email.
Start and end times are subject to change. Please see Dear Attendee letter that will be sent via Eventbrite prior to the start of the conference for finalized start and end times.
Hotel accommodations:
Initiatives in Art and Culture has a very limited block of rooms left available at Hampton Inn Madison Square Garden, located at 116 W 31st St (between 6th and 7th Avenues) at a discounted average rate of $265.00 (single) $275.00 (double) room per night. Please call Avis Carrol at 646-833-1955 ext. 5541 at HHM Hospitality.


Hampton Inn Madison Square Garden features free WiFi in every room, 24-hour business center, fitness room, and free breakfast. Please take note of the cancellation policy when you book your room with Hampton Inn Madison Square Garden. If you would prefer to book different hotel accommodations, join our Arts and Crafts Conference Facebook Group to discuss other hotels options/ room sharing with other conference attendees.
Captions from top: Calvert Vaux, National Arts Club (located in the former 1840s Samuel Tilden Mansion); Stanford White, Players Club ca. 1888; Marie Zimmermann, Box, 1910-20, wood, ivory, patinated silver, nickel-plated brass, steel, amethyst, and semi-precious quartz, 10 ¼ x 12 ½ x 8 ⅝ in. The Metropolitan Museum of Art, 2005.464; Tiffany Reading Room, 1902 (located in the Irvington Village Hall); Alexander Jackson Davis, Lyndhurst, 1838, Tarrytown, NY. Green-Wood Cemetery.

http://www.artinitiatives.com/

@Initiatives_in_art_culture

https://www.linkedin.com/company/initiatives-in-art-and-culture/
Organizer of 20th Anniversary Conference on the Arts & Crafts Movement
Initiatives in Arts and Culture (IAC) is an organization committed to educating diverse audiences in the fine, decorative, and visual arts. IAC's primary activities are conferences, publications, and exhibitions. These take an interdisciplinary approach, considering issues related to fabrication, connoisseurship, cultural patrimony, cultural preservation, and the future of culture. Particular areas of emphasis include American painting, the history of frames, the Arts and Crafts movement, the influence of Asian cultures on American fine and decorative art, and the history and future of fashion and materials. IAC's projects have been supported by a wide array of individual, corporate and foundation funders.