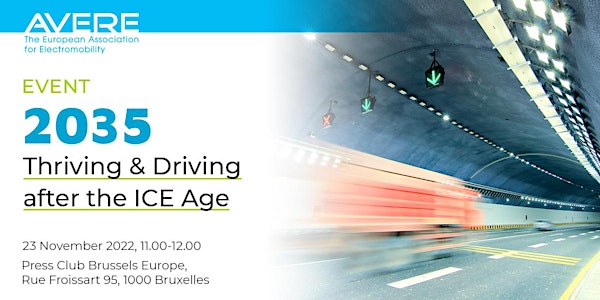 2035: Thriving & Driving after the ICE Age
2035 marks the end of the ICE age. Let's put e-mobility at the centre of the future of sustainable European transport.
When and where
Location
Press Club Brussels Europe 95 Rue Froissart 1000 Bruxelles Belgium
About this event
Speakers & Agenda:
Opening Word by Espen Hauge, President of AVERE
Beatriz Yordi, Director, Carbon Markets and Clean Mobility, DG Climate Action, European Commission
followed by a meeting with participation from CEOs & Managing Directors as speakers from AVERE members (5-7 minutes each):
Fredrika Klarén, Global Head of Sustainability at Polestar,
Carla Detrieux, Business Development Director at Volta Trucks
Giulio del Balzo, Senior Manager European Policy at Lucid Motors
Ben Lawson, European VP for Strategy and Innovation at Enterprise Holdings,
Followed by a short break and roundtable discussion with the attendees (30 minutes)
Closing Word by Eric-Mark Huitema, Director for Vehicles at AVERE
The event will be followed by a networking lunch until 13.30
Description:
2035 is a pivotal year for road transport: the sales of Internal Combustion Engine vehicles will cease across the European Union. It is the year that marks the end of the ICE age.
This is the epochal change we need to address climate change and be in line with the targets of COP20: companies building and selling road vehicles must prepare for this epochal change and move forward once it takes place. AVERE set a vision of how this should be done, putting e-mobility at the centre of the future of sustainable transport.
Our members (add speakers companies) see this vision as providing a roadmap for the next steps to guide their commitment and show them how to address key points to guarantee the success of the European electric vehicle manufacturing sector.
AVERE welcomes vehicles members' directors and managers in Brussels on November 23 to address questions with the press and the general public:
The sector must stay competitive in the global markets - Will Europe take full advantage of the fact that it leads on standards for consumers and technology? It can use the momentum of the end of the ICE to become the global leader in e-mobility
Sustainability is the way forward - E-mobility is the best solution to guarantee environmental sustainability, but how can we couple it with energy security? We need to keep decarbonising transport while keeping our living standards for mobility.
The automotive industry currently employs 12mn people across Europe - how can we maintain this prosperity after 2035? The answer is to be found in infrastructure development, innovation and creating new jobs in the value chain for batteries.
Come learn the European vehicle manufacturing world's perspective on moving beyond the ICE Age into the age of sustainable transport built on electric mobility!