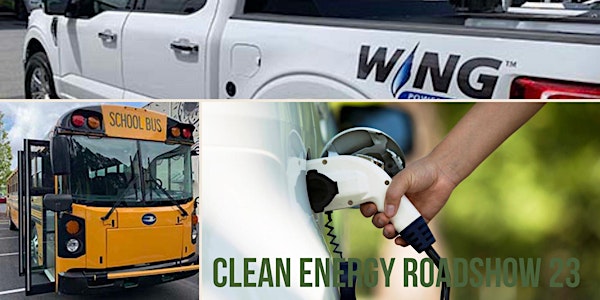 2023Clean Energy Roadshow - AUGUSTA
Launching your alternative fuel fleet project. Connections. Funding. Networking. Showcase Technology.
By Event Energy Partners LLC
Date and time
Tuesday, June 27 · 8:30am - 1:30pm EDT
Location
Georgia Cyber Innovation and Training Center 100 Grace Hopper Lane Augusta, GA 30901
About this event
Georgia Cyber Innovation & Training Center- Augusta, GA
NOTE: This registration site is for the Augusta Roadshow event ONLY. For more information and registration links to other tour-stops, visit www.CleanEnergyRoadshow.com
WHEN: 8:30AM – 1:30PM, Event includes lunch -
WHERE: 100 Grace Hopper Lane, Augusta GA
ABOUT: The Georgia Technology Authority is responsible for partner coordination at the Georgia Cyber Center (gacybercenter.org), a state-owned facility designed to promote modernization in cybersecurity technology for both the private and public sectors through unique education, training, research, and practical applications.
Comprised of two buildings with a total of 332,000 square feet and budgeted at more than $100 million, the center is the single largest investment in a cybersecurity facility by a state government to date. It is located on the Nathan Deal Campus for Innovation in the growing cybersecurity corridor of Augusta, Georgia, which is home to the U. S. Army Cyber Command and the Cyber School of Excellence at Fort Gordon.
The first of the two buildings, the Hull McKnight Building, opened July 10, 2018. It is named in honor of James M. Hull and William D. McKnight, prominent business and community leaders in Augusta. The second building, the Shaffer MacCartney Building, opened January 10, 2019. It is named in honor of Michael Shaffer, Augusta University's executive vice president of strategic partnerships and economic development, and Teresa MacCartney, former director of the Governor's Office of Planning and Budget. Both played central roles in establishing the Cyber Center. GTA oversaw construction of both buildings.
The center is addressing the growing demand for highly trained cybersecurity professionals by connecting academic programs with innovative start-ups and established technology companies. The center also serves as an incubator/accelerator for start-up cybersecurity companies and focuses on research and development by tapping into the assets of Georgia's research institutions. It houses Augusta University's School of Computer and Cyber Sciences and Cyber Institute.
AGENDA
8:30 AM – 9:00 AM (Outdoor)
Alternative fuel vehicle showcase and demos
9:00 AM – 10:00 AM (Indoor)
Introduction and benefits of propane, natural gas and electric vehicles
Funding and technical resources for alternative fuel fleet acquisitions
10:00 AM – 10:45 AM
Class 1-2: Light duty vehicles and small wheel utility vehicle applications
10:45 AM – 11:30 AM
Class 3-7: Medium duty trucks including vans, shuttles and pupil transportation
11:30 AM – 12:15 PM
Class 8: Heavy duty trucks and off-road AFVs
12:30 PM - 1:00 PM
Complimentary Lunch and networking - test ride/demos
About the organizer
Producer of  educational and promotional webinars, roundtables, conferences and events on clean fuel fleet conversions, electric vehicle and infrastructure projects, natural gas vehicle engine technologies, natural gas fueling stations, solar and renewable energy project management, government financing, tax credits, public policy and transit.