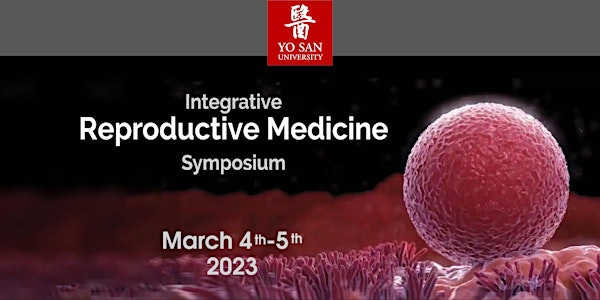 2023 YSU Integrative Reproductive Medicine Symposium
Learn from the world's leading fertility experts at the 2023 YSU Integrative Reproductive Medicine Symposium at Yo San University.
When and where
Location
Online and in person at Yo San University of Traditional Chinese Medicine 13315 W. Washington Boulevard Los Angeles, CA 90066
Refund Policy
Contact the organizer to request a refund.
Eventbrite's fee is nonrefundable.
About this event
1 day 9 hours

Mobile eTicket
About the Reproductive Medicine Symposium:
The YSU Symposium is for practicing acupuncturists and students of Traditional Chinese Medicine.
Acupuncturists will gain practical clinical knowledge of how TCM can be integrated into the following areas:
PCOS Treatment Strategies East and West: an in-depth discussion with Drs. Mao Shing Ni and Paul Magarelli.
Endometriosis Treatment using integrative Chinese and Western medicine: an in-depth discussion with Dr. Daoshing Ni and Paul Harvey.
Cannabinoids and Fertility: current research and clinical guidelines.
Oncofertility: maximizing the reproductive potential of cancer patients and survivors.
Uterine Immunology: the Yin and Yang of Implantation
Practice Management and Integrative Care
Video recordings will be available for 90 days at no extra cost to the registered participants.
Earn 15 units NCCAOM, California, and ABORM Approved
Attend in-person or online via Zoom
Symposium Schedule:
Saturday March 4 to Sunday March 5, 2023
There is in person seating, and you may attend via Zoom. Both will qualify for 15 CEU's from NCCAOM, ABORM, and CAB. Choose in-person or via zoom during checkout.
Important Notice regarding registration:
1. Full Name: Please inform them that this full name will appear in your certificates.
2. CAB License Number: please insert: (If not having CAB License Number, please write n/a)
3. NCCAOM License Number: please insert: (If not having NCCAOM License Number, please write n/a)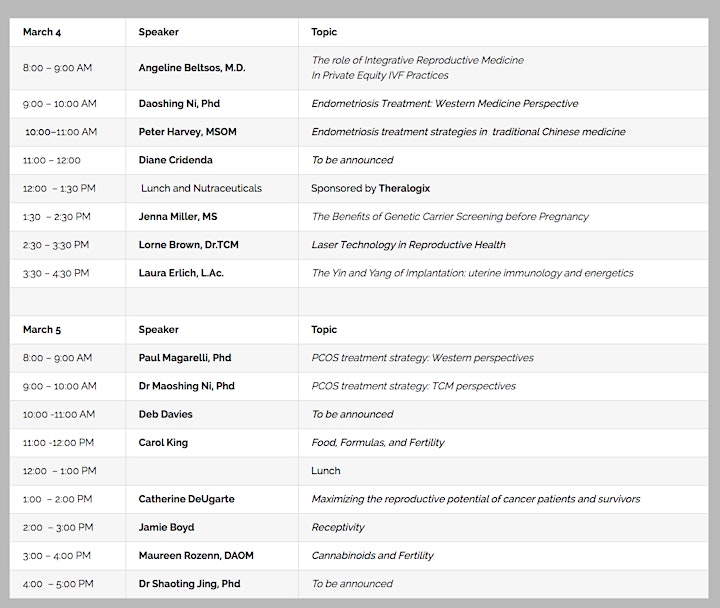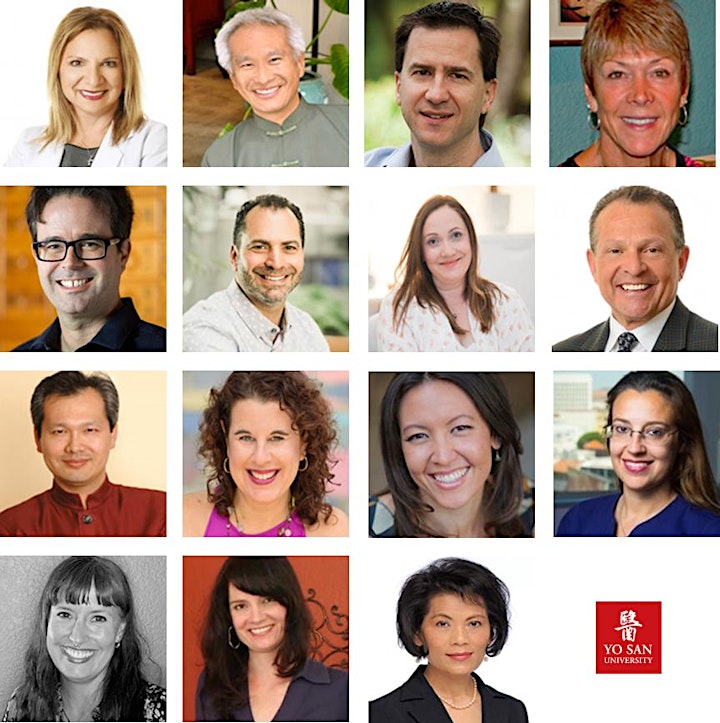 SPEAKER BIOGRAPHIES
Angeline N. Beltsos, MD
Angeline N. Beltsos, MD is the CEO and Chief Medical Officer of Vios Fertility Institute. She is board certified in Obstetrics and Gynecology and in Reproductive Endocrinology and Infertility (REI), practicing medicine since 1991. Dr. Beltsos completed her residency in Obstetrics and Gynecology at Loyola University in 1995 followed by a fellowship in REI at Washington University in St. Louis, Missouri, completed in 1997. Dr. Beltsos is also the Clinical Research Division Director of Vios and participates in a number of research projects and scientific publications. She has received numerous awards in teaching and has been honored as "Top Doctor" from Castle Connelly for several years. She is a popular speaker, both nationally and internationally, and a frequent media resource on the topic of infertility. Dr. Beltsos is the executive chairperson for the Midwest Reproductive Symposium International, an international conference of fertility experts.
Daoshing Ni, PhD, L.Ac
Dr. Dao is a published author, educator, a TCM practitioner well-known and respected for his special interest in reproductive medicine and gynecology. Together with his brother, Mao Shing Ni, he co-founded Yo San University in 1989. Dr. Dao started his studies in Chinese medicine with his father, Hua-Ching Ni, at an early age. After earning his OMD. and PhD in Oriental Medicine, he pursued advanced studies in internal medicine, gynecology, and pediatrics at both Beijing and Nanjing Colleges of Traditional Chinese Medicine in China. Dr. Dao is a member of the American Society for Reproductive Medicine, Pacific Coast Fertility Society, and American Association of Acupuncture & Oriental Medicine. An active faculty in the DAOM program at Yo San University, Dr. Dao is the author of Tao of Fertility and co-author of Sitting Moon: A Guide to Rejuvenation after Pregnancy.
Peter Harvey, L.AcPeter became an apprentice to an acupuncturist in Salt Lake City and dedicated himself to learning all he could. He soon realized that the harder he applied himself, the more he came to appreciate the subtleties of the ancient practices of Eastern Healing. After completing an apprenticeship, Peter traveled to China to receive more advanced training in TCM at the first teaching hospital in Tian Jin China.
Upon his return, Peter enrolled in a graduate studies program at the Midwest College of Oriental Medicine. He earned a Masters Degree in TCM and graduated with high honors before setting up Eastern Healing in Chicago's western and southern suburbs.
Diane K. Cridennda, L.Ac Diane K. Cridennda graduated from the International Institute of Chinese Medicine in 1995 with her Masters of Oriental Medicine degree. She trained in Beijing, China to explore the root of this ancient healing art. She is NCCAOM certified, licensed in Colorado and is a member of Resolve, a national infertility support group. She has also had extensive training in Traditional Chinese Herbal Medicine. She has been a competative Triathlete for more than 22 years and is passionate about performance enhancement and sports medicine. She has lectured all over the world on the Integration of Acupuncture and high tech fertility.Diane recently published a chapter for a Western text book reporting on her 7 years of research in the field of fertility; "Infertility and Assisted Reproduction". Cambridge University press.
Duncan Macdonald, L.AcDuncan Macdonald is a licensed acupuncturist and Functional medicine practitioner with over 16 years of clinical experience. He graduated with his Masters of Science in Traditional Chinese Medicine from American College of Traditional Chinese Medicine in 1999. In 2003 Duncan Macdonald co-founded Secara, a professional integrative medicine products company. He has advanced training in orthopedic medicine under the National Board of Acupuncture Orthopedics and sits on the board of the National Board of Acupuncture and Internal Medicine.Duncan has completed the advanced curriculum of Balance Method acupuncture with Dr. Richard Tan and pulse diagnosis under Dr. Jimmy Chang. He is certified in the Kalish Method of Functional medicine. He participates in a weekly call to discuss cases with Dr. Kalish and other leaders in the Functional Medicine community.
Lorne Brown, DrTCM, R.AcAfter his career as a chartered accountant (CPA), he went back to school and then began practicing as a Doctor of Traditional Chinese Medicine and Acupuncturist in 2000. He established the Acubalance Wellness Centre(link is external) in 2000 and continually seeks out and obtain certification in various energy psychology/belief change modalities – including clinical hypnotherapy, Neuro-Linguistic Programming, PSYCH-K, Rapid Transformational Therapy (RTT), and Emotional Freedom techniques – and he incorporates these belief change modalities in my acupuncture & laser sessions with his patients. In addition to his role as clinical director at Acubalance Wellness Centre, he founded Healthy Seminars to provide acupuncturists and functional medicine practitioners with access to a comprehensive selection of online continuing education courses. In 2015, he founded the Integrative Fertility Symposium, which is the largest conference focusing on treating reproductive health issues using an integrative approach.
Laura Erlich, L.AcAfter graduating summa cum laude from Emperor's College of Traditional Oriental Medicine, Laura founded a progressive holistic medicine practice in Southern California, specializing in gynecology, infertility, IVF support, conscious conception and prenatal care. Now, with over two decades experience as a leading practitioner in the Los Angeles birthing community, she continues to guide women to optimal wellness in her roles as an acupuncturist, herbalist, author, instructor, mentor and group leader.Well versed in the modalities of integrative, allopathic and functional medicine, the heart of Laura's practice is rooted in the beauty and complexity of classical Chinese medicine. It is through this lens that she treats each patient, facilitating balance and harmony in the body, mind and spirit, fostering optimal wellness. From this state, the body's intrinsic ability to procreate, gestate and thrive is enhanced. Working closely with RE's, OB/GYN's and midwives Laura works hard to ensure that her patients are receiving the best possible integration of care.
Paul C. Magarelli MD, PhD Dr. Paul C. Magarelli MD PhD, Founder and Medical Director of Magarelli Fertility, is a board certified Reproductive Endocrinology & Infertility specialist who has been practicing fertility medicine in Colorado since 1998. Dr. Magarelli achieved national acclaim for integrating acupuncture into fertility medicine. He is known for his low IVF fees that provides patients high-quality fertility treatment at nearly half the cost of other centers. Other accomplishments of Dr Magarelli: Founder Medical Director and Advisor to the ABORM and Reproductive Industry Partners; past faculty Yo San University, University of New Mexico, Founder Institute for Sustained Health, Founder of US Military Family Fertility Services 501 c3; Recipient of the Pioneers in Integrated Reproductive Medicine Award, Past President of the Pacific Coast Reproductive Society, Review for Fertility & Sterility Journal, and others.
Maoshing Ni, PhD, L.Ac
A bestselling author, expert on longevity medicine, and co-founder of Yo San University, Dr Mao lectures on Chinese medicine, wellness and longevity around the world. Dr. Mao began his studies in Chinese medicine with his father, Hua-Ching Ni, a renowned Taoist master, physician and author-teacher. After earning his OMD and PhD in Oriental Medicine with an emphasis in Nutrition, Dr. Mao went on to complete his postgraduate residency at Shanghai Medical University in China. Dr. Mao has appeared extensively in national media in his tireless efforts to further the recognition of acupuncture and Chinese medicine. He has also written the national bestseller Secrets of Longevity and the recently published Secrets of Self-Healing and Second Spring, as well as a respected translation of the Yellow Emperor's Classic of Medicine.
Deb Davies, L.Ac Deb Davies, L.Ac., is a licensed acupuncturist, childbirth educator, and the founder and owner of PUSH San Diego in Hillcrest, CA. She empowers expectant couples by educating and equipping them with natural and integrative health care options. Over the course of her career, Deb has helped thousands of families in their childbirth journey, helping families overcome fertility obstacles, maintain a healthy full-term pregnancy, and prepare for an optimal birth experience. She also provides support during labor and birth with acupuncture, acupressure, and massage therapy, and is highly skilled in postpartum recovery care and optimizing C-section recovery time.
Carol King, L.Ac Carol KIng received her Masters of Science in Oriental Medicine from Dongguk University. Carol has over 20 years of experience in healthcare from pharmaceutical research with Allergy & Ashthma Medical Group and Research Center in San Diego in 1999 to didactic, hospital and clinic training in Western Medicine at UCLA, Doctors Hospital, Napa State Mental Hospital, USC/LAC Hospital and in private clinics from New York and Boston to California as well as in Eastern Medicine with an externship at USC and Dongzhimen, Tongren and Zhejiang Hospitals in China. Carol received Osteopathic Medical training at Touro University College of Osteopathic Medicine from 2004-2008, which included hospital rotations in Internal Medicine and Primary Care at Doctors Hospital in Richmond, California. She also did a Psychiatry rotation at Napa State Mental Hospital in 2007.
Catherine DeUgarte, MD Catherine DeUgarte, MD is a highly recognized and experienced specialist in the treatment of infertility, with more than 16 years of experience and thousands of healthy babies born. Her desire for a personalized and caring approach to patients and infertility propelled her to open her own practice, CMD Fertility. Dr. DeUgarte's is a clinical professor at UCLA where she teaches residents and fellows at the UCLA/Olive View Medical Center – infertility clinic. She has published multiple articles in the field of reproductive endocrinology and infertility and she has received a number of awards for her contributions in the field of infertility, preimplantation genetic diagnosis, PCOS and sexual dysfunction. Dr. DeUgarte's thesis earned her the prize oral presentation at the 2005 PCRS Conference as well as multiple presentations at national and international meetings. In June 2015, she received the service award from Fertile Action for her selfless service to oncofertility patients.
Jamie Boyd, DAOM, L.AcDr. Jamie Boyd earned her MSTOM in 2006 and her DAOM in 2021. She was a homebirth Midwife Assistant for a busy midwifery practice and has attended over 50 homebirths. Her clinical rotations ranged from Rady's Children's Hospital in Oncology and pain management, San Diego Hospice, Gerontology Clinic, UCSD Gynecology and Pediatrics in TCM hospital in Chengdu Traditional Chinese Medicine University affiliated hospitals, China, and spent a fall semester in 2019 as a Wellness Coordinator and Western Medical Assistant for Carlton College Buddhist Studies Program in Bodhi Gaya, India. Her Doctorate Capstone, The Art of Doctoring: Manifestations of Compassion in Modern Multimodal Clinical Doctoring Inspired by the Sage Physician in Classical Chinese Medicine, was an IRB approved study, surveying compassionate clinical doctoring in multimodal settings. Using the data, she created a training program to inspire compassionate clinical doctoring and to improve doctor burnout in the clinical exchange.
Maureeb Rozenn, DAOM, L.AcDr. Maureen Rozenn has practiced Integrative Medicine for over 20 years, so that she can provide you with top-quality, personalized health care. A skilled physician, she is one of the very few practitioners with the highest accredited degree available in her field, a Doctorate in Acupuncture and Oriental Medicine (DAOM) with dual specializations in Women's Health and Pain Management. In fact, she has been teaching the Fertility division of Five Branches University's DAOM Women's Health specialization for well over 10 years.
Shiaoting Jing, PhD, L.AcDr. Jing received her Bachelor's degree in Chinese Medicine from Gansu University of Traditional Chinese Medicine in 1984. She then began her fellowship training under Dr. Zhang Ren Yi, a renowned 7th generation OB/Gyn Doctor of Chinese Medicine, where she gained valuable clinical experience in treating patients with infertility and various gynecological disorders. In 1991, Dr. Jing received her Master's degree in Chinese Medicine and her MD in Western Medicine from Beijing University of Traditional Chinese Medicine, specializing in auto-immune disorders and endocrinology. After moving to Los Angeles in 1992, Dr. Jing started her private acupuncture practice focusing on Women's health, infertility, longevity care, and immunology. In 2006, Dr. Jing received her PhD in Traditional Chinese Medicine at American Liberty University with a specialization in Women's Health. Dr. Jing also serves as an adjunct faculty and visiting clinical faculty member at Yo San University.