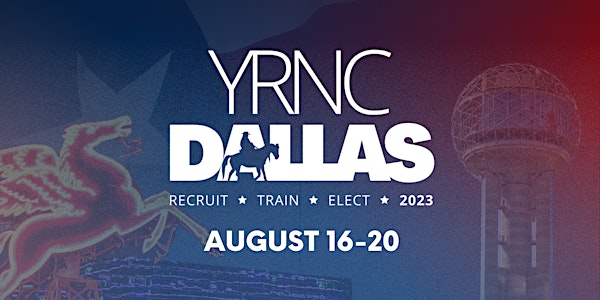 2023 YOUNG REPUBLICAN NATIONAL CONVENTION
Join us for the 2023 Young Republican National Convention in Dallas, Texas #YRNCDallas
By Young Republican National Federation, Inc.
About this event
Register for YRNC Dallas, the Young Republican National Convention in Dallas, Texas on August 16th to August 20th. This event is hosted by YRNC Dallas Inc.
Please be mindful of registration deadlines. Prices will go up the closer we get to the convention. If you wish to serve as an official delegate to the convention, please contact your state federation's leadership. All delegates, alternate delegates and guests must be registered to attend the convention. It is not required for you to be a delegate to attend -- we welcome the young and the young-at-heart! However, some events and meetings may be restricted to national committee members or delegates only.
ACCOMODATIONS: Click here to book your hotel room at the Omni Dallas Hotel. Book your hotel room no later than July 12, 2023.
NOTICE: all convention events, meetings and activities will take place at the Omni Dallas Hotel. There will be no official offsite events at YRNC Dallas. And due to high profile special guests, security at the Omni Dallas Hotel may be strict at various times. We encourage you to stay at the Omni Dallas Hotel for ease of access.
BRIEF TENTATIVE SCHEDULE
WEDNESDAY, AUGUST 16TH
5:00pm: State Chair's Meeting & Info Session
7:00pm: Welcome Reception
 THURSDAY, AUGUST 17TH
9:00am: Panels & Trainings
Noon: Lunch with special guests
2:00pm: Panels & Trainings
4:00pm: Charity Sporting Event
FRIDAY, AUGUST 18TH
9:00am: National Committee Meeting
Noon: Lunch with special guests
2:00pm: Panels & Trainings
6:00pm: Chairman's Dinner
 SATURDAY, AUGUST 19TH
9:00am: National Convention
6:00pm: National Awards Dinner
 SUNDAY, AUGUST 20TH
9:00am: National Committee Meeting
 Questions?  Please contact YRNCDallas@yrnf.com
DRESS CODE
Dress code on the convention floor will be business casual. For men, this means dress slacks, khakis, or suit pants, wearing a collared shirt (dress shirt or polo), and closed-toed shoes. For women, this means khaki, corduroy, twill, or cotton pants or skirts or dresses, and appropriate blouse or other shirt.
Dress code for the National Awards Dinner on Saturday, August 19th will be black-tie optional. Black-tie optional is a formal attire event where men are encouraged to wear a tuxedo, but can opt to wear a dark suit and tie. Women can choose either a formal evening gown, a cocktail dress or dressy separates.
Dress code for the charity sporting event will be casual.  This means sneakers, t-shirts and shorts are encouraged.
Dress code for other events, meetings and activities in Dallas will be further detailed per event as part of the official schedule.
Dress Code: clothing with profanity, inappropriate graphics, excessively revealing body parts or torn fabrics are prohibited at all times.
REGISTRATION AGREEMENT
By completing this registration, you agree to the following:
Cancellation/ Refund Policy
In the event that the Young Republican National Federation (YRNF) / 2023 Young Republican National Convention in Dallas, Texas (YRNC Dallas) is cancelled due to pandemic or similar health-related issues, attendees will receive a refund for the ticket price, minus associated fees. YRNF and YRNC Dallas Inc. cannot refund costs attributable to travel, lodging or other expenditures. Cancellations by ticketholders cannot be accepted for any reason. No other refunds are permitted. Ticket transfers will not be accepted for any reason.
Code of Conduct
All attendees to the 2023 Young Republican National Convention are required to behave in accordance with professional standards and applicable laws. Be considerate, respectful and mindful of your surroundings and fellow participants. Unacceptable behavior includes, but is not limited to: Intimidating, harassing, abusive, discriminatory, derogatory, or demeaning speech, materials, or criminal conduct by any participants and related event activities. Any attendee, including delegates and alternates on the convention floor, that fails to behave professionally and respectfully will be removed. No refunds will be provided to any person dismissed for inappropriate behavior.
Accommodations
Accommodation costs are not included in the convention registration fee. Attendees are responsible for making their own travel and lodging arrangements.
Personal Property
YRNF and YRNC Dallas Inc. accepts no responsibility for loss or damage to personal property at YRNF Dallas.
Photography/Video
You understand that you may be photographed, taped or recorded during YRNC Dallas and that you grant YRNF and YRNC Dallas Inc. permission to use your image or voice in all forms and media as permitted by law. You waive the right to inspect or approve versions of your image or voice or the written copy that may be used in connection with either.
Text Messages
You agree to receive text messages from YRNC Dallas Inc and the Young Republican National Federation.
Intellectual Property
Neither purchasing tickets to YRNC Dallas or these terms or conditions shall be construed as any waiver of the YRNF's intellectual property rights. Any commercial use of YRNF intellectual property is prohibited unless approved in writing in advance by YRNF. No photographs or video taken at YRNF Indy may be used for commercial purposes unless the attendee has obtained written permission from the YRNF. Commercial use of any video or photography taken at YRNF Dallas in which YRNF's intellectual property is used will be considered infringement. Professional photographers and videographers and those who are compensated for filming any aspect of YRNF Indy for commercial use waive any claim to the doctrine "fair use" of YRNF's intellectual property. YRNF reserves the right to seek damages for any infringement of our intellectual property rights.
Waiver of Liability
By purchasing tickets to and/or attending YRNF Dallas, you agree to assume the risks related to attendance at the event. You agree to release YRNC Dallas Inc. and YRNF, and their officers, directors, staff and consultants, from liability arising from your attendance at YRNC Dallas.
Registration is non-refundable and not transferable.
For questions about registration, please contact YRNCDallas@yrnf.com