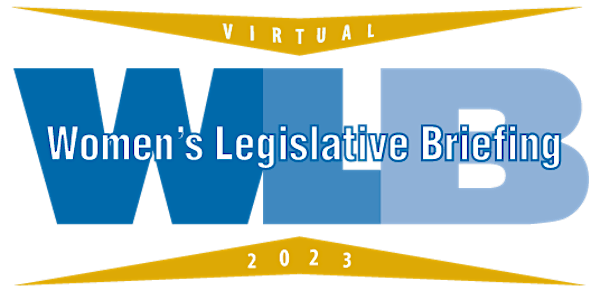 2023 Women's Legislative Briefing
The Montgomery County Commission for Women and our many co-sponsoring organizations invite you to the 2023 Women's Legislative Briefing.
Refund Policy
Contact the organizer to request a refund.
Eventbrite's fee is nonrefundable.
About this event
The Montgomery County Commission for Women and our many co-sponsoring organizations invite you to the 2023 Women's Legislative Briefing. The purpose of the Briefing is to inform the residents of our state about legislative proposals before local, state, and national legislative bodies that address issues of specific concern to women. 
The 2023 Women's Legislative Briefing WILL BE VIRTUAL.
The Montgomery County Commission for Women has established a tuition scholarship to support a high achieving student at Montgomery College who is pursuing a major in Science, Technology, Engineering or Math (STEM).  Please consider supporting this worthy cause when registering for the WLB.
Again this year: special seminars will be offered for students in grades 6 - 12 through our Emerging Leaders track. 
Registration:
$22 - Now Through January 27, 2023
$30 - January 28 -January 29, 2022
$5 Students/Emerging Leaders
*** IMPORTANT ***The event is virtual and will be conducted using Zoom. Please be sure to update the latest version of Zoom before the event: www.zoom.us.
Agenda:
Schedule (Subject to Change)
12:30pm
Virtual Conference Opens
1:00pm-1:55pm
Plenary Panel Title: Women Who Empower Through Advocacy
This amazing panel will consist of women who lead organizations that help women and girls become more empowered through education, advocacy, programming and other dynamic means. Their national viewpoints will provide a unique perspective of empowerment needs in different parts of the United States and how advocacy is vital to making change and could open career opportunities, as well.
Moderator: Adrianna Hopkins, ABC 7 Newscast
Panelists:
Virginia Kase Solomon, CEO League of Women Voters
DeAnna Hoskins, President and CEO, JustLeadershipUSA, Inc
Susan Jin Davis, Social Impact Officer, Al Roker Entertainment
2:00pm-2:55pm
Empowerment Through Health
Health advocacy is a topic that is foremost on our minds lately. Join this panel for a unique and powerful discussion on women and health that will include, but not be limited to, the cost of prescriptions drugs, reproductive health, and the current initiatives of AARP.
Moderator: Dr. Kisha Davis, Health Officer, Montgomery County Government
Panelists:
Lola Fashoyin-Aje, MD, MPH, Deputy Division Director and Associate Director, Oncology Center of Excellent, FDA
Robin Elliott, Public Policy Partners
Tammy Tresnahan, Associate State Director Advocacy, AARP Maryland
2:00pm-2:55pm
Empowerment Through Safety
The prevention of domestic violence, sexual assault and human trafficking are critical to the safety of women and their families. Learn about and be inspired by the dynamic efforts non-profit organizations are working on for the 2023 legislative session.
Moderator: Senator Will Smith (D-20)
Panelists:
Lisae C. Jordan, Esq. – Executive Director & Counsel, Maryland Coalition Against Sexual Assault
Melanie Shapiro, Public Policy Director, Maryland Network Against Domestic Violence
Amanda K. Rodriguez, Esq., Executive Director, TurnAround, Inc.
3:00pm-3:55pm
Empowerment Through Economic Justice
Economic empowerment for women takes numerous forms, including starting one's own business, insuring equal pay, and housing accessibility and affordability counties across the state. This panel will discuss these two topics and more!
Moderator: Margie Kotzalas, President, Business and Professional Women
Panelists:
Carmen Larsen, President, Hispanic Chamber of Commerce, Montgomery County
Venus Hemachandra, owner of Herbiculture
Chelsea Andrews, Executive Director, Housing Opportunities Commission of Montgomery County
3:00pm-3:55pm
Empowerment Through Education
Education is essential in order to succeed! These three panelists will share their perspectives on education in Montgomery County and how new Americans are learning how to navigate in their new country.
Moderator: Dr. Jermaine F. Williams, President, Montgomery College
Panelists:
Brenda Wolff, Montgomery County Board of Education
Arvin Kim, Student Member, Montgomery County Board of Education
Gabriel Martinez Cabrera, Executive Director, Montgomery County Literacy Council
4:00pm-5:00pm
Network Session
Participants will break out into networking sessions based on the topics discussed throughout the day
Emerging Leaders
The Emerging Leaders sessions will run concurrently with the adult sessions.
The Emerging Leaders track will run concurrently with the Women's Legislative Briefing and is open to students in grades 6-12. Tickets are $5 for all students. Students may earn up to 3 student service learning hours.
2:00-3:15 Breakout Session #1:
Feeling Safe Everywhere: Home, School, Community
Learn strategies to navigate risky or harmful situations at home, in school and elsewhere. Learn how to stand up for the safety of yourself and others
3:30- 4:45 Breakout Session #2:
How to Express My Mental Health
Learn how to find the words to talk about your mental wellness, and to make space for yourself and others wherever you are. Learn how to advocate for your mental health.