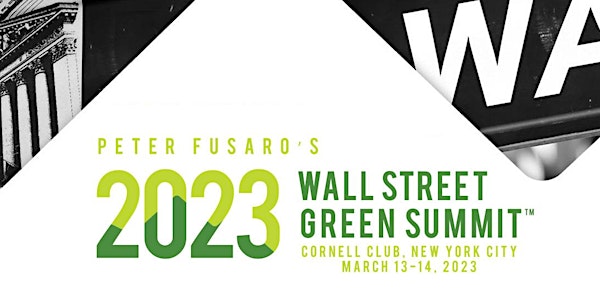 2023 Wall Street Green Summit
2023 Wall Street Green Summit is the oldest sustainable finance event in North America. It's focus is on climate financial solutions.
When and where
Location
Cornell Club 6 East 44th Street New York, NY 10017
Refund Policy
Contact the organizer to request a refund.
Eventbrite's fee is nonrefundable.
About this event
1 day 9 hours

Mobile eTicket
The 2023 Wall Street Green Summit is in its 22nd year and is one of the longest running and most comprehensive events focused on sustainable finance. The March 13 and 14, 2023 event will be held at the Cornell Club in New York and online via Zoom. Leading experts in ESG, Carbon Markets, Clean Energy Technology and Sustainable Finance will share their knowledge and experiences over this two day event.
Refunds for the event are permitted up to Monday February 27, 2023, 2 weeks before the event.
Agenda
8:20 AM - 8:40 AM
Day1: Managing Diverse ESG Reporting Standards
---
Silvia Pavoni, Founding Editor, Sustainable Views at the Financial Times
8:40 AM - 9:00 AM
Investor Perspectives on SEC Reporting and ESG
---
Nikita Singhal, Managing Director, Co-Head, Sustainable Investment and ESG, Lazard
9:00 AM - 9:20 AM
Looking Through ESG Reporting Through a Regulatory Prism
---
David Weild IV, Chairman and CEO, Weild & Co.
9:20 AM - 9:40 AM
ESG Data Integration and Risk Analysis
---
Marina Severinovsky, Head of Sustainability, North America, Schroders
10:30 AM - 10:50 AM
Pricing Climate Risk Into Financial markets
---
Pooja Khosla, EVP, Client and Product Development, Entelligent
10:50 AM - 11:10 AM
Blockchain for Impact
---
Aisha Williams, Founder and CEO, ImpactVest
11:10 AM - 11:30 AM
Decarbonizing Financial Assets
---
Jenna Nicholas, CEO, Impact Experience
11:30 AM - 11:50 AM
Quantifying the "S'in ESG Performance
---
Bonnie-Lyn de Bartok, Founder & CEO, The S Factor
1:00 PM - 1:50 PM
Day 1. Afternoon Session, Achieving Carbon Neutrality
---
David Greely, Chief Economist, Abaxx Exchange
1:50 PM - 2:10 PM
Facilitating Sollutions for Global Carbon Markets
---
Michael Costa, CEO, BaseCarbon
2:10 PM - 2:30 PM
ClimateTech Solutions
---
Jason Dodier, CCO and Co-Founder, GRAIN, EcoSystem
2:30 PM - 2:50 PM
Coming Convergence of the Voluntary and Compliance Carbon Markets
---
Stephen Donofiro, Managing Director, EcoSystem Marketplace at Forest Trends
2:50 PM - 3:10 PM
Corporate Transition to Net Zero
---
Rachel Kyte, Co-Chair Voluntary Carbon Market Integrity Initiative (VCMI) and Dean, Fletcher School Tufts University
3:40 PM - 4:00 PM
Carbon Sequestration and Agriculture
---
Julie Lerner, CEO & Founder, PanXchange
4:00 PM - 4:20 PM
Methane Capture for Carbon Offsets
---
Tina Reine, Chief Commercial Officer, Zefiro Methane Corp
4:20 PM - 4:40 PM
Scope 3 Emissions & Greening the Supply Chain
---
Kimberly Randle, Founder & CEO, FairSupply PTY Ltd.
4:40 PM - 5:00 PM
Financing Climate Progress with Technology-Driven Offsets: Achieving Paris
---
David Oliver, Head of Carbon, DevvStream Inc.
5:00 PM - 5:20 PM
Insights Into Carbontech and Decarbonization
---
Frederic Clerc, Director, Carbon to Value Initiative, Urban Future Lab
8:00 AM - 8:20 AM
Day 2 Morning: Unlocking Sustainable Solutions with Performance Insurance
---
Tad Dritz, Bioconversion and Hydrogen Lead, Ariel Re
8:20 AM - 8:40 AM
Implementing Climate Technologies
---
Alex More, Director, TMX Technologies
8:40 AM - 9:00 AM
insights into the Inflation Reduction Act (IRA) Law
---
Dan Spitzer, Partner, Hodgson Russ LLP
9:00 AM - 9:20 AM
Hydrogen and Decarbonization Strategies
---
Gokce Mete, Senior Manager, Hydrogen and Industry Decarbonization, South Pole
9:20 AM - 9:40 AM
New Technology in Energy Storage
---
Ron MacDonald, President & CEO, Zinc8 Energy Solutions
9:40 AM - 10:00 AM
Decarbonizing Your Business Travel Through Sustainable Aviation Fuel
---
Kennedy Ricci, President, 4AIR
10:30 AM - 10:50 AM
The Role of Waste to Energy in Advancing ClimateTech
---
Aviv Dekel, Vice President, Business Development & Marketing, Co-Energy
10:50 AM - 11:10 AM
Can Artificial Intelligence Save the Planet?
---
Alex Crawford, Author, Sustainability, Technology, AI and You
11:10 AM - 11:30 AM
New Metrics for Green Investing
---
Shelley Goldberg, ESG Evangelist, The Green Impact Exchange
11:30 AM - 11:50 AM
Energy Transition Innovation
---
Kristin Barbato, Co-Founder, Dynamo Energy Hub
11:50 AM - 12:10 AM (+1 day)
Microgrid Management
12:10 PM - 12:30 PM
Smart Building Innovation Through Big Data Management
1:00 PM - 3:00 PM
Day 2, Afternoon Session, Green Ammonia: The Next Market
---
Ian Clifford, CEO & Chair, FuelPositive and Andre Mech, Advisor, Carbon Credits & Emissions Reduction, FuelPositive
1:50 PM - 2:10 PM
Sustainable Impact Holding Company Strategy
---
Tyler Wood, Director of ESG & Sustainability, Gravitas Infinitum
2:10 PM - 2:30 PM
Innovation and Scaling ClimateTech
---
Scott Cohen, Co-Founder, New Lab
2:30 PM - 2:50 PM
Using Big Data and AI to Mitigate Energy Transition Risk
---
Antoine Halff, Founder, Kayrros
2:50 PM
New Opportunities to Invest in Climate Change: Food & Materials Transformation
3:40 PM - 4:00 PM
How Purpose Driven ESG Marketing Can Maximize Value and Impact
---
Juie Davitz, Founder and CEO, Plus Media Solutions
3:50 PM - 4:10 PM
Biodiversity Speaker
4:10 PM - 4:30 PM
The Vision & Recommendations for Developing for US Coastal Green Hydrogen Hubs
---
Dr Venera Anderson, Strategy and Author, Sustainability & Climate, The Harvard Business Review
4:30 PM - 4:50 PM
Social Enterprise Fund
---
Michelle Osorio, Invesment Director, KawiSafi Fund (Acumen)
4:50 PM - 5:10 PM
Nature-Based Solutions in Forestry
---
Greg Levin, Partner, New Leaf Climate